Trump Admin Sends 100 Children Back to 'Unconscionable' Border Facility As CBP Says They Don't Want Kids There
About 100 young migrant children have been moved back to a detention center near El, Paso, Texas, that independent inspectors have called "unconscionable," according to a Customs and Border Protection official.
"We completely agree with some of the reporting that's gone out in that [unaccompanied children] should not be held in our custody. We do not want them in our custody, our facilities are not built for that," an official said in a call with reporters Tuesday, according to CNN.
Inspectors reported a lack of soap, diapers and toothbrushes in the facility that holds migrant children who have been separated from their parents and families. Children were ill, taking care of other toddlers due to a lack of proper care and severely sleep deprived, according to reports. The CBP official insisted Tuesday that soap and diapers were available.
Law professor Warren Binford, who aided in the interviews, said she witnessed an 8-year-old girl caring for a 4-year-old child who was very dirty, the girl was unable to get the boy to take a shower. She also described the children she interviewed as sleep-deprived, often falling asleep while speaking with her. One child had not been able to shower in three weeks.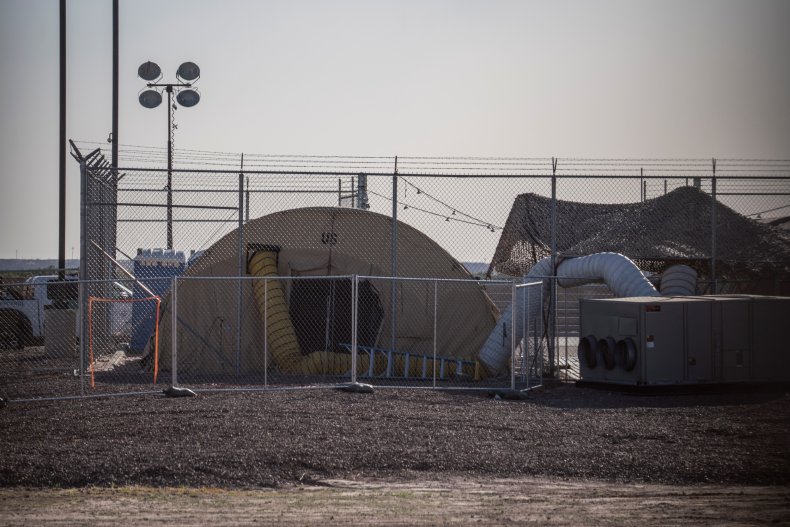 "In my 22 years of doing visits with children in detention, I have never heard of this level of inhumanity," said Holly Cooper, co-director of the University of California, Davis' Immigration Law Clinic, to the Associated Press.
Last week, the Trump administration said it would move 250 children out of the Clint camp and into the care of the Department of Health and Human Services' shelter system after reports of the conditions they were being held in emerged. It's unclear what has spurred the decision to move 100 children back into the facility,
President Donald Trump, meanwhile, said in an interview with The Hill Tuesday that conditions at these facilities are not unprecedented and are actually improving. "The conditions are much better than they were under President Obama," he said.
The president said of the detained migrant children that he would "like to see them" receive toothbrushes and soap, but said the issue of providing them came from a "from a strictly legal standpoint." He did not clarify what law stops his administration from providing infants with diapers.
The Trump administration meanwhile has gone to court to defend the conditions these children are kept in. Department of Justice lawyer Sarah Fabian argued in a circuit court last week that "One has to assume ..parties couldn't reach agreement on how to enumerate that or it was left to the agencies to determine," she said about what defines a "safe and sanitary" space.
Vice President Mike Pence said Sunday on CNN that the blame falls on Congress' shoulders for not funding border security.
Shelters like Clint, meanwhile, will not accept donations of towels, soap and diapers from good samaritans.
At least five children have died in the custody of the Trump administration since late last year.