Trump Administration Offers Turkey Patriot Missiles so It Won't Buy Weapons System From Russia: Reports
The United States has offered to sell its NATO ally Turkey a $3.5 billion Patriot missile defense system as an incentive for the country not to buy an anti-aircraft missile system from Russia, according to Turkish state media.
Turkey's defense and foreign affairs ministries are discussing the purchase of U.S. Patriot missiles with officials from a U.S. delegation, according to the reports.
Turkey had planned to purchase an S-400 anti-aircraft missile system from Russia despite warnings from the U.S. and other NATO allies that the system could pose security risks if integrated with Western systems. Turkey signed a deal with Russia in 2017 that was reportedly worth $2.5 billion.
The S-400 can allegedly protect against ballistic missiles and stealth aircraft, including that used by NATO allies like the F-35 aircraft.
During a panel discussion held on the sidelines of a NATO summit in July 2018, Turkey's foreign minister Mevlüt Çavuşoğlu claimed that he had opted to buy the system from Russia because he could not obtain a similar one from allies in the West.
"I tried to buy from my allies," Çavuşoğlu said. "I wanted to buy from the U.S. for the last 10 years, it didn't work. I couldn't buy from NATO allies, so Russia gave me the best proposal and now I'm buying from Russia."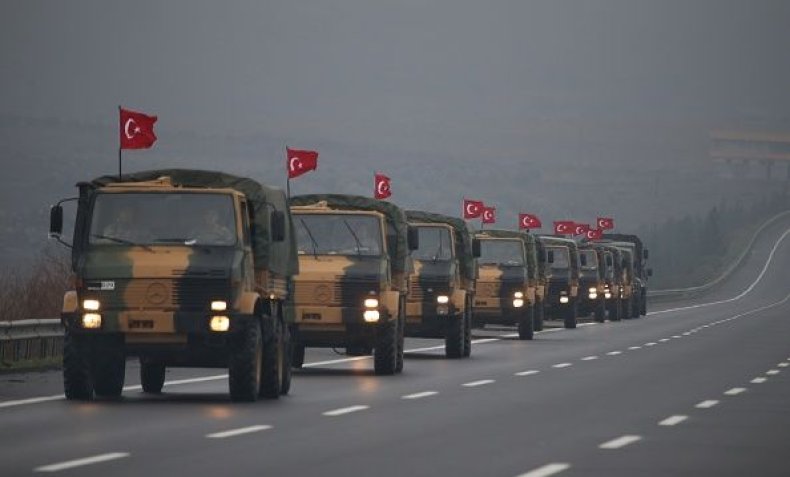 Experts have noted that Turkey also offered to pay for the system in Russian rubles instead of dollars.
"Ankara and Moscow finalized the $2.5 billion Russian-Turkish agreement on the purchase of S-400s in 2017. Under the agreement, Turkey is to pay 45 percent of the cost up front, while Russia is to provide a loan to cover the remaining 55 percent. A striking point of the deal is that the loan will be issued in Russian rubles, not U.S. dollars—the first time Turkey has taken such a step, according to Erdogan," political analyst Rahim Rahimov wrote for the Wilson Center in April.
The U.S. has warned that Turkey could be subject to sanctions on Russian military equipment if it moves ahead with the purchase. India, another U.S. ally, already canceled its plans to buy the S-400 due to concerns over U.S. sanctions.
In September 2018, the Trump administration sanctioned China's People's Liberation Army over its purchase of the S-400.
Turkey, however, has signaled that it would be interested in purchasing military equipment from both the U.S. and Russia. Reports have suggested that Turkey has already started constructing a site for the missile system, and Russia has pledged to begin deliveries by as early as October 2019.
Turkey and Russia have maintained friendly ties and cooperated on issues related to Syria and energy infrastructure despite Ankara's membership in the Western military alliance, whose expansion Russia's leadership opposes. Both countries have also seen their relationship with the U.S. deteriorate over the past year.