California Wildfires Raging Partly Because of 'Extreme Environmentalists,' Interior Secretary Ryan Zinke Says
A Trump administration official is pointing the finger at forest management and not climate change for the wildfires that are burning across California.
Secretary of the Department of Interior Ryan Zinke, who was in Northern California on Sunday to examine the damage caused by the Carr fire, told KCRA-TV "extreme environmentalists" are controlling the conversation about climate change.
"America is better than letting these radical groups control the dialogue about climate change," Zinke told the outlet. "Extreme environmentalists have shut down public access. They talk about habitat, and yet they are willing to burn it up."
Zinke told the news station the Carr fire has nothing to do with climate change and blamed forest management for the deadly fire, which has killed three firefighters and has burned down over 1,000 structures, according to authorities.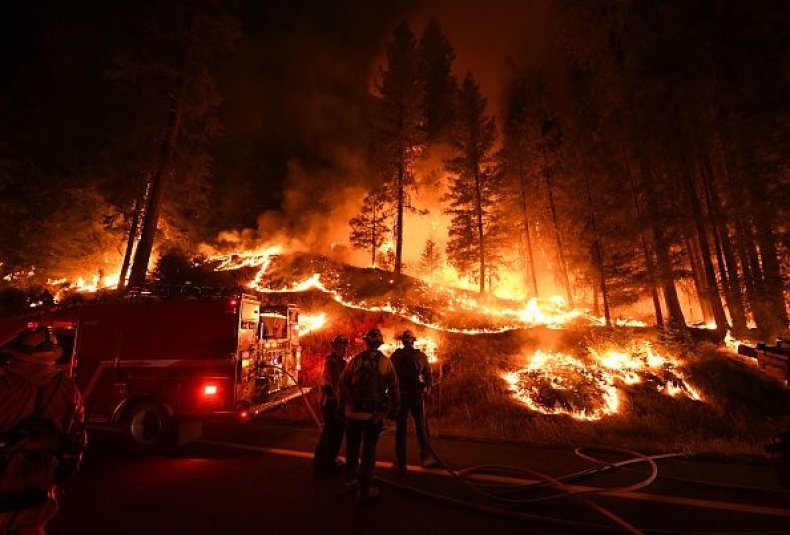 "Unfortunately, this trip is about fires," Zinke told KCRA-TV. "I've heard the climate change argument back and forth. This has nothing to do with climate change. This has to do with active forest management."
Zinke has previously been under fire for dipping into the wildlife preparedness funds. The DOI previously admitted to Newsweek that it made a mistake by trying to use wildfire preparedness funds to pay for an unrelated helicopter tour for Zinke in Nevada on July 30, 2017. He did not visit any fire zones during his tour, according to the Bureau of Land Management and the National Interagency Fire Center. A spokeswoman from the DOI told Newsweek at the time that the trip, which cost $39,295, was "charged to the account in error."
Earlier this month, President Donald Trump blamed environmental laws for the cause of the California wildfires. Trump claimed that water was not readily available to fight the blazes across the state and said it was being "diverted into the Pacific Ocean."
"California wildfires are being magnified & made so much worse by the bad environmental laws which aren't allowing massive amounts of readily available water to be properly utilized. It is being diverted into the Pacific Ocean. Must also tree clear to stop fire from spreading!" Trump tweeted.
The Carr fire has been blazing on in Shasta and Trinity counties since July 23, according to fire authorities. The fire has burned 207,106 acres of land and is at 67 percent containment as of Tuesday, according to the California Department of Forestry and Fire Protection (Cal Fire).
The fire has scorched 1,077 homes, 22 commercial structures and 500 other buildings, according to Cal Fire. There are 113 structures that are threatened by the fire, according to authorities. There is currently 4,334 personnel working to put out the Carr Fire, along with 327 fire engines, 119 water tenders, 77 dozers, 76 fire crews and 13 helicopters, according to Cal Fire.
Dozens of other wildfires are still blazing throughout California. Firefighters are currently battling the Mendocino Complex fire, which ignited on July 17. The fire is composed of twin blazes, the River fire and the Ranch fire. The River fire is at 92 percent containment and has scorched 48,920 acres of land as of Tuesday, according to Cal Fire.
The Ranch fire has burned 305,490 acres of land and is 68 percent contained as of Tuesday, according to Cal Fire. The blaze has destroyed 147 residences and 118 other buildings, according to authorities. There are more than 3,000 personnel are working on the fire, including 281 engines, 61 fire crews, 20 helicopters, 76 dozers and 87 water tenders. Cal Fire spokeswoman Lynne Tolmachoff told The Sacramento Bee on Sunday the Ranch Fire is the largest wildfire in California history.