Trump Administration Ordered to Stop Giving Drugs to Migrant Children Without Consent
A federal judge in Los Angeles has ordered the Trump administration to stop administering psychotropic drugs to immigrant children held in an immigration detention facility in Texas.
The ruling, handed down by U.S. District Judge Dolly Gee on Monday, found the government to be in violation of the 1997 Flores settlement, which governs the treatment of immigrant children held under federal custody.
In a class action suit, lawyers had alleged that children held at the Shiloh Residential Treatment Center in Manvel, Texas, were being treated with powerful psychotropic drugs without being asked for their consent or being provided an explanation for why they were receiving the medication.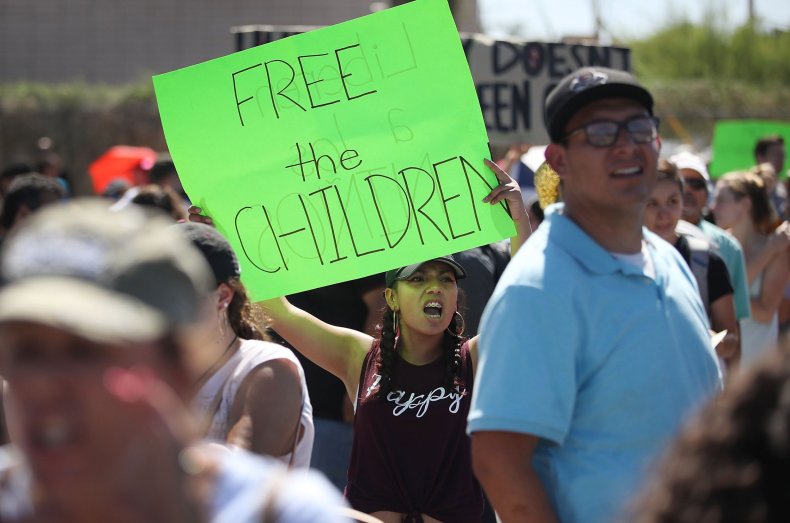 Psychotropic drugs can be used to treat symptoms for a range of mental health issues, including depression, bipolar disorder, attention-deficit hyperactive disorder and borderline personality disorder.
In court filings published online by the National Center for Youth Law (NCYL), children testified that staff with the U.S. Office of Refugee Resettlement, the branch of the Health and Human Services department overseeing the care of immigrant children, sometimes administered drugs to them without explaining what they were being given or why.
Some children said they had been forcibly injected with drugs, while others said they were punished for refusing medication by being given longer detentions.
"Sometimes they give me forced injections," one child, identified only by her first name, Rosa, said in the filing. "One or two staff hold my arms and the nurse gives me an injection," she explained.
Children said they suffered side effects including depression, dizziness, nausea and weight gain as a result of the medication they were forced to take.
The filing alleged that because psychotropic medications "act on the central nervous system and affect cognition, emotions, and behavior" even on adults they can have "serious and sometimes irreversible side effects, including psychosis, seizures, irreversible movement disorders, suicidal ideation, weight gain and organ damage."
"Comparatively, little is known about the effects of psychotropic drugs on children and adolescents," the filing states.
In a statement shared online by the NCYL, senior attorney Leecia Welch previously said that the government's "tactics inflict trauma on the very children they are supposed to be protecting."
"Flying dazed, shackled children across the country in the middle of the night, jailing them like criminals, drugging them without parental or judicial authorization and needlessly keeping them from family members who are able and willing to care for them is resulting in extreme deterioration of their mental health and causing lasting emotional harm," she said.
In her ruling, Gee declared that the government will now need to obtain parental consent or a court order to administer the powerful drugs, unless in the event of an emergency situation, according to NPR.
She also instructed the government to remove all children covered by the Flores ruling from the Shiloh Residential Treatment Center unless they are determined to pose a risk to others or themselves by a medical professional.
In addition, Gee demanded that the government start providing children with written explanations detailing why they are being detained.