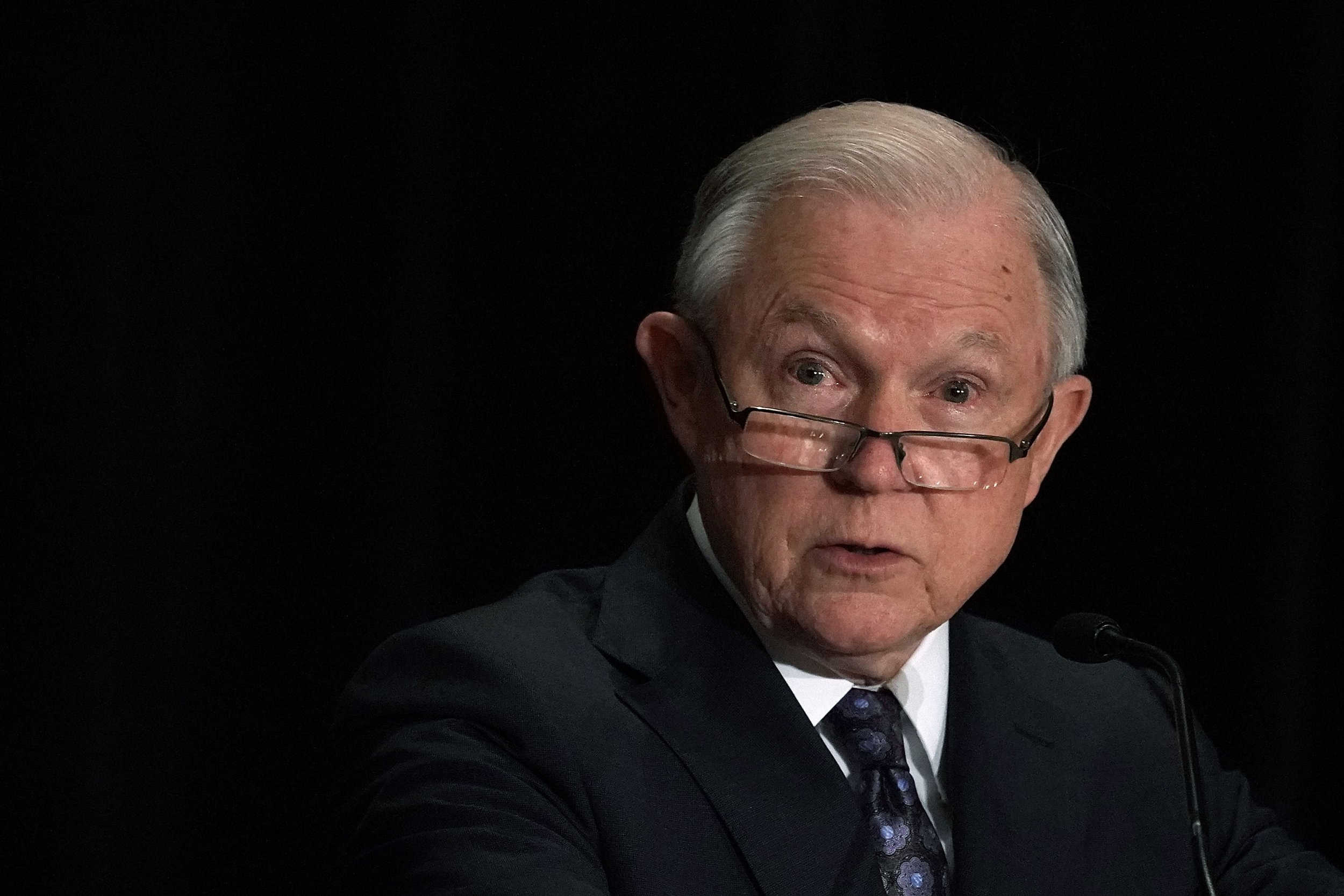 Attorney General Jeff Sessions has issued a new ruling that could see vast numbers of asylum seekers escaping violence—including those facing domestic abuse and gang violence in their home countries—refused entry to the United States.
Sessions ruled on Monday to overturn a decision from the Board of Immigration Appeals approving the asylum application of a Salvadoran woman seeking refuge in the U.S. after fleeing physical and sexual assault from her husband.
The woman, who alleged that police in her home country had failed to help her, will be forced to return to El Salvador, despite fearing for her safety.
"The mere fact that a country may have problems effectively policing certain crimes or that certain populations are more likely to be victims of crime, cannot itself establish an asylum claim," the ruling stated.
"An applicant seeking to establish persecution based on violent conduct of a private actor must show more than the government's difficulty controlling private behavior. The applicant must show that the government condoned the private actions or demonstrated an inability to protect the victims," it added.
The landmark decision sets a new precedent that Sessions told immigration judges they would be expected to follow while speaking at an annual Executive Office for Immigration Review Legal Training Program meeting on Monday.
"As you all well know, one of our major difficulties today is the asylum process," Sessions told an audience of immigration judges.
"The asylum system is being abused to the detriment of the rule of law, sound public policy and public safety—and to the detriment of people with just claims," he said, adding: "Saying a few simple words—claiming a fear of return—is now transforming a straightforward arrest for illegal entry and immediate return into a prolonged legal process, where an alien may be released from custody into the United States and possibly never show up for an immigration hearing."
"The results are just what one would expect. The number of illegal entrants has surged. Credible fear claims have skyrocketed, and the percentage of asylum claims found meritorious by our judges declined," Sessions continued. "That's because the vast majority of the current asylum claims are not valid."
Sessions said that under U.S. law, asylum should only be available for those who leave their home country "because of persecution or fear on account of race, religion, nationality or membership in a particular social group or political opinion."
"Asylum was never meant to alleviate all problems—even all serious problems—that people face every day all over the world," he said.
The attorney general said his new ruling should "provide more clarity" for immigration judges to help them "rule consistently and fairly."
"When we lose clarity or have decisions that hold out hope where a fair reading of the law gives none, we have cruelly hurt many people," Sessions said. He added, "As we resolutely strive to consistently and fairly enforce the law, we will be doing the right thing."
The attorney general cited Department of Homeland Security statistics to back up his decision, telling immigration judges that the number of credible-fear reviews has skyrocketed over less than a decade.
Sessions said the DHS conducted just over 5,000 credible-fear reviews in 2009—a number that surged to at least 94,000 by 2016, just seven years later.
He said the number of undocumented immigrants placed in immigration court proceedings went from less than 4,000 to more than 37,000 in the same amount of time—a nearly nineteenfold increase that Sessions said overwhelmed the asylum system, "leaving legitimate claims buried."
Sessions's ruling has drawn strong criticisms from immigration advocacy groups, including the Washington-based Alliance for Justice, which accused the attorney general of attempting to "bar some of the world's most vulnerable women from getting asylum in America" in a post shared on Twitter.
The attorney general's decision comes as part of the Trump administration's "zero tolerance" approach to undocumented immigrants that has sparked widespread protests, particularly over a controversial policy ordering families to be separated at the border.