Trump Administration Asked Russia for Advice on North Korea Summit Between Donald Trump and Kim Jong Un, Kremlin Claims
As the Trump administration prepared for the upcoming summit between President Donald Trump and North Korean leader Kim Jong Un, it reached out to the Kremlin for advice, Russian foreign minister Sergei Lavrov told Interfax news.
The Kremlin representative did not specify what guidance the Trump administration sought or whether the Russian government had offered the U.S. any specific advice. The White House did not respond to requests for comment in time for publication.
This would not be the first time that Russia had gotten involved in Trump's ongoing negotiations with North Korea over the denuclearization of the Korean Peninsula.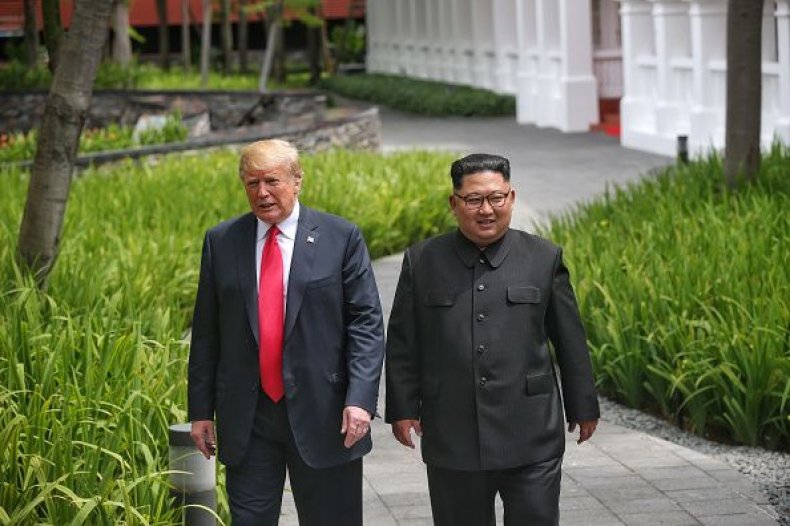 Previous reports claimed that Russia had offered North Korea nuclear power plants in exchange for denuclearization. And in his recently published book The Threat, former Deputy FBI Director Andrew McCabe said that Trump listened to Putin's theories about North Korea's development of intercontinental ballistic missiles over the assessments of the U.S. intelligence community.
"He thought that North Korea did not have the capability to launch such missiles. He said he knew this because Vladimir Putin had told him so," McCabe wrote.
Throughout his presidency, Trump has tended to believe the statements of foreign leaders over those from members of his own administration. On Thursday, the chairmen of three congressional national security committees called on Trump to stop withholding critical information from Congress about the ongoing negotiations with North Korea.
"We are perplexed and troubled by the growing disconnect between the Intelligence Community's assessment and your administration's statements about Kim Jong Un's actions, commitments, and intentions," read a letter from representatives Eliot Engel (D-N.Y.), Adam Smith (D-Wash.) and Adam Schiff (D-Calif.).
The upcoming summit between Trump and Kim, which will take place in Vietnam on Wednesday and Thursday, will be the first meeting between the two leaders since their first encounter in Singapore last June. Since then, experts said that little progress has been made toward getting North Korea to give up its nuclear weapons.
"Yes, Pyongyang paused missile tests," Brett Bruen, a former diplomat and director of global engagement at the White House under President Obama, told Newsweek. "[But] they haven't provided an inventory of weapons, allowed inspections, or even reduced development of their nuclear technology. They pretty much got a pass on the stuff that really matters, from nuclear research to human rights."
Meanwhile, Trump has publicly touted his new friendship with Kim and held that up as proof of the progress he'd made toward fostering peace. During a meeting with U.S. governors at the White House on Monday, Trump said he had a "very, very good relationship with Kim Jong Un. Very, very good."
But many analysts have questioned whether North Korea's regime is sincerely pursuing denuclearization, and some human rights activists have criticized the president for failing to mention North Korea's human rights abuses while developing his relationship with Pyongyang.
"Over a year ago, President Trump stood in front of Congress and pledged to challenge North Korea's human rights record. Since then, President Trump has repeatedly disregarded the human rights of the North Korean people to gain favor with Kim Jung-un," Francisco Bencosme, advocacy manager for Asia Pacific at Amnesty International USA, said in a statement.
"His silence in the face of relentless and grave human rights violations has been deafening," Bencosme continued. "The people of North Korea have endured enforced disappearances, arbitrary detention, forced labor in prison camps, a total absence of press freedom, severe restrictions on freedom of expression and movement, and decades of separation of families. But President Trump has turned his back on them for the sake of a photo-op."