Trump Administration Sanctions Chinese Military Branch for Purchasing Russian Military Equipment
President Donald Trump sanctioned a branch of China's military and its director Thursday, marking the first time the U.S. leader has used the Countering America's Adversaries Through Sanctions Act (CAATSA), which Congress passed last year.
China's Equipment Development Department (EDD), one of the main branches of the Chinese military, will be sanctioned under the law, as will its director Li Shangfu, for having purchased Russian military equipment from people on CAATSA's List of Specified Persons (LSP). The LSP names people and entities believed to be part of Russia's defense or intelligence sectors, or to work on their behalf, according to the State Department.
EDD and Li are sanctioned "for engaging in significant transactions with persons on the LSP. These transactions involved Russia's transfer to China of Su-35 combat aircraft and S-400 surface-to-air missile system-related equipment," the State Department said in a statement Thursday.
EDD will now be denied export licenses and will be prohibited from making transactions with the U.S. financial system. Li will also be banned from carrying out financial transactions, and will be subjected to a visa ban.
China and Russia's militaries have bolstered cooperation in recent years, and recently launched joint military exercises considered the largest Russia has staged since the end of the Cold War.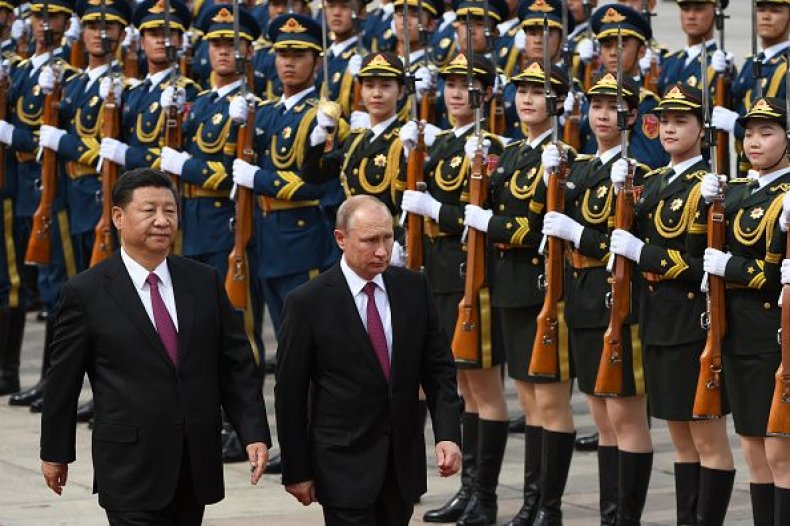 Thursday's announcement demonstrated that the Trump administration is willing to use CAATSA to pursue its foreign policy objectives, but some experts said it's only the first step toward addressing the way foreign countries, including U.S. allies, enter into lucrative transactions with Russia's military.
"I don't see this as significantly moving the needle. This is a reasonable, technocratic action, but it doesn't address the actual difficult issues posed by CAATSA 231, which centers around how to deal with Turkey, Iraq, Afghanistan and India," Brian O'Toole, a nonresident senior fellow at the Washington D.C.-based Atlantic Council, told Newsweek. "We'll need to see more on those before there's an indication that they're really using CAATSA the way Congress wants them to."
Turkey, for example, has decided to move ahead with the purchase of a Russian S-400 missile defense system even after vocal objections from its allies in the North Atlantic Treaty Organization (NATO).
On Thursday, the State Department also added 27 people and five entities to CAATSA's LSP, bringing a total of 72 people and entities on the list. Some of the new additions were also among the 12 Russian military intelligence officials who were indicted by special counsel Robert Mueller in July.
Another noteworthy addition to the list was Yevgeny Prigozhin, a man who has been nicknamed Putin's chef. Prigozhin has been accused by the special counsel of funding the Internet Research Agency (IRA), a troll farm that launched disinformation campaigns in the U.S. during the 2016 elections. The IRA was also among the entities the State Department added to the LSP Thursday.