Trump Administration Says Children of U.S. Troops Born Overseas Won't Get Automatic Citizenship
The Trump administration this week said that the children of U.S. troops and government employees born overseas will no longer be granted automatic citizenship.
U.S. Citizenship and Immigration Services (USCIS) on Wednesday issued a policy alert revoking a previous guidance that considers the children of service members and government officials born overseas as "residing in the United States." Under the former policy, the children would be granted automatic citizenship under the Immigration and Nationality Act (INA).
"Effective October 29, 2019, children residing abroad with their U.S. citizen parents who are U.S. government employees or members of the U.S. armed forces stationed abroad are not considered to be residing in the United States for acquisition of citizenship," the new policy states, adding that "parents who are residing outside the United States with children who are not U.S. citizens should apply for U.S. citizenship on behalf of their children."
"Leave taken in the United States while stationed abroad is not considered residing in the United States even if the person is staying in property he or she owns," the policy clarified.
The guideline also states that parents must complete the application process before their child's 18th birthday. It does not apply to children who have been granted citizenship in the U.S. at birth.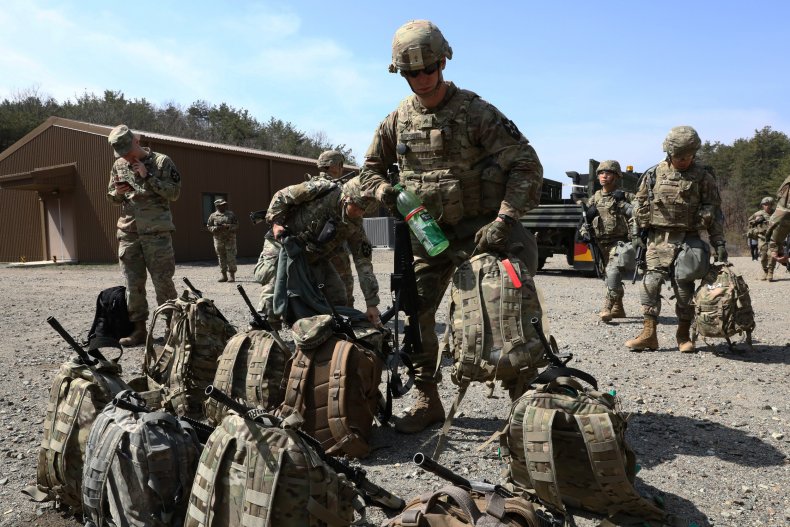 The policy appears to be targeting those seeking citizenship through the so-called derivation process. Previously, children who lived in a home overseas with their U.S. citizen parents fulfilled a residency requirement to derive citizenship. However, that residence must now be in the United States.
In a statement to The Hill, a Pentagon spokesperson predicted that the new policy will have a "small" impact.
"DoD has been working closely with our colleagues as DHS/USCIS regarding recent policy changes and understands the estimated impact of this particular change is small," Lt. Col. Carla Gleason said. "However, we are committed to ensuring affected families are provided the appropriate information, resources, and support during this transition."
Gleason also encouraged Americans to find further information about the policy on the USCIS Military Resource page.
Some Democrats quickly moved to criticize the policy after its announcement on Wednesday. "This move by the administration will make it harder for Americans serving our country overseas to have families," congresswoman Val Demings (D-Fla.) tweeted. "This also appears to be an initial step towards ending birthright citizenship, something which the president has threatened to do—and which would be unconstitutional."
Trump Administration Says Children of U.S. Troops Born Overseas Won't Get Automatic Citizenship | U.S.