Trump Administration Has Spent Millions for Security at Confederate Cemeteries Since Deadly Charlottesville Rally
President Donald Trump's administration has spent millions of dollars in security measures to protect Confederate cemeteries across the United States after the deadly "Unite the Right" rally August 2017.
The Department of Veterans Affairs has spent over $3 million on round-the-clock security at eight Confederate cemeteries since 2017, according to financial records obtained by the Associated Press.
The documents also show that the department has already budgeted another $1.6 million for the 2019 fiscal year to pay for security at all Confederate monuments, which may include additional locations around the nation. There is no indication on how long the administration plans to keep paying to protect the graveyards and monuments.
A spokesperson for the federal agency told the Associated Press that they have a "responsibility to protect the federal property it administers and will continue to monitor and assess the need for enhanced security going forward."
Most of the cemetery sites are located in the north of the United States, including New York, New Jersey, Ohio and Illinois. Even though a majority of those cemeteries are far removed from Confederate territory, the soldiers were buried in those locations because they had died as prisoners of war at nearby camps.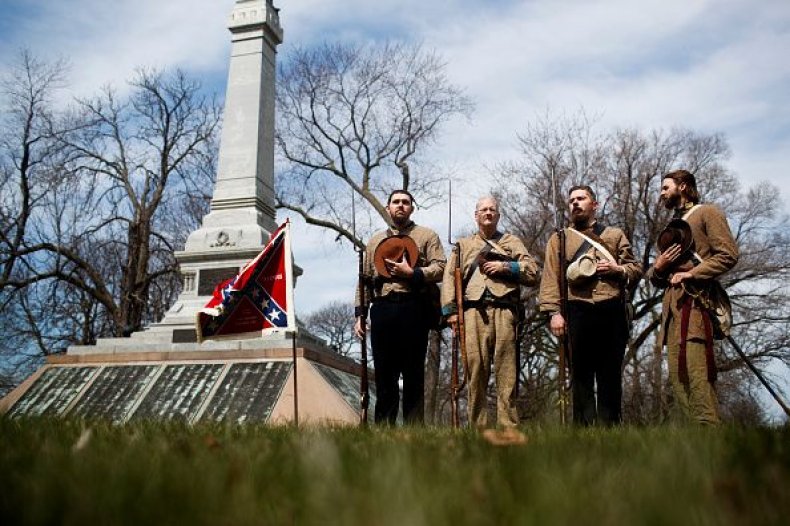 The last vandalism incident was at the Springfield National Cemetery in Missouri during August 2017, when someone threw paint on a 117-year-old Confederate memorial just before Trump arrived in town for a speech.
Since then, the security measures have been offered in 30-day contracts, which cost about $91,000 each. There has not been another vandalism incident reported at any of the eight cemetery sites since that of Springfield National Cemetery over a year ago.
Confederate memorials become a topic of national debate after a deadly mass shooting at a historic black church in Charleston, South Carolina, in 2015 that claimed the lives of nine parishioners. The shooter, Dylann Roof, had white supremacist roots and frequently posted photos online with him posed in front of Confederate flags holding a gun. The photos sparked much conversation about whether Confederate statues and memorials should be taken down.
Later, the Charlottesville rally in 2017 reignited the debate as white supremacists marched in the city to protest the removal of a statue of Confederate General Robert E. Lee. The violent clash between white supremacists and counterprotesters lead to the death of 32-year-old Heather Heyer. Heyer was killed when white supremacist James Alex Fields Jr. allegedly drove a car into a crowd of counterprotesters.
Trump responded to the tragic events by saying that there was "blame" to be placed on "both sides." The president has repeatedly defended Confederate monuments and urged them not to be taken down. He once tweeted that "the beauty that is being taken out of cities, towns and parks will be greatly missed and never able to be comparably replaced!"
This past Saturday Trump appeared to praise General Lee during a campaign stop in Ohio. However, Trump later insisted he was, in fact, praising General S. Ulysses Grant.