Trump Administration Urges Nursing Homes to Reopen Only When All Staff and Residents Test Negative for COVID-19
Updated guidance from the Centers for Medicare & Medicaid Services (CMS) released Monday called for "extreme caution" to be used by state governments when deciding when to open nursing homes for visitation.
Included within the guidelines is the recommendation that nursing home staff should be tested for coronavirus on a weekly basis while virus screening should be administered every day. Visitors should not be allowed into a nursing home until there have been no reported positive cases for a consecutive four weeks.
Long-term care facilities have been known to be coronavirus hotspots due to the rapidity of community spread and the prevalence of other illnesses inhabited by residents of the homes.
"Coronavirus has had a devastating impact on nursing homes, and as we reopen America, we want to make sure we are doing everything we can to protect our most vulnerable citizens," said CMS Administrator Seema Verma in a Monday statement. "Our focus continues to be the safety and quality of life of nursing home residents and while we are not at a point where nursing homes can safely open up, we want to make sure communities have a plan in place when they are ready to reopen."
Guidance from the CMS suggests a three-phase reopening for long-term care facilities. In phases one and two, visitation is "generally prohibited" except for compassionate care visits to patients diagnosed with terminal diseases. Normal visitation would not be allowed until phase three, which would include virus screenings for visitors and require the use of face coverings and hand sanitization.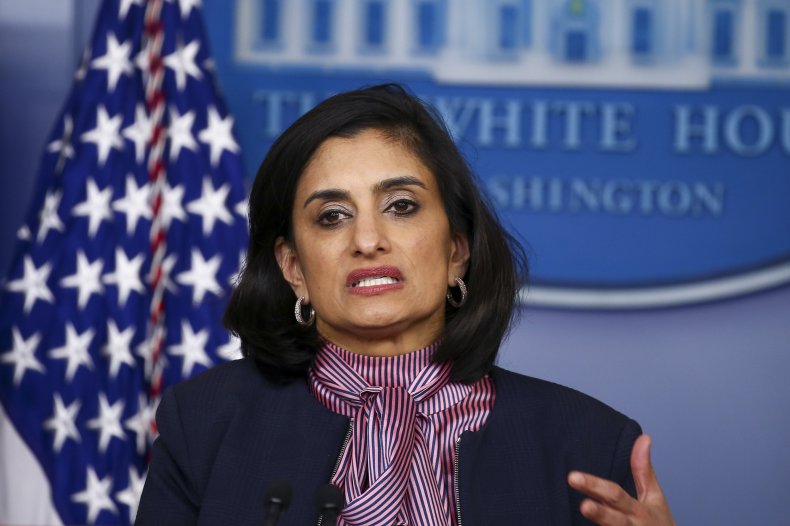 When deciding when to relax nursing home restrictions, state governments are advised by the CMS to consider the statewide rate of infection, the capacity for adequate testing and whether the facility has adequate staffing with no shortages. Even when other businesses in the state reopen, the CMS advises that nursing homes be among the last to open their doors to help keep residents of the facilities safe.
Positive cases of coronavirus, along with the number of deaths attributable to the virus, are required to be reported to CMS on a weekly basis. Failure to comply with the regulation will result in a fine of roughly $1,000 per week.
Newsweek reached out to the CMS for further comment. This story will be updated with any response.
Data released by the Kaiser Family Foundation Monday showed that out of 45 states reporting long-term care facility statistics for coronavirus, 7,056 facilities had reported a total of 152,118 cases of the virus. There were 30,130 reported deaths in the facilities attributable to the virus.
Governor Andrew Cuomo of New York, where roughly 4,800 residents of long-term care facilities died of the virus within a two-month time span, said nursing homes were "the biggest fear" as far as coronavirus spread and fatality.
"Despite whatever you do, because with all our progress as a society," Cuomo said at a Monday news conference, "we can't keep everyone alive."