Trump Administration Wanted to Block Undocumented Children From Attending Public School
Stephen Miller, Trump's senior adviser, wanted to block undocumented children from being able to attend public schools. In 1982, the Supreme Court ruled that it was illegal to block children from public schools based on their immigration status.
According to a new report in Bloomberg, Miller and other Trump officials had been working since 2017 to figure out a way around the Supreme Court ruling. The administration wanted to issue a guidance memo to the Education Department telling states they could refuse to allow undocumented children to attend public schools.
"The memo wasn't issued because the secretary would never consider it," Education Department spokeswoman Liz Hill told Bloomberg.
A senior administration official, requesting anonymity, told Bloomberg that the claims were merely gossip. However, the official did not identify anything specific as being inaccurate.
In May, Trump said that enrolling undocumented children "strains our public school systems," using funds that should go to documented citizens.
"We're using the funds that should be going to them," Trump said. "And that shouldn't happen. And it's not going to happen in a very short period of time."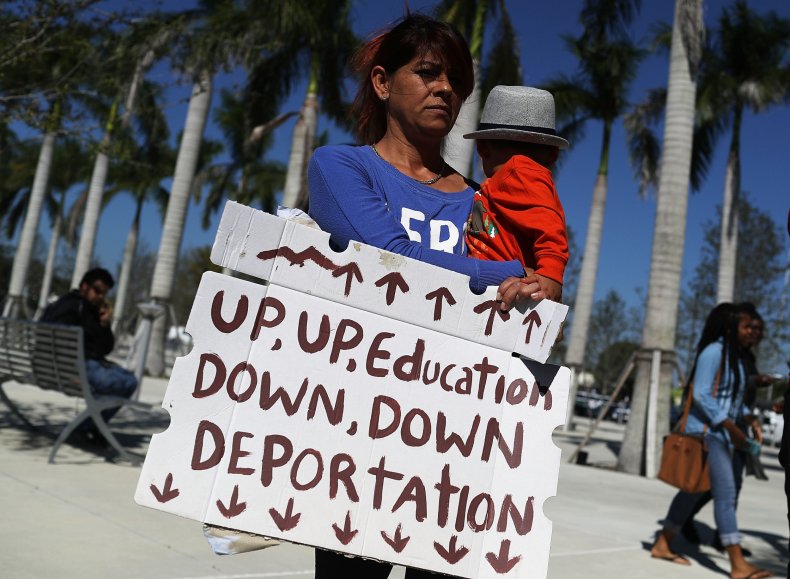 Though the Trump administration tried to keep undocumented kids out of public schools, officials were repeatedly told that their plans would run afoul of the Supreme Court's ruling in Plyler v. Doe.
The Supreme Court ruled in 1982 that states could not prohibit people from enrolling in public schools based on immigration status. The ruling struck down a Texas state statute that denied funding for educating undocumented children. The statute also charged an annual fee of $1,000 for every undocumented child in public schools to compensate for the lost funding.
The Court ruled in a 5-4 decision that this policy was in violation of the Fourteenth Amendment, which says that states cannot "deprive any person of life, liberty, or property, without due process of law; nor deny to any person within its jurisdiction the equal protection of the laws."
In the decision, Justice William Brennan wrote, "The children who are plaintiffs in these cases are special members of this underclass. ... Those who elect to enter our territory by stealth and in violation of our law should be prepared to bear the consequences, including, but not limited to, deportation. But the children of those illegal entrants are not comparably situated."
"Even if the State found it expedient to control the conduct of adults by acting against their children, legislation directing the onus of a parent's misconduct against his children does not comport with fundamental conceptions of justice," Justice Brennan added.