Trump Administration Wants Next $1 Trillion Stimulus Package by Aug. 3, Says It Should Protect Unemployed
President Donald Trump's administration has set parameters for the next economic stimulus package: It should be passed before the August congressional recess and have a price tag of $1 trillion.
Marc Short, Vice President Mike Pence's chief of staff, told Bloomberg Radio on Tuesday there's been a "lot of stimulus" pumped into the economy over the past four bills, so $1 trillion is the price tag the White House is eyeing. Unlike in March, when the economy was shutting down, businesses are reopening, and the latest package should target those still bearing the financial brunt of the pandemic.
"I think we want to make sure that people that are still unemployed or hurting are protected, but at the same time we want to take into consideration the fact the economy is bouncing back and want to try to contain the amount of spending," Short said.
The $1 trillion price tag isn't surprising, as Trump officials have been touting the spending cap for at least a month. It's a $1.2 trillion decrease from the Coronavirus Aid, Relief and Economic Security (CARES) Act that Congress unanimously passed in March and could make it tough to include widespread economic relief payments.
Under the CARES Act, individuals making under $75,000 received a $1,200 payment, plus $500 for any child. Including similar payments in the next package, at an estimated cost of $290 billion, would eat up one-third of the total cost.
Trump supports another round of stimulus checks, and it's possible the direct payments could be issued on a more limited scale. In late June, Larry Kudlow, Trump's top economic adviser, told Fox Business that stimulus checks were still on the table. He said if he had to guess, they would go to those who lost their jobs and were "most in need."
Senate Majority Leader Mitch McConnell made a similar suggestion on Monday during an event in Kentucky. He said there could well be another round of stimulus checks that would go to those who are struggling.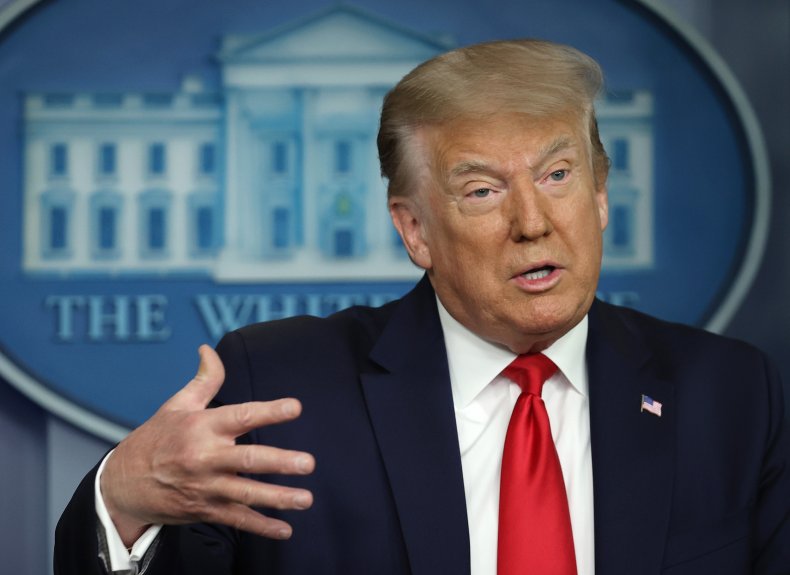 "I think the people who have been hit the hardest are the people who make about $40,000 a year or less," McConnell said. "Many of them work in the hospitality industry. The hospitality industry, as you all know, just got rim-racked...so that could well be a part of it."
Newsweek reached out to the White House for comment but did not receive a response in time for publication.
The House of Representatives is scheduled to start its summer recess on August 3, followed by the Senate on August 10. By that time, Short said, the administration wants a bill on Trump's desk. It's a timeline that Speaker of the House Nancy Pelosi said was doable.
Negotiations aren't likely to start until July 20, when the Senate returns from a two-week break, which "of course" would give Congress enough time to do another bill before the August recess, Pelosi said Thursday. Since Republicans have publicly said what they want in the bill, Pelosi anticipates they "will have a bill."
Shuttering businesses to slow the spread of the coronavirus has pushed unemployment higher than it's been since the Great Depression. The White House's goal has been to reopen businesses and allow people to return to work, so Short told Bloomberg liability protections for companies are "essential."
Without protecting companies that reopen and asking employees to return to work, McConnell said, there could be an "epidemic of lawsuits" amidst a pandemic that is preventing America from fully returning to normal.
While state restrictions have been lifted and businesses allowed to reopen, some had already taken too big of a financial hit to survive, putting their employees out of work. Other areas have yet to open businesses at full capacity, and 17 million people remain unemployed.
Tyler Goodspeed, acting chairman of the president's Council of Economic Advisers, told Bloomberg Radio that there needs to be a balance between income replacement and ensuring there aren't "excessively high" implicit tax rates on returning to work. If implicit tax rates top 100 percent, it'll be more lucrative for workers to stay at home, Goodspeed said.
But the next stimulus package can't allow a "big blow to household income," which Goodspeed said is critical to the economy.