Donald Trump Administration Will Reach 'Season Finale' Through Impeachment, Presidential Scholar Predicts
Presidential historian Jon Meacham is predicting that President Donald Trump's administration will reach its "season finale" with impeachment. In an interview with Morning Joe, Meacham compared Trump's behavior to that of former President Richard Nixon's during Watergate.
Meacham told host Joe Scarborough that the president's promise to ask the Department of Justice (DOJ) to investigate whether the FBI spied on his campaign echoed the actions of Nixon before special prosecutor Archibald Cox was fired.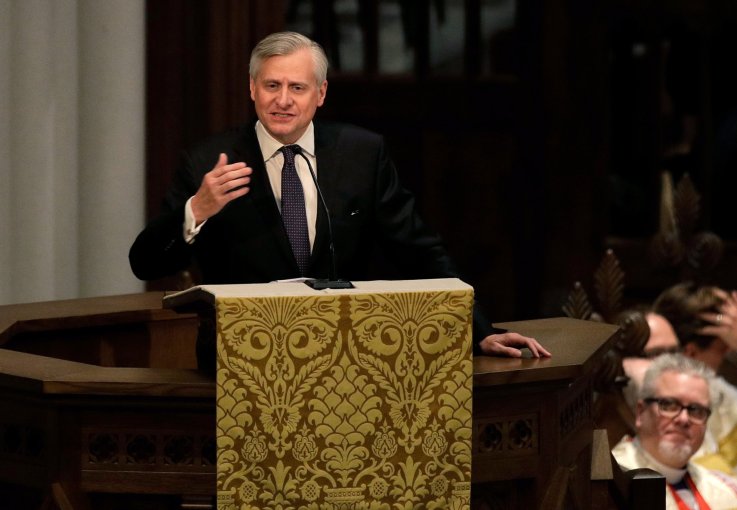 The presidential historian, who recently published a book called The Soul of America, noted that Democrats could be presented with a better opportunity to impeach Trump after the midterm elections, according to The Hill.
"I would bet a good bit of money this is going to end up in the House with some kind of impeachment proceeding, and the makeup of that body and ultimately the reaction of the United States Senate, which is supposed to be the great deliberative check and the great final hammer on these things," he said Monday. "I think…that's going to be the season finale of this."
Meacham also pointed to Nixon and Trump's apparent obsessions with their former opponents. "Both Nixon and Trump have an ongoing obsession with their former opponents in a way that I think shapes what they do in deleterious ways, to say the least," Meacham said.
Talks of impeachment have clouded the Trump administration from the start. There have been renewed talks of impeachment after Trump demanded the DOJ investigate whether his presidential campaign was "infiltrated or surveilled" by the FBI.
"I hereby demand, and will do so officially tomorrow, that the Department of Justice look into whether or not the FBI/DOJ infiltrated or surveilled the Trump Campaign for Political Purposes - and if any such demands or requests were made by people within the Obama Administration!" the president tweeted on Sunday.
On Monday, the agency directed the Inspector General to investigate the allegations, according to NBC News. Trump is scheduled to meet with Deputy Attorney General Rod Rosenstein, FBI Director Christopher Wray, White House chief of staff John Kelly and the Director of National Intelligence Dan Coats.
Several Democrats, including House Minority Leader Nancy Pelosi and Senator Dianne Feinstein, have spoken out against Trump appearing to interfere with the DOJ. However, Democratic leaders have downplayed talks about impeachment fearing Election Day repercussions.
In order to impeach a president, there needs to be a majority vote in the House of Representatives. Then, a two-thirds majority vote is needed to win a conviction on impeachment in the Senate.
Donald Trump Administration Will Reach 'Season Finale' Through Impeachment, Presidential Scholar Predicts | U.S.