Trump Administration Won't Recognize Russia's Annexation of Crimea, Condemns Kremlin Actions in Ukraine, Mike Pompeo Says
In what appears to be a demonstration of the Trump administration's tough stance on Moscow, Secretary of State Mike Pompeo released a statement Wednesday pledging that the U.S. would never recognize Russia's annexation of Crimea.
"Russia, through its 2014 invasion of Ukraine and its attempted annexation of Crimea, sought to undermine a bedrock international principle shared by democratic states: that no country can change the borders of another by force," Pompeo said prior to testifying before the Senate Foreign Relations Committee on Wednesday.
The top diplomat then went on to reference the 1940 Welles Declaration, a statement from then–Secretary of State Sumner Welles that condemned the Soviet occupation of Baltic States Estonia, Latvia, and Lithuania at the onset of World War II.
"As we did in the Welles Declaration in 1940, the United States reaffirms as policy its refusal to recognize the Kremlin's claims of sovereignty over territory seized by force in contravention of international law. In concert with allies, partners, and the international community, the United States rejects Russia's attempted annexation of Crimea and pledges to maintain this policy until Ukraine's territorial integrity is restored," the statement continues. "The United States calls on Russia to respect the principles to which it has long claimed to adhere and to end its occupation of Crimea."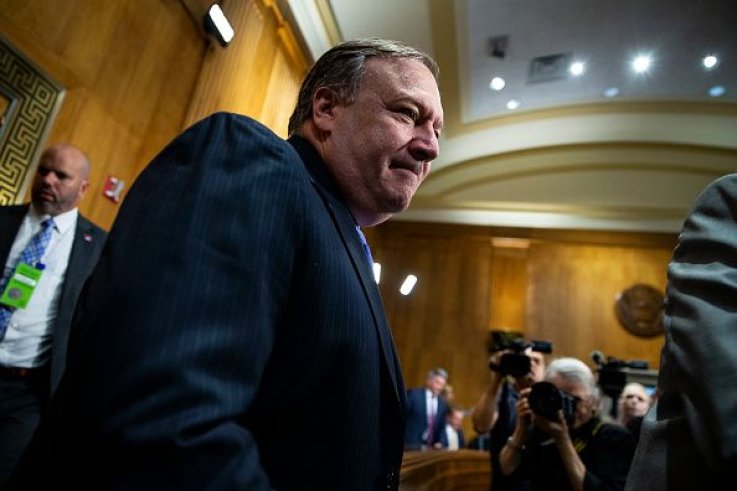 During the testimony, at which Republican Senator Bob Corker, from Tennessee, and Democratic Senator Ben Cardin, from Maryland, were deeply critical of the administration's policies, Pompeo upheld the statement as an example of President Donald Trump's decisive foreign policy.
"You come before a group of senators today who are filled with serious doubts about this White House and its conduct of American foreign policy," Corker, chairman of the Senate Foreign Relations Committee, told Pompeo Wednesday. "There are a number of reasons to be concerned, among them is the lack of information the administration has provided to members of this committee."
When Cardin asked Pompeo if Trump has contemplated Putin's request to question former U.S. Ambassador to Russia Michael McFaul over his role in the enactment of the 2012 Magnitsky Act, which sanctions Russians involved in human rights violations, Pompeo said, "Let me make clear, the United States will defend our team in the field. And the team that's been in the field when it retires, that's been in the field. We understand that Americans deserve the protection in the United States of America both during their time in service and after."
During the hearing, Pompeo refused to provide details about whether Trump had discussed lifting sanctions on Moscow when he met with Russian President Vladimir Putin in private in Helsinki, Finland, last week.
The statement on Ukraine was released a little over a week after Trump held a joint press conference with Putin, in which the Republican leader failed to mention Ukraine or the annexation of Crimea.
Trump Administration Won't Recognize Russia's Annexation of Crimea, Condemns Kremlin Actions in Ukraine, Mike Pompeo Says | World