Trump Administration Bid to End DACA Thwarted Again After Appeals Court Rules Against 'Flawed' Decision
A U.S. appeals court blocked the Trump administration on Thursday from ending the Obama-era Deferred Action for Childhood Arrivals (DACA) program just days after the government urged the Supreme Court to step in and rule on the case.
The three-judge panel of the 9th U.S. Circuit Court of Appeals ruled unanimously to keep a preliminary injunction in place against the Trump administration's bid to end DACA, which protects from deportation hundreds of thousands of undocumented immigrants brought to the U.S. as children, the Associated Press reported.
In the ruling, 9th Circuit Judge Kim Wardlaw said the administration's plan to end the program had been based on a flawed legal theory, with recently fired Attorney General Jeff Sessions previously saying DACA was unlawful because former President Barack Obama did not have the authority to adopt the program in the first place.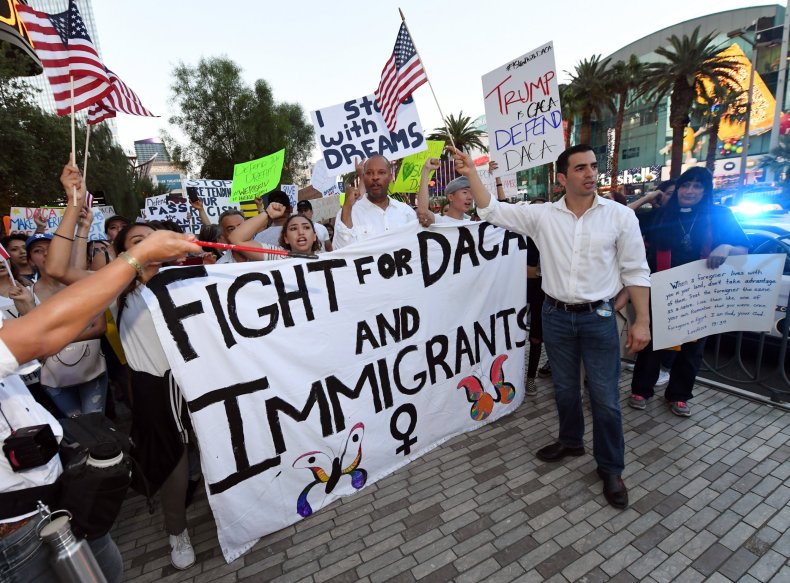 Wardlaw said that was untrue, asserting that the U.S. government had a long history of using its own discretion to determine whether or not to enforce immigration laws against groups of people, including "Dreamers," or immigrants brought to the U.S. as children.
"We hold only that here, where the Executive did not make a discretionary choice to end DACA—but rather acted based on an erroneous view of what the law required—the rescission was arbitrary and capricious," Wardlaw reportedly wrote in the ruling. "The government is, as always, free to reexamine its policy choices, so long as doing so does not violate an injunction or any freestanding statutory or constitutional protection."
The three judges acknowledged that while the federal government could still end DACA for policy reasons, it could not do so based on the inaccurate claim that the government did not have the power to enact such a program.
On Monday, the Department of Justice had filed court documents urging the Supreme Court to bypass three federal appellate courts, including the 9th Circuit, and rule directly on whether it was lawful for the Trump administration to end DACA.
The Supreme Court had previously denied the government's request to hear its appeal after a prior district court order had barred the government from ending the program before the 9th Circuit's own review of the case.
The Trump administration's latest request suggests that it was looking to expedite the lawsuit's journey to Supreme Court, especially now that Justice Brett Kavanaugh has joined, bringing a five-justice conservative majority to the court.