Trump Administration's H-1B Visa Fraud Hotline Received More Than 5,000 Tips in One Year
U.S. Citizenship and Immigration Services (USCIS) has received, as of May 21, more than 5,000 tips reporting H-1B visa fraud and abuse through an email helpline set up under the Trump administration, spokesperson Philip Smith told Newsweek.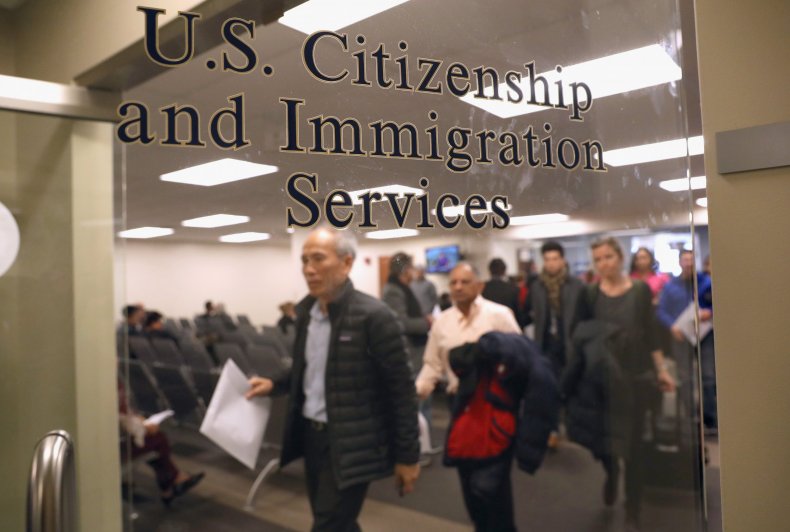 The email address reporth1babuse@uscis.dhs.gov was set up by the Fraud Detection and National Security Directorate (FDNS), which fronts USCIS's efforts to combat immigration fraud, after President Donald Trump signed his "Buy American, Hire American" executive order last year.
It was announced by USCIS as one of several "measures to detect H-1B visa fraud and abuse" in a press release sent out on April 3, 2017.
USCIS has said that while the H-1B visa program is meant to provide temporary work visas to highly-skilled foreign professionals working in areas with shortages of qualified American workers, employers have been known to "abuse" the program, causing "too many American workers who are as qualified, willing, and deserving to work in these fields [to be] ignored or unfairly disadvantaged."
The email helpline was set up to allow "individuals (including both American workers and H-1B workers who suspect they or others may be the victim of H-1B fraud or abuse) to submit tips, alleged violations and other relevant information about potential H-1B fraud or abuse," USCIS has said.
USCIS has yet to respond to a request from Newsweek asking how many of the 5,000 complaints it has received have resulted in arrests and what the nature of the complaints it has received since it launched the email helpline has been.
In addition to rolling out the email hotline, USCIS also announced that the agency would be taking a "more targeted approach" while making site visits across the country to H-1B petitioners and the work sites of H-1B employees, including focusing on cases where the agency is unable to verify an employer's "basic business information through commercially available data."
The agency also vowed to investigate H-1B-dependent employers who have a high ratio of H-1B workers compared to U.S. workers, as well as employers petitioning for H-1B workers who work at off-site locations.
The agency's practice of conducting random site visits to places where H-1B visa users work has been in place since 2009.
USCIS says it refers many cases of suspected fraud or abuse to U.S. Immigration and Customs Enforcement (ICE) for further investigation. It is unclear how many of those referrals result in ICE investigations.
Despite fears of the H-1B visa program coming to an abrupt end under the Trump administration, applications for the visas hit the 65,000 annual maximum set by Congress in just five days for fiscal year 2019.
USCIS said it also met its 20,000-visa cap for its advanced-degree exemption, known as the "master's cap."
Updated | This article has been updated with comments from USCIS.