Trump Administration's New Hog Slaughterhouse Rules May Risk 'More Contamination and Food Safety Recalls'
The U.S. Department of Agriculture announced updates on Tuesday to the nation's hog slaughterhouse inspection procedures that critics warn yield more oversight to the industry and could endanger workers and consumers.
The new USDA rules will enable meat companies to dictate their own pace when it comes to the killing of livestock by removing maximum limits on line speed. They also increase the delegation of inspection responsibilities to local plant employees, who do not undergo the same training as government officials.
Food safety and worker advocates quickly decried the changes, saying they will result in "the fox guarding the henhouse."
"With less government oversight over hog slaughter inspection, big meat companies will have the freedom to inspect themselves and push towards their goal of increasing line speeds," the nonprofit Food & Water Watch said in a statement. "There's no doubt about it: faster line speeds + less inspection = more food contamination."
The changes represent the first updates to U.S. hog slaughterhouse inspection procedures in over half a century, and the USDA argues they will bring much-needed modernization to the industry.
"This regulatory change allows us to ensure food safety while eliminating outdated rules and allowing for companies to innovate," USDA Secretary Sonny Perdue said in a statement.
The federal government will no longer impose upper restrictions on how fast meat companies can slaughter pigs. Major players in the industry have long pursued such a change, as higher processing speeds can boost profits.
In addition, responsibilities previously in the remit of USDA inspectors will be ceded to employees of the plants, such as the removal of meat with particular defects from the processing line. Critics argue this move essentially privatizes the inspection process and will lead to more instances of contamination.
"What the Secretary Perdue calls 'modernization' really just looks like deregulation, another Trump administration gift to big industry," Karen Perry Stillerman, senior analyst in the Food and Environment Program at the Union of Concerned Scientists, told Newsweek.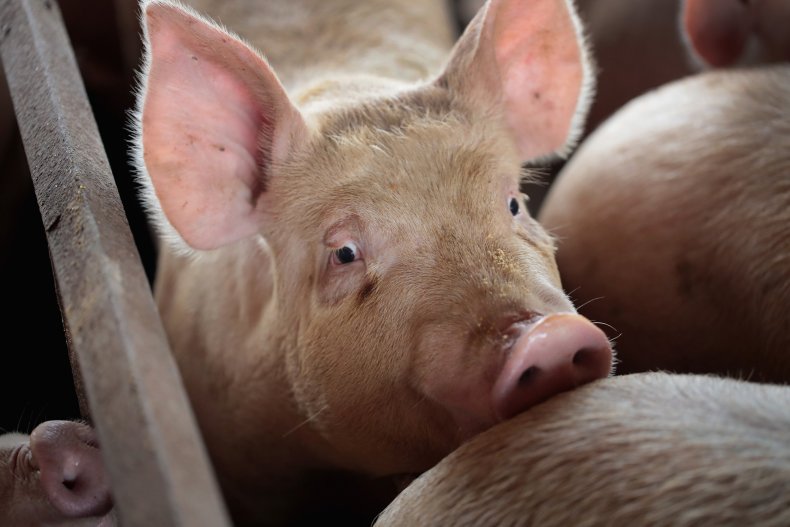 Shanna Devine, a worker health and safety advocate at the nonprofit Public Citizen, described it as a "reckless" decision and accused the USDA of rushing through a "flagrant anti-worker, anti-consumer proposal."
Devine said more than 10 years' worth of whistleblower tip-offs confirm that workers are unable to identify fecal matter and pathogens on swine under faster line speeds. The changes could also endanger employees, she said, who would be put at greater risk of repetitive strain injuries, lacerations and even amputations.
Debbie Berkowitz, director of the worker safety and health program at the National Employment Law Project, said the changes will slash the number of government food safety inspectors from pig plants by 40 percent and pass on their responsibilities to employees without the necessary training.
The updated procedures were trialed in five pig plants as part of a pilot program announced in 1997, according to the USDA. Results from the study showed that the companies involved operated with an estimated average line speed of 1,099 hogs per hour (hph)—i.e., less than the current upper limit of 1,106 head per hour (hph)—but it varied, with some plants reaching speeds of up to 1,295 hph. The plants also performed worse than similar plants under traditional inspection. There were more violations for serious food safety problems, like carcass contamination.
"The point of USDA regulations is to protect the public's health and safety," explained Stillerman. "Allowing already-dangerous processing lines to run faster gives Smithfield and other big meatpackers an opportunity to make bigger profits, but it puts workers in greater danger and risks more contamination and food safety recalls."