The Trump Admin's Taiwan Policy is a Boon to America's National Interest | Opinion
Before the dawn of the Trump presidency, the then-president-elect broke protocol and took a congratulatory phone call from Taiwan's President Tsai Ing-Wen. This was quite notable, as there had not been communication between the heads of the two states since America broke off official relations with Taiwan in 1979.
Subsequent to that historic call, the Trump administration signed into law numerous pieces of legislation bolstering bilateral ties, authorizing substantial arms sales to the island nation and leading military exercises in and around it. Equally important, the administration backed it at generally hostile, China-controlled international forums—consistent with the administration's Indo-Pacific Strategy and related statements.
Now, as the Trump presidency comes to a close, the administration is taking a final major step to cement U.S.-Taiwan relations: removing all restrictions on U.S. government officials' interactions with Taiwanese counterparts.
This is a fitting final act in service of America's national interest. It represents a characteristic willingness to act from strength in pursuit of peace, rooted in the recognition of truth, reality and what is right. This is in stark contrast to decades-long prevailing policy that had demonstrated weakness, rooted in fear of offending a hostile adversary, largely consisting of acquiescing to China's threats over such relations with Taiwan. In sum, the Trump administration, by treating Taiwan as the ally that it is, put America's national interest first—rather than effectively putting Communist China's national interest first.
Indeed, according to Secretary of State Mike Pompeo, the Trump administration's latest policy aims to end the effort to "appease the Communist regime in Beijing" and demonstrate that the U.S.-Taiwan relationship ought not to "be shackled by self-imposed restrictions of our permanent bureaucracy." It was therefore meant to resonate not just from Taipei to Beijing, but from the current administration to its successor.
Shortly after the January 9 announcement of the policy removing restrictions on U.S. government officials' interactions with their Taiwanese counterparts, the administration announced plans to send United Nations (UN) Ambassador Kelly Craft to Taiwan, where, among other things, she was to reportedly meet with President Tsai. Coming on the heels of two other such historic high-level visits of Trump administration officials to Taiwan since August 2020, the first such visit by a UN ambassador since 1968 would have been momentous. Unfortunately, it was scuttled when the State Department canceled all scheduled travel, including Secretary Pompeo's scheduled visit to Europe, on account of transition planning.
If, as has been rumored, the cancellations were actually attributable to European officials' reticence to meet with the secretary of state, our allies and partners across the pond inadvertently undermined their own interests. Stronger relations between the U.S. and Taiwan are not only consistent with the liberal values and principles to which the Europeans often pay lip service, but also undercut Beijing's imperialist aims—aims that threaten the Europeans no less than do Americans. Each and every step detrimental to Communist China's hegemonic march redounds to Europe's benefit.
Taiwan is a living, breathing testament to what China could be were its people to be freed of the shackles of Communism. As Secretary Pompeo stated when he revealed the now-canceled trip, it was to stand as a reflection of U.S. support for "all who yearn for freedom." He emphasized that Taiwan is a "reliable partner and vibrant democracy that has flourished despite CCP [Chinese Communist Party] efforts to undermine its great success. Taiwan shows what a free China could achieve."
These points continue to hold, and cannot be repeated often enough.
While disappointing that the administration will not be reinforcing its policy via the UN ambassador's trip, the U.S. and Taiwan have already taken other steps consistent with the State Department policy change. U.S. Ambassador to the Netherlands Pete Hoekstra met with his Taiwanese counterpart Chen Hsing-hsing at the U.S. embassy in the Hague; U.S. Assistant Secretary of State for Political-Military Affairs Clarke Cooper held a closed-door meeting with Taiwan's Representative to the U.S. Hsiao Bi-khim; and indications are that Taiwanese officials will resume flag-raising at their de facto Washington embassy—which had ended in 1979, and which the Obama administration disavowed when once done in 2015. Taiwan will also be raising its flag outside its de facto New York consulate.
In response to the State Department shift, Representative Hsiao declared: "Decades of discrimination, removed."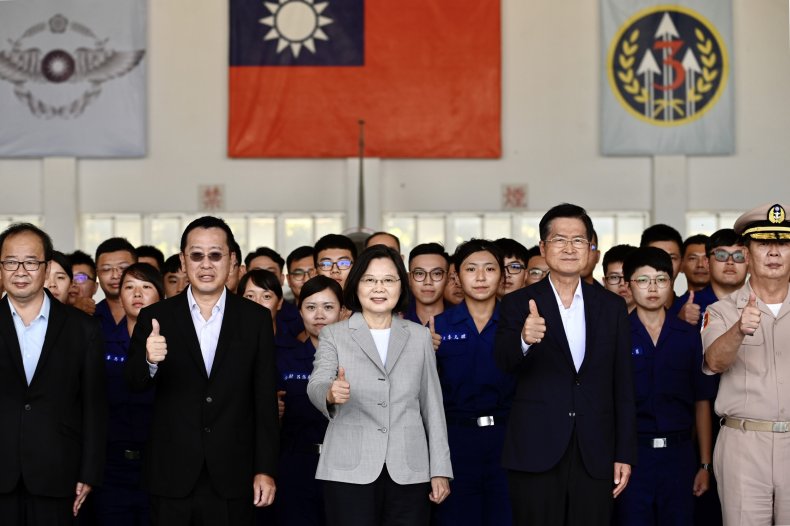 History ought to shine brightly on the Trump administration for its substantive and symbolic moves with respect to Taiwan, including its calling into question the foreign policy establishment's sacrosanct concept of "One China" itself. In so doing, the administration rejected the China-accommodating—and therefore China-empowering—status quo. The administration did so regarding one of the most critical issues of all in the CCP's eyes, given that "reunification of the motherland"—in other words, the forcible takeover and subjugation of Taiwan—is one of its most cherished goals.
Pundits have noted that the lifting of constraints on U.S.–Taiwanese government officials' interactions is meant to box in the incoming Biden administration, by making it tougher to revert to an accommodationist China policy that will aid Beijing's rise.
This point is merited for myriad reasons. Given the history of U.S.-China relations, President-elect Biden's own record and that of the Obama administration—whose personnel are being brought en masse into Biden's—there is a strong case to be made that we should read recent talk by Biden staffers and CCP leaders calling for a return to "normalcy" and "cooperation" as: "A return to Communist China's unimpeded rise to global hegemony, with American support."
History will show that the Trump administration has been justified in taking the many constructive steps it has to consolidate and entrench its achievements in reorienting U.S.-China relations toward our national interest, and away from such a disastrous direction.
For those who would criticize the Trump administration for continuing its push so late in its tenure, it should be noted that the Obama administration set a clear precedent for taking late actions, with its maneuvering on both foreign and domestic matters during its "transition" to the Trump administration.
The emphasis on Taiwan in the final days of the Trump presidency is actually a blessing for his successor, regardless of China's saber-rattling, because the stronger U.S.-Taiwan relations are, the greater the bulwark against and leverage over China will be.
That strength, as noted, is rooted in the recognition of the truth, reality and what is right—that Taiwan is a free, independent, flourishing democracy that ought to remain one.
Will the Biden administration build on such burgeoning relations, or instead seek to downgrade them?
Early results are inconclusive. Prior indicators were negative. Viewed in context of Biden's overall weakness on China, such ambiguity should be viewed as a harbinger of bad things to come.
Since the presidential election, the Biden transition team has put out boilerplate messaging about a desire for American support for Taiwan to remain "strong, principled and bipartisan," and to support "peaceful resolution of cross-strait issues consistent with the wishes and best interests of the people of Taiwan."
While Secretary of State-designate Tony Blinken has accepted congratulations on the election from Representative Hsiao, President-elect Biden, unlike President Trump, has taken no such call from his counterpart, in spite of President Tsai's reported desire to make it.
A Biden administration committed to Taiwan should initiate that call and proceed to strengthen the foundation the Trump administration has built, rather than undermine it.
Ben Weingarten is a senior fellow at the London Center for Policy Research, fellow at the Claremont Institute and senior contributor to The Federalist. He is the author of American Ingrate: Ilhan Omar and the Progressive-Islamist Takeover of the Democratic Party (Bombardier, 2020). Ben is the founder and CEO of ChangeUp Media LLC, a media consulting and production company. Subscribe to his newsletter at bit.ly/bhwnews, and follow him on Twitter: @bhweingarten.
The views expressed in this article are the writer's own.