Trump Says Elizabeth Warren 'Rose From the Ashes' After 'Pocahontas' Controversy as Senator Climbs in 2020 Race
President Donald Trump reluctantly admitted that Elizabeth Warren "rose from the ashes" after he goaded the senator to prove her marginal Native American ancestry to voters through a DNA test.
"I don't want to talk about it, because you know, the last time I took on Elizabeth Warren I thought she was gone. Embers, you know, burning embers down," Trump told Fox News host Sean Hannity in an hour-long interview Monday night.
When Warren entered the 2020 race in February, Trump claimed that he had hurt her campaign "very, very badly" by laying the "Pocahontas trap."
Warren opted to take the DNA test, which showed she was somewhere between 1/64th and 1/1024th Native American, after receiving backlash for claiming Native American status during her time in higher education. Trump was one of Warren's biggest attackers, using the slur "Pocahontas" to refer to the Massachusetts lawmaker.
But Trump told Hannity Monday night that the controversy didn't derail Warren's campaign as much as he thought it had. During the interview about the 2020 candidates, it was the Fox News host who first referred to Warren as "Pocahontas."
"Pocahontas. There's only one, and it's not her. So what happened, Sean? She rose from the ashes, and I give her credit for that, but I don't like talking about it," Trump said.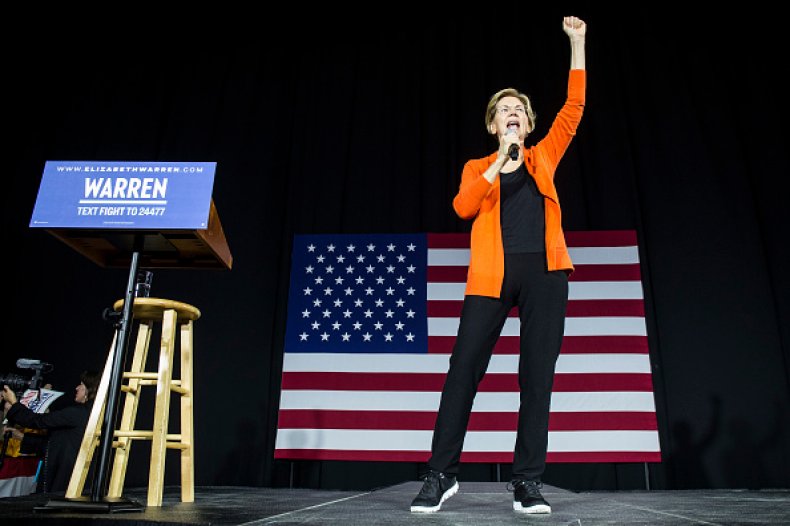 Warren has steadily been in the trio of Democratic frontrunners, which includes former Vice President Joe Biden and Vermont Senator Bernie Sanders. Throughout most of her campaign, Warren was coming in third place behind her male counterparts. But recently, polls show that both Biden and Sanders may be the ones who have to start playing catch up.
Warren pushed ahead of both Biden and Sanders in a recent George Washington University poll. The Massachusetts senator led the Democratic field with 28 percent of the vote. Sanders came in second with 21 percent of the vote and Biden in third with just 18 percent support.
Not only is Warren rising in the Democratic primary, but polls also show that she is likely to defeat Trump in the general election. Forty-nine percent of voters polled by Quinnipiac University earlier this month backed Warren, compared to the 41 percent who said they'd vote for Trump in his re-election bid.
Because of her rise, Warren was the target of many attacks during the last Democratic debate. The senator faced shots from multiple candidates who criticized her more progressive policies, like Medicare for All and her proposed wealth tax.
"Look, I understand that this is hard, but I think as Democrats, we are going to succeed when we dream big and fight hard, not when we dream small and quit before we get started," Warren said during the debate.