Donald Trump Admits to Making 'Insulting' Remarks About Canada
President Donald Trump has confirmed the authenticity of leaked off-the-record comments that he made in an interview with Bloomberg News on Thursday that were reported by The Toronto Star on Friday.
Discussing ongoing talks with Canada surrounding a new NAFTA deal, which Mexico has already agreed to, Trump reportedly said: "It's going to be so insulting they're not going to be able to make a deal," an anonymous source told the Canadian newspaper.
"Here's the problem. If I say no — the answer's no," Trump said. "I can't kill these people," he added, speaking about the Canadian government.
The president also said that any possible deal with Canada would be "totally on our terms."
"Off the record, Canada's working their ass off. And every time we have a problem with a point, I just put up a picture of a Chevrolet Impala," he said. The vehicle is produced at a General Motors facility located in Ontario.
On Friday, Trump confirmed via Twitter that the comments were authentic, criticizing Bloomberg for letting them leak and to attack the media.
"Wow, I made OFF THE RECORD COMMENTS to Bloomberg concerning Canada, and this powerful understanding was BLATANTLY VIOLATED," the president. "Oh well, just more dishonest reporting. I am used to it. At least Canada knows where I stand!"
Officials representing Canadian Prime Minister Justin Trudeau's government reportedly viewed the comments as proof that Washington is not willing to compromise, according to The Toronto Star. They reportedly brought up the comments as a concern in their meeting with U.S. negotiators on Friday morning.
"We will only sign a deal if it is a good deal for Canada," Trudeau said in response to Trump's comments, the daily reported. "Again, no deal is better than a bad deal for Canada and for Canadians, and that's exactly what we are remaining firm on. However, we know that it is possible to get a deal that works in everyone's interests."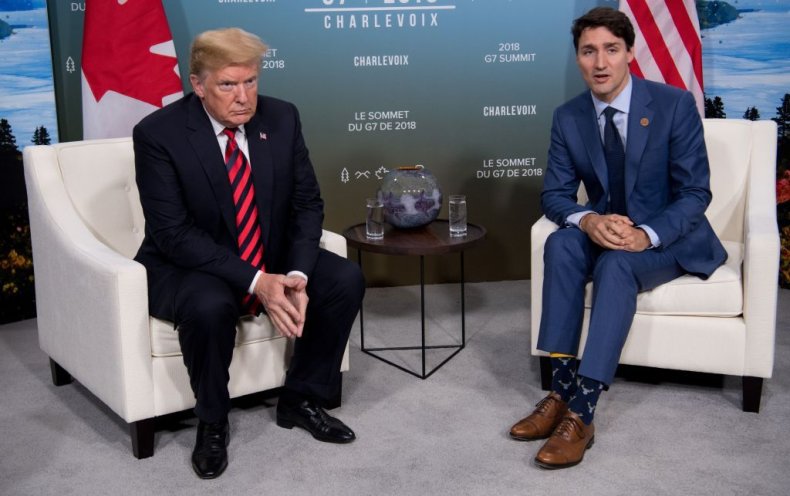 White House deputy press secretary Lindsay Walters told the newspaper that the U.S and Canada "continue to work on reaching a win-win deal that benefits both countries
On Monday, Trump announced that the U.S. had reached a separate trade deal with Mexico outside of long-standing NAFTA, which Canada might or might not become part of later. Hailing the deal as the "biggest ever," the president said the accord would be named the United States-Mexico Trade Agreement, and that he planned to "terminate" the existing NAFTA agreement. He also said that a bilateral agreement with Canada was also eventually possible.
Speaking on Sunday before the agreement was finalized, Mexican Economy Minister Ildefonso Guajardo said that further discussions with Canada would require at least another week to complete.
The new deal, which still needs congressional approval, reportedly requires that 75 percent of automobile parts be made in the U.S. and Mexico, an increase from the present 62.5 percent, Reuters reported. The prospective deal also requires that 40 to 45 percent of workers make a minimum of $16 an hour.