Trump Adviser Calls Bolton Book 'Revenge Porn,' Says He Acted Like Warlord
Peter Navarro, a top adviser to President Donald Trump, lit into former national security adviser John Bolton, saying the former administration official had acted like a "warlord" and that his forthcoming book is "revenge porn."
Excerpts from Bolton's book, The Room Where It Happened, were widely reported on Wednesday by multiple media outlets as the Trump administration attempts to block its publication, which is scheduled by Simon & Schuster for June 23. Navarro, director of the White House Office of Trade and Manufacturing Policy, commented on the new book during a Thursday interview with Fox News.
"He set-up the national security office as an autonomous zone with him literally as the warlord," Navarro said. The Trump official argued that Bolton had not taken an interest in important foreign policy issues, saying the former ambassador instead tried "engineer coups in places like Venezuela."
"He was one of the worst administrators I've seen pass through here in three and a half years," he said.
"This is deep swamp revenge porn," Navarro said, describing Bolton's book. "It's the deep swamp, political equivalent of a revenge porn," he said. "The guy got fired because he didn't obey the chain of command, because he was out of touch with what President Donald J. Trump stands for in terms of foreign policy."
A press representative for Bolton told Newsweek he had "no comment" on criticism from the Trump administration.
Although Trump claims to have fired Bolton, the former national security adviser has disputed that. He said he offered his resignation in September 2019, but Trump rejected it. The president then tweeted that he'd fired Bolton the next day.
Bolton previously served in the administrations of Republican Presidents Ronald Reagan, George H.W. Bush and George W. Bush. He served as the U.S. ambassador to the United Nations from 2005 to 2006 under the younger Bush. In the Trump administration, Bolton served as the president's national security adviser from April 2018 to September 2019.
During the House impeachment inquiry into Trump's efforts to pressure Ukraine to investigate unfounded conspiracy theories about former Vice President Joe Biden and the Democrats, Bolton declined to testify citing issues of executive privilege that were being decided in the courts. He later said publicly that he'd be willing to testify in the Senate trial, but the Republican-controlled chamber of Congress declined to call him. Many have criticized Bolton for not testifying in the House inquiry, arguing that he cared more about selling books than shedding light on the president's actions.
Bolton's book alleges that Trump pleaded with Chinese President Xi Jinping to buy more agricultural products from the U.S., as he believed it would help with his re-election. The former White House official also said that Trump voiced support in a meeting with Xi for China's concentration camps, which have reportedly been used to detain and torture more than 1 million Uighurs, a predominantly Muslim ethnic minority in the country.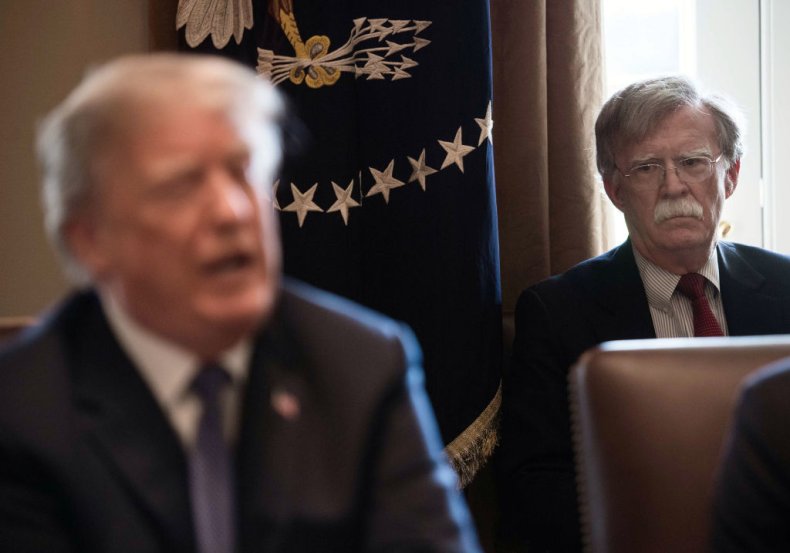 "The pattern looked like obstruction of justice as a way of life, which we couldn't accept," Bolton writes of Trump's behavior in his forthcoming book, according to The New York Times. He goes on to document instances in which Trump allegedly attempted to interfere in criminal investigations to curry favor with Xi and Turkey's President Recep Tayyip Erdogan.
"A president may not misuse the national government's legitimate powers by defining his own personal interest as synonymous with the national interest, or by inventing pretexts to mask the pursuit of personal interest under the guide of national interest," Bolton writes.
In a pending interview with ABC News, excerpts of which have been aired in online ads, Bolton also said that Russian President Vladimir Putin believes he can play Trump "like a fiddle."