Trump Adviser Claims China Sent 'Weaponized Virus,' Calls Joe Biden the 'Candidate of the Chinese Communist Party'
White House adviser Peter Navarro claimed on Sunday that China sent a "weaponized virus" to target the U.S., while also referring to Democratic presidential hopeful Joe Biden as the "candidate of the Chinese Communist Party."
"We were cruising along until the Chinese Communist Party basically hit us with that deadly virus, that weaponized virus," Navarro, an adviser to President Donald Trump for trade and manufacturing policy, told Fox News. "And I don't think it's any coincidence that the first year that China had a down economy was the same year now that they're coming after us in all sorts of ways."
"And Joe Biden is the candidate of the Chinese Communist Party," he claimed. "Trump, buy American. Biden, buy China." There is no evidence to suggest that Biden is supported by China's government.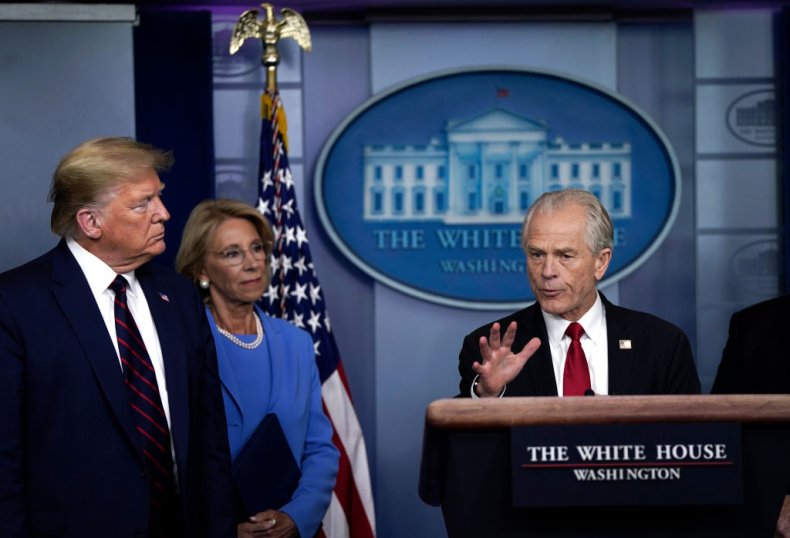 Newsweek reached out to the Chinese embassy in Washington, D.C. and Biden's campaign for comment, but did not receive responses by the time of publication.
Scientists have dismissed the possibility that the novel coronavirus pandemic was created in a lab and intentionally released to harm the U.S. While they have not ruled out that it could have possibly leaked unintentionally from a lab in China, many believe this is unlikely and it's more realistic to assume the virus was transmitted to humans through natural means.
"There are lots of data and lots of evidence, as well as previous examples of this coming from nature," Kristian Andersen, Ph.D., a professor in the Department of Immunology and Microbiology at Scripps Research Institute in La Jolla, California, told the Center for Infectious Disease Research and Policy at the University of Minnesota in May. "We have exactly zero evidence or data of this having any connection to a lab," he said.
But the Trump administration has repeatedly suggested that there is evidence to link the start of the pandemic to a Chinese lab, without providing that evidence to the public. China has adamantly denied these claims, saying that the U.S. officials are attempting to deflect blame for the Trump administration's own bungled response to the outbreak. The U.S. continues to be the country with the highest number of infections and deaths due to the pandemic, with new cases surging nationwide as most European and East Asian nations have largely subdued their outbreaks.
The novel coronavirus pandemic began in China last November and spread around the world within several months. Chinese officials in Wuhan, where the virus emerged, initially covered up the outbreak, which public health experts have said allowed the outbreak to spread unmitigated. But the Chinese government eventually moved in to curb the spread of the virus, implementing stringent lockdown measures and widespread testing to trace new infections.
Now, as the pandemic has spread around the world, China has reported just over 85,000 confirmed infections and 4,641 deaths, according to a tracker updated by Johns Hopkins University. Comparatively, the U.S. now has confirmed more than 3.2 million infections and more than 135,000 deaths.
Correction 6:19 PM ET: This article has been corrected to say that Navarro's remarks were made to Fox News, not Fox Business.