Trump Adviser Conway: Picking Romney for State Would be a Betrayal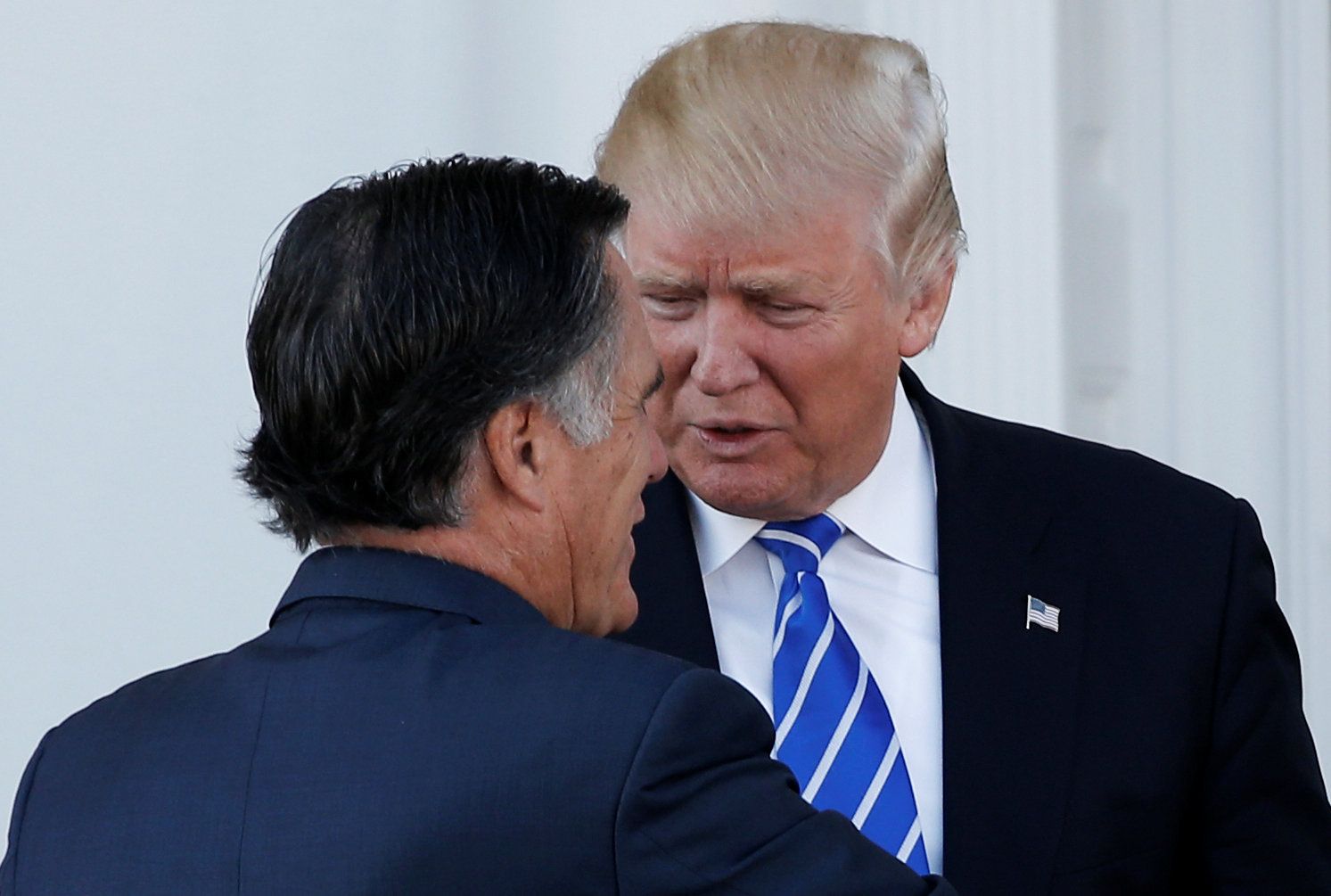 Sunday morning news show viewers were treated to the spectacle of a Donald Trump senior adviser publicly denouncing the prospect of Mitt Romney as secretary of state, labeling such a choice a betrayal of the grassroots voters who elected the New York businessman.
Kellyanne Conway, Trump's former campaign manager, harshly criticized Romney's high-profile opposition to Trump and raised questions about his fitness to lead the State Department in appearances on CNN's "State of the Union," NBC's "Meet the Press" and ABC's "This Week." The Sunday shows are generally used by politicos to advance their talking points and frame the public discussion of issues, raising the question of whether Conway's comments had Trump's blessing.
"People feel betrayed to think that Governor Romney, who went out of his way to question the character and the intellect and the integrity of Donald Trump, now our president-elect, would be given the most significant cabinet post of all, secretary of state," Conway said on "Meet the Press."
Romney, the former Massachusetts governor and 2012 Republican nominee for president, has been reported as a possible frontrunner for the State position, despite being a leader of the "Never Trump" movement throughout the campaign season. The frequent Trump critic was one of the president-elect's appointments last weekend while holding transition meetings at his Bedminster, N.J. golf course.
Romney is not known to hold the punitive and isolationist foreign policy views that Trump seems to favor, and his appointment would be seen as an olive branch of sorts to mainstream Republicans who either battled or kept quiet about Trump's candidacy.
Since both Trump and Romney spoke positively of their meeting, Conway raised eyebrows on Thanksgiving when she tweeted a Politico story on internal opposition to Romney, saying she's been "receiving deluge of social media & private" communication on the issue.
When asked Sunday, Conway told "This Week" that she wouldn't discuss whether Trump asked her to tweet about the Romney opposition and told Martha Raddatz she's "already weighed in privately because I've been asked to." However, she emphasized in her appearances that her "personal concerns" are not the concern of Trump, and that she was "not trying to make the news, I'm trying to reflect the news here.
"I am just astonished at the breath, the breathtaking volume and intensity of blow-back that I see, just as one person close to the president-elect, is receiving unsolicited from people on social media, particularly in private communications," she told "Meet the Press."
"I'm all for party unity but I'm not sure that we have to pay for that with the secretary of state position. But again, let me repeat. What Donald Trump decides Kellyanne Conway and everybody else will respect," she said on "State of the Union."
Although Conway insisted she was just reporting the extent of opposition to Romney, she sought to undermine him, deliberately questioning his political abilities and qualifications to serve in Trump's cabinet.
"It's Donald Trump who has shown that he has political instincts. Governor Romney ran for the same office four years ago, and lost spectacularly...Mitt Romney lost Michigan by 10 points. Donald Trump just won it. Donald Trump won Wisconsin for the first time since 1984, won Pennsylvania, won Florida, won Iowa, won Ohio. All these states that were elusive to the last couple of nominees," she said on "State of the Union."
But she didn't stop there.
"Governor Romney in the last four years—I mean, has he even been around the globe doing something on behalf of the United States of which we're unaware? Did he go and intervene in Syria where they are having a massive humanitarian crisis? Meaning when I say intervene like offered help. Has he been helpful to Mr. Netanyahu?"
Trump has selected candidates for four Cabinet-level positions: Jeff Sessions for attorney general, Mike Pompeo for CIA director, Nikki Haley for U.N. ambassador and Betsy DeVos for education secretary.
Former New York City Mayor Rudy Giuliani also has been mentioned as a possible State candidate. An early adviser to Trump, Giuliani would please the grassroots supporters although he can't expect an easy confirmation process.
Trump has spent the weekend at his Mar-a-Lago resort in Florida but will resume transition meetings on Monday.
Read more at Newsweek.com: