Trump Adviser Says Americans to Get $1,200 Through New Stimulus Bill, Says Economy's 'Going North' Not South
White House economic adviser Larry Kudlow asserted on Sunday that Americans will be getting $1,200 stimulus checks in the next round of relief legislation to address the fallout from the novel coronavirus pandemic
"There's a $1,200 check coming, that's going to be part of the new package," Kudlow, who serves the director of the National Economic Council, said in an interview on CNN's State of the Union on Sunday.
"The check is there, the reemployment bonus is there. The retention bonus is there," Kudlow said, discussing the next relief bill slated to be unveiled Monday. "There will be breaks, tax credits for small businesses and restaurants."
He also pushed back against assertions that the U.S. economy is still on a downward trajectory as new COVID-19 infections surge across the country.
"First off, I don't think the economy is going south, I think it's going north," Kudlow said. "And I think there's a bunch of indicators," he added, pointing to positive numbers when it comes to housing, retail sales, the auto industry and manufacturing.
"I do think the odds favor a big increase in job creation and a big reduction in unemployment," Kudlow said. He argued that "most economists" suggest "that we are in a self-sustaining recovery," although he admitted that there could be valid concerns about the "speed" of the recovery.
"On the whole, the picture is very positive and I still think a V-shaped recovery is in place," he said, predicting 20 to 30 percent growth in the third and fourth quarters of the year.
Treasury Secretary Steve Mnuchin also emphasized that there would be a $1,200 payment to reporters on Saturday after meeting with President Donald Trump's acting Chief of Staff Mark Meadows and GOP staff at the Capitol. He said the payment would be given out following the same formula put forward in the $2.2 trillion Coronavirus Aid, Relief and Economic Security (CARES) Act, which was passed with bipartisan support in March.
Trump had been pushing for a payroll tax cut to be included in the legislation, as he had with previous rounds of stimulus. But Republicans and Democrats largely dismissed the proposal, despite the president threatening to veto a bill without it. Now the White House appears to have dropped the proposal to be included in the stimulus bill.
During an interview with Fox News Sunday, Mnuchin addressed a question from anchor Chris Wallace about the tax cut. The treasury secretary said that Trump dropped the idea because it was a non-starter with Democrats, although it was opposed by many Republicans as well.
"The Democrats were not going to give us a payroll tax cut," Mnuchin said.
Pushing back, Wallace said: "Sir, to be fair, it wasn't just Democrats. There were a number of Republicans who rejected this." Wallace highlighted several GOP lawmakers who had publicly criticized the idea.
But Mnuchin said that some Republicans did support the payroll tax cut as well.
"There are other Republicans that supported it," he responded. "We have the direct payments, and as you know, the direct payments are a much quicker way of effectively giving everybody a tax cut and it's much quicker than the payroll tax cut."
When the new stimulus will be passed remains to be seen. As of last week, there were significant disagreements among Republicans about how to proceed. Several prominent GOP lawmakers, including Senators Ted Cruz of Texas, Rand Paul of Kentucky and Ron Johnson of Wisconsin, all voiced opposition to the proposals on the table.
"Sen. Cruz has said that when it comes to CARES II, as the package currently stands, he's a 'hell no.' As he explained earlier this week, the answer to solving our economic crisis shouldn't be spending trillions and trillions of more money we keep borrowing from China," a spokesperson for Cruz told Newsweek in an email.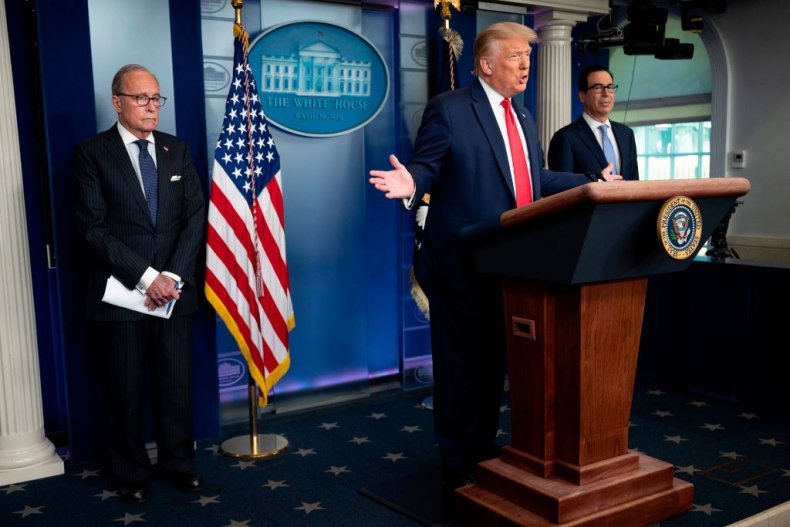 The Democrat-controlled House of Representatives passed a massive economic stimulus package in May, totaling more than $3 trillion. But Republicans overwhelmingly dismissed the bill as a "wish list." Whether Democrats will agree to the GOP-White House proposal, which is purportedly going to cost about $1 trillion, remains to be seen as well.
"Without action by President Trump & Senate Republicans, federal unemployment insurance will expire for millions of Americans this weekend. The Senate must take up the House-passed #HeroesAct & extend this critical lifeline for working families," Speaker of the House Nancy Pelosi, a Democrat from California, tweeted on Friday.
Newsweek reached out the Treasury Department for comment, but did not receive a response by the time of publication.