Trump Adviser Says He's 'Always Worried' About COVID, Says 'No One Expected' What Happened in U.S.
Larry Kudlow, director of President Donald Trump's National Economic Council, said he's "always worried" about the novel coronavirus pandemic and that "no one expected" the situation to develop the way it has in the U.S.
"We've gone through a very tough period as the virus spread to the South and West. It looks like we're making pretty good progress," Kudlow said during an interview with ABC News' This Week on Sunday. "Am I worried in general? Yes, I'm always worried in general. Things happened here that no one expected to happen, exponentially."
Kudlow asserted that he had not seen an internal model reported by The Washington Post. The article said that the White House Council on Economic Advisers (CEA) had circulated the report, which predicted another increase in new infections in late summer and autumn.
"We're always worried. But I haven't seen that kind of apocalypse now scenario," Kudlow said. "I guess in this game, you can't rule anything in. You can't rule anything out," he added.
Newsweek reached out to the White House for comment, but it did not receive a response by the time of publication.
Rachael Slobodien, the CEA's chief of staff, told the Post on Sunday that the "CEA has not been circulating, and does not have, an internal model like that mentioned in your article." But the newspaper reported that Trump and other top aides were "alarmed" by the internal model.
New COVID-19 infections and deaths surged across the U.S. since June, although the numbers have appeared to be declining over the past week. The seven-day average of new daily infections has fallen to just under 54,000, down from more than 66,000 in late July. Daily deaths have declined somewhat as well, with the seven-day average currently standing at just above 1,000 per day, down from more than 1,200 at the beginning of August.
But the U.S. continues to be the country with the highest number of infections and deaths. As of Sunday, there have been more than 5 million confirmed infections nationwide and nearly 162,000 deaths. The U.S. also has the fourth highest mortality rate per 100,000 people compared to the most impacted countries right now, according to an analysis by Johns Hopkins University. Nearly 50 people per every 100,000 Americans have died.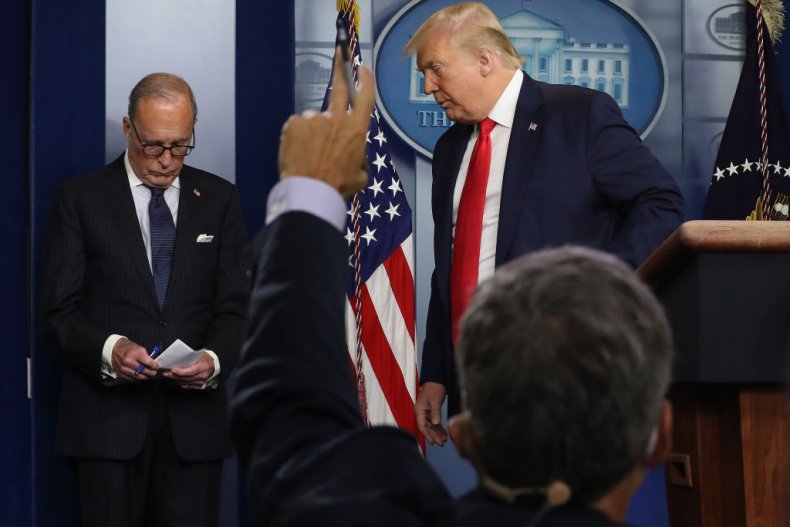 Dr. Anthony Fauci, a key member of the White House Coronavirus Task Force and the director of the National Institute of Allergy and Infectious Diseases, has warned of "a really bad situation" in the autumn if new infections don't decline dramatically.
"If we don't get them down, then we're going to have a really bad situation in the fall," Fauci said during a livestream last Monday with the editor of the Journal of the American Medical Association. He said the U.S. really needs to get new daily cases down to 10,000 or less by September to avoid another surge.