With Trump Advisor Stephen Miller In Charge of Immigration, 'We Are Going Nowhere' GOP Senator Says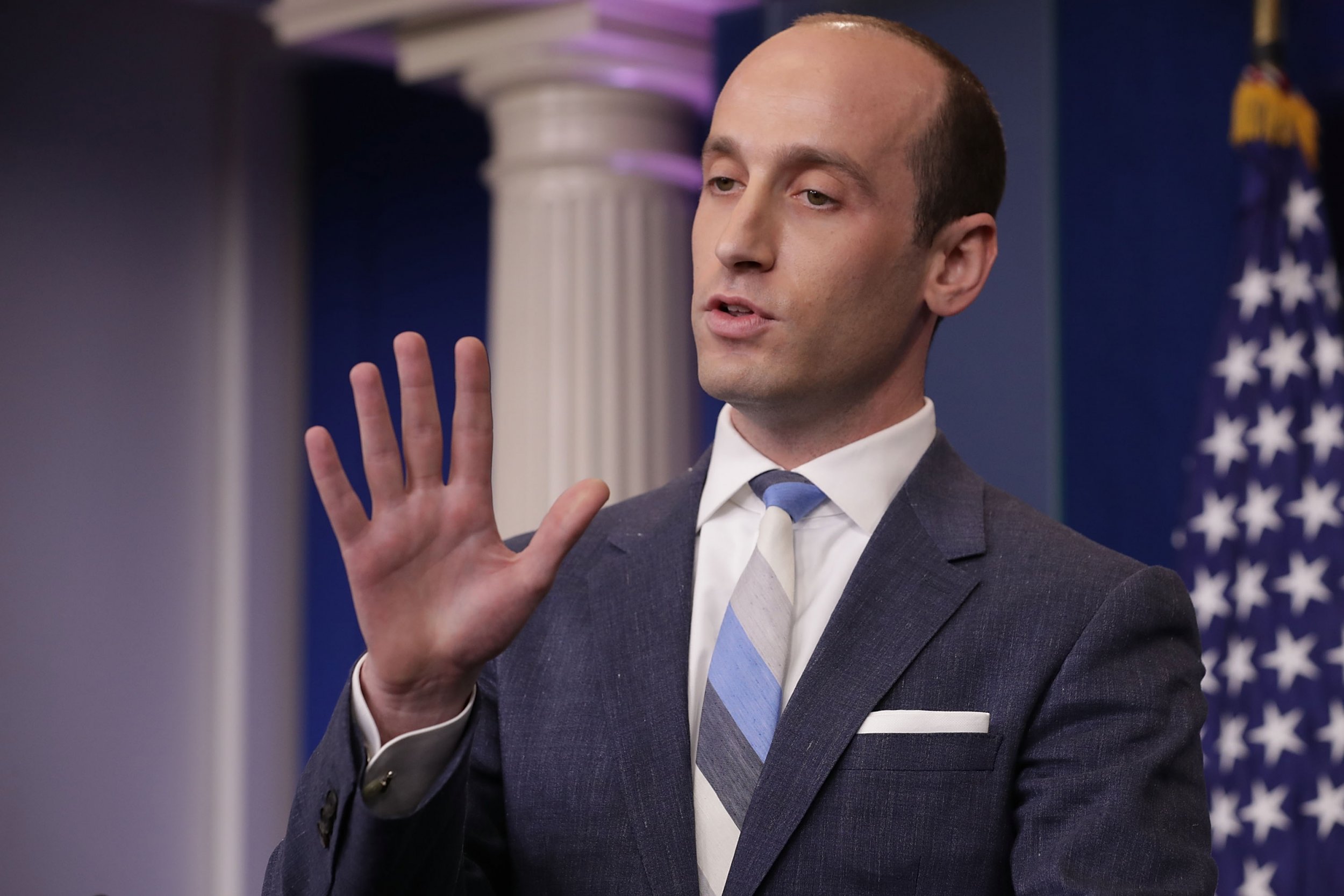 During the second day of the United States federal government shutdown, a GOP senator said that President Donald Trump's Senior Policy Advisor Stephen Miller was holding back Republicans and Democrats from striking a deal on immigration.
"Every time we have a proposal, it is only yanked back by staff members," Senator Lindsey Graham (SC-R) told reporters on Capitol Hill Sunday. "As long as Stephen Miller is in charge of negotiating on immigration, we are going nowhere."
The senator blamed Miller and the White House staff for continued disagreement over the Deferred Action for Childhood Arrivals program (DACA) and immigration issues that were at the heart of the spending bill's failure to pass in the Senate on Friday. "The Stephen Miller approach to immigration has no viability," Graham told MSNBC on Friday.
Earlier this month, Miller told Fox News, "We can have an immigration system that 10, 20, 30, 50 years from now produces more assimilation, higher wages, more economic opportunity, and better prospects for immigrants and U.S.-born alike." Miller's statements were in line with President Trump's goal to make a merit-based system for American immigrants.
Miller was a staffer for then-Alabama Senator Jeff Sessions in 2013 when Sessions voted down a bipartisan bill for immigration reform that would have helped 11 million undocumented American immigrants get citizenship. "It's no secret that he's an obstacle to getting anything done on immigration," an unnamed House Republican told McClatchy earlier this month.
Miller, 32, is a longtime supporter of extreme right-wing immigration policy. The notorious Trump aide wrote a series of opinion pieces in high school criticizing American Muslims and Hispanic immigrants. During his college years at Duke University, Miller associated with white nationalist Richard Spencer who would later become a leader of the alt-right movement.
Trump ended DACA in 2017, but Congress can still move to preserve the protections of the Obama-era program before a March 5 deadline. Now, amid the shutdown, Senate Democrats are pushing hard for an agreement. The federal government shutdown early Saturday morning after the Senate failed to pass a stopgap spending bill that would extend funding for the government until February 16.
Miller is a supporter of Trump's proposed border wall with Mexico and said in an interview with Fox News on January 8, "If Democrats oppose a border, they are just saying they want continued, unending illegal immigration."
After the government shutdown on Saturday, the Trump campaign released a 30-second web ad that said Democrats who stood in the way of building the wall and expanded deportation would be "complicit" in ever murder committed by illegal immigrants.
"The Dems just want illegal immigrants to pour into our nation unchecked," President Donald Trump wrote in a Sunday morning tweet.
Senate Minority Leader Chuck Schumer said Saturday that Democrats would put the border wall " on the table" for negotiations in exchange for a deal on DACA.