'Black Voters For Trump' Board Member Says Women Should Be 'Submissive' and 'Handmaidens'
A member of President Donald Trump's recently formed "Black Voices for Trump" coalition has made numerous remarks about women, including that they should be "handmaidens" and "submissive."
Right-wing pundit Clarence Mason Weaver, listed as one of 35 advisory board members for the coalition, has belittled the role of women in more than a half-dozen occasions via video and his website, the progressive watchdog Media Matters for America revealed on Monday.
Weaver in a video titled "Men and women are not equal," posted on his YouTube page in August, said that men do not look for "queens" but rather "handmaidens," female servants who are "submissive."
"Queens is hard work. We look for handmaidens, sweetheart," Weaver said. "We look for a helpmate out here, girl. And no king is looking to share their kingdom." Weaver added that a woman who is not as strong as him should instead "be quiet, and be humble, and be submissive."
Weaver added that men "don't care" how educated and accomplished women are in their careers.
"We don't care how great you are at work as the co-worker. We don't care what kind of career you have or what your college degrees are," Weaver said. "That's not why we marry you, woman."
Weaver, a conservative social critic and author and former radio talk show host, has appeared on numerous Fox News and Fox Business Network shows. He was described in a January 2017 Fox News story as a "former member of the Black Panther movement." It is not clear when Weaver began supporting Trump, but he posted a doctored photo in 2010 of then-President Barack Obama with a pacifier on his Facebook account.
In a May video titled, "Why are women so masculine?" Weaver said men "don't care how smart" some "masculine" women are and, "You look like a dude. You talk like a dude."
In a January video titled "Toxic Feminism is the real problem," Weaver lamented that women have "won" the right to leave their traditional roles in the home and remarked, "So, ladies, how are your children doing? Your lack of family time, raising and nurturing them has done great harm to them."
In a December 2017 video titled, "Mason Weaver commentary Sexual Harassment & illegal murder not guilty," he accused women at work of using "their sexuality, taking advantage of their sexuality, taking the offers of sexuality, and these women will come out against you guys."
Weaver also claimed that women say, "so-and-so molested me," resulting in men not receiving promotions.
In a November 2017 video titled "Women have the Power if the Accusation," Weaver said men are not predators or rapist, but are aggressive people and should not be punished by women for being so.
"Somebody frighten some woman and 20 years from now she'll say, 'Mason made me feel uncomfortable with him.' That's why we don't want to deal with you," Weaver said. "That's why we really can't trust ourselves to be with you because you have the power of the accusation."
He elaborated on that in a post on his website titled, "The power of accusation and gender-role mash-up."
Weaver seemed to defend Trump when the Access Hollywood tape revealed the future president said "grab 'em by the pussy" about women.
"Every man talks like that, every man thinks like that," Weaver said, "And stop quivering behind the skirts of the feminists."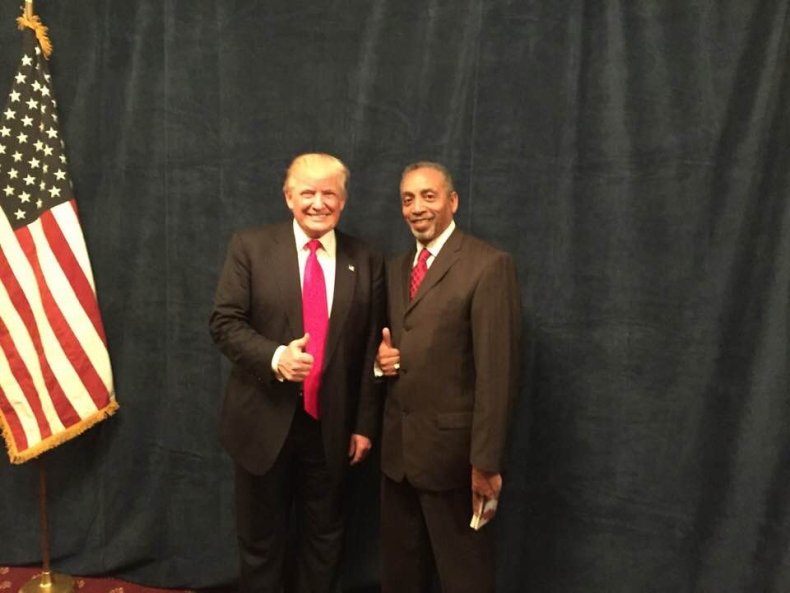 Weaver has several photos with Trump on his Facebook, including one from December 2018 with both of them holding thumbs up.
"He cannot do it alone. If we are to Make America Great Again, it will take everyone of us," Weaver wrote as the caption.
Weaver posted a house porch Trump-Pence campaign sign on his Facebook in June and a photo of himself wearing a Trump 2020 hat in September, along with the caption, "Trigger time."
Trump launched the Black Voices for Trump coalition at a rally earlier this month in Atlanta, in which he spoke about a record low unemployment rate for blacks under his leadership. According to the Black Voices for Trump website, the group "will encourage the black community to re-elect President Donald J. Trump by sharing experiences and successes of everyday people as a result of the Trump administration." It is not clear when Weaver joined the coalition, but his name and headshot appear in the menu of board members.
In the 2016 election, Trump captured 8 percent of the black vote, which was better than 2012 Republican nominee Mitt Romney's 6 percent, according to exit polls. As Trump faces impeachment and lackluster approval ratings, he could use every bloc of support in the 2020 election, including from blacks who traditionally vote Democratic.
Weaver is not the only right-wing media personality on the board—he is accompanied by Fox News contributors Deneen Borelli and Alveda King, former Fox News contributor Herman Cain, and Fox Nation personalities Diamond and Silk.
The White House did not immediately respond to a request for comment from Newsweek on Monday. Weaver could not be reached for comment.