'We Have to Be Skeptical' of Trump Administration's Afghanistan Peace Negotiations Says Retired Four-Star General
Retired four-star General Jack Keane believes people should "be skeptical" of the Trump administration's ongoing peace negotiations with Afghanistan.
Keane, who retired from the military in 2003 and now serves as the chairman of the board for the Institute for the Study of War, appeared Wednesday on Fox News' America's Newsroom to discuss the current U.S. efforts to bring the 18-year war to a close. The retired general, who formerly served as the vice chief of staff of the United States Army, warned that the ongoing talks had sidelined the Afghan government in favor of the Taliban.
"Here's why we have to be skeptical," Keane explained. "We have not begun any peace talks with the Afghan government at all. That is going to be very, very complicated, and we've got a long road in front of us."
"But the fact that the Taliban has come to the table is a good thing," he added, expressing a bit of optimism. "And also a good thing, not particularly well known, is that Pakistan has been pushing the Taliban to the table," he continued, explaining that the South Asian nation had been supporting the extremist militant group throughout the conflict, despite being a regional U.S. ally.
Although Keane admitted there has been some "momentum" surrounding peace talks, he reiterated that "until we negotiate with the Afghan government" the process would be hindered. The retired Army official also pointed out that the Taliban remains immensely unpopular with the Afghan people.
"The 18 years we've been there, every year the survey's done about the Taliban and their acceptability by the people," he said. "The people, to 85 percent, reject the Taliban from ever coming back and taking control of the country."
Launched in 2001, the war in Afghanistan has become the longest war ever waged by the U.S. The war officially began less than a month after the terrorist attacks of September 11, 2001, as the Taliban—which controlled Afghanistan—had harbored Osama bin Laden and his extremist network Al-Qaeda. Presidential candidate Pete Buttigieg, who is a veteran of the conflict, has pointed out that there were now American young people old enough today to fight in the war who were not even born at the time of the 2001 attacks.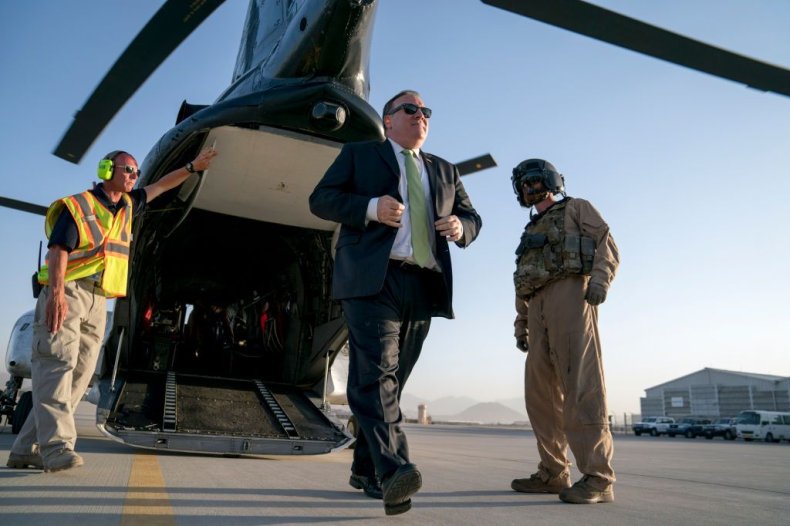 After nearly two decades, a November report by the Special Inspector General for Afghan Reconstruction revealed that the Afghan government only controlled or influenced 55.5 percent of the country. That number marked a significant decline from three years earlier in November 2015, when it controlled about 72 percent.
The Taliban also launched a series of attacks across Afghanistan over the weekend, despite ongoing peace negotiations. Security officials have said attacks were carried out in at least 15 provinces of the country.