Top Trump Aide Deflects Blame for Russian Hacking to Democrats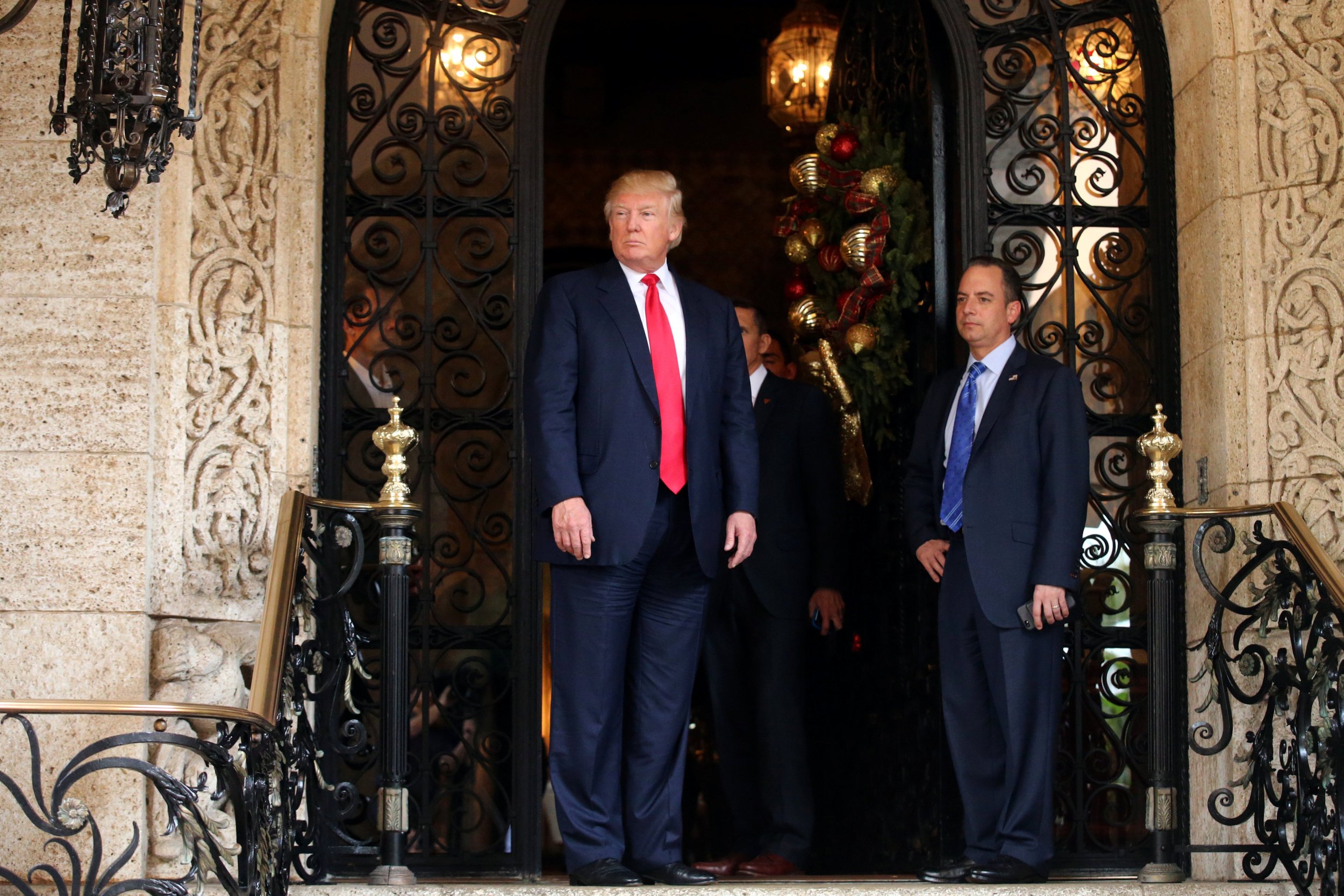 A top Donald Trump aide said Sunday that the president-elect accepts the intelligence community's finding that Russia interfered with the presidential election although he and another staffer deflected blame for the attacks onto the Democratic party.
Incoming Chief of Staff Reince Priebus told Chris Wallace on "Fox News Sunday" that Trump "accepts the fact that Russia and other entities engaged in cyber attacks on the United States all day long. He accepts the fact that this particular case was entities in Russia. So, that's not the issue," two days after a declassified intelligence report stated that President Vladimir Putin directed the attack in an effort to harm Hillary Clinton. However, Priebus and adviser Kellyanne Conway, in an appearance on CNN's "State of the Union," both criticized the Democratic party for allowing itself to be victimized by Russian hacking efforts.
RELATED: Intelligence report's findings on Russian hacking efforts
After repeated questioning, Priebus acknowledged that he blames Russia more for the attack but said, "the DNC had nearly no defenses on their system, and when they were warned multiple times by the FBI, they didn't respond. And so, suddenly, you have a major political party, one of the biggest political parties in the world, that by their own admission lacked defenses, lacked training, and allowed a foreign government into their entire email system without responding to the FBI." Conway referred to a Trump statement on Friday, in which he cast the Russian hacking effort as business-as-usual, before also criticizing the DNC. Trump "makes very clear that Russia, China and others have attempted to attack different government institutions and businesses and individuals and organizations over a series of time," Conway said, but "we're talking about this because we had embarrassing leaks from the DNC e-mails. There were no fireworks in that report because there was no firewall at the DNC."
Top intelligence officials testified this week before a Senate committee on the scope of Russian hacking before releasing the declassified report, which details a multifaceted attack ordered from the highest levels of Russian government to hack the Democratic National Committee and other party accounts while using third parties such as Wikileaks to disseminate material it saw as embarrassing to Clinton.
As recently as Saturday, Trump has derided the investigative effort as motivated by partisan politics and has otherwise focused on the "gross negligence" of the DNC that allegedly allowed the attacks to take place while claiming that the hacks didn't affect the presidential election. He hasn't personally acknowledged Russia's role beyond Friday's statement, in which he said: "While Russia, China, other countries, outside groups and people are consistently trying to break through the cyber infrastructure of our governmental institutions, businesses and organizations including the Democrat National Committee, there was absolutely no effect on the outcome of the election."
Conway mischaracterized some of the conclusions in the intelligence report as she focused on the legitimacy of Trump's win in light of Russia's interference. "I don't want any of your viewers to be misled into thinking that somehow the Kremlin... was dealing with any of the hackers and bringing that information back to Moscow, and somehow that anybody who allegedly attempted to influence our elections actually did," she said, although the intelligence report states that the Russian government indeed sponsored the efforts. "Mr. Clapper in his testimony made very clear on Thursday under oath that any attempt, any aspiration to influence our elections failed. They were not successful in doing that," she said, although the report clearly states that the intelligence agencies "did not make an assessment of the impact that Russian activities had on the outcome of the 2016 election. The U.S. Intelligence Community is charged with monitoring and assessing the intentions, capabilities, and actions of foreign actors; it does not analyze U.S. political processes or U.S. public opinion."
Priebus said that while Trump accepts Russian involvement, he doesn't know the president-elect's feelings about the assessment that the hacking campaign was designed to help him. When asked if Trump would take action against Russia, Priebus said "he's going to order the intelligence community to make recommendations, and whatever those recommendations are will be discussed and actions may be taken, but I don't think there's anything wrong with trying to have a good relationship with Russia and other countries around the world."
U.S. Representative Devin Nunes, the Republican chairman of the House Intelligence Committee, cautioned Trump on the possibility of better relations with Putin. "I'm just not sure it's possible," Nunes said on "Fox News Sunday." "I've cautioned his administration to be careful with Putin, as he remains a bad actor."
The ranking Democrat on the committee, Adam Schiff, said it was alarming to Democrats and Republicans to hear the president-elect continue to speak in terms of "making nice" with Putin. "It's not realistic and we need to be clear eyed and sober about just what the Russians are about," Schiff said on "State of the Union."
Reuters contributed to this report.