Trump Aide Stephen Miller Backs President's Claim to be a 'Genius' in Bruising CNN Jake Tapper Interview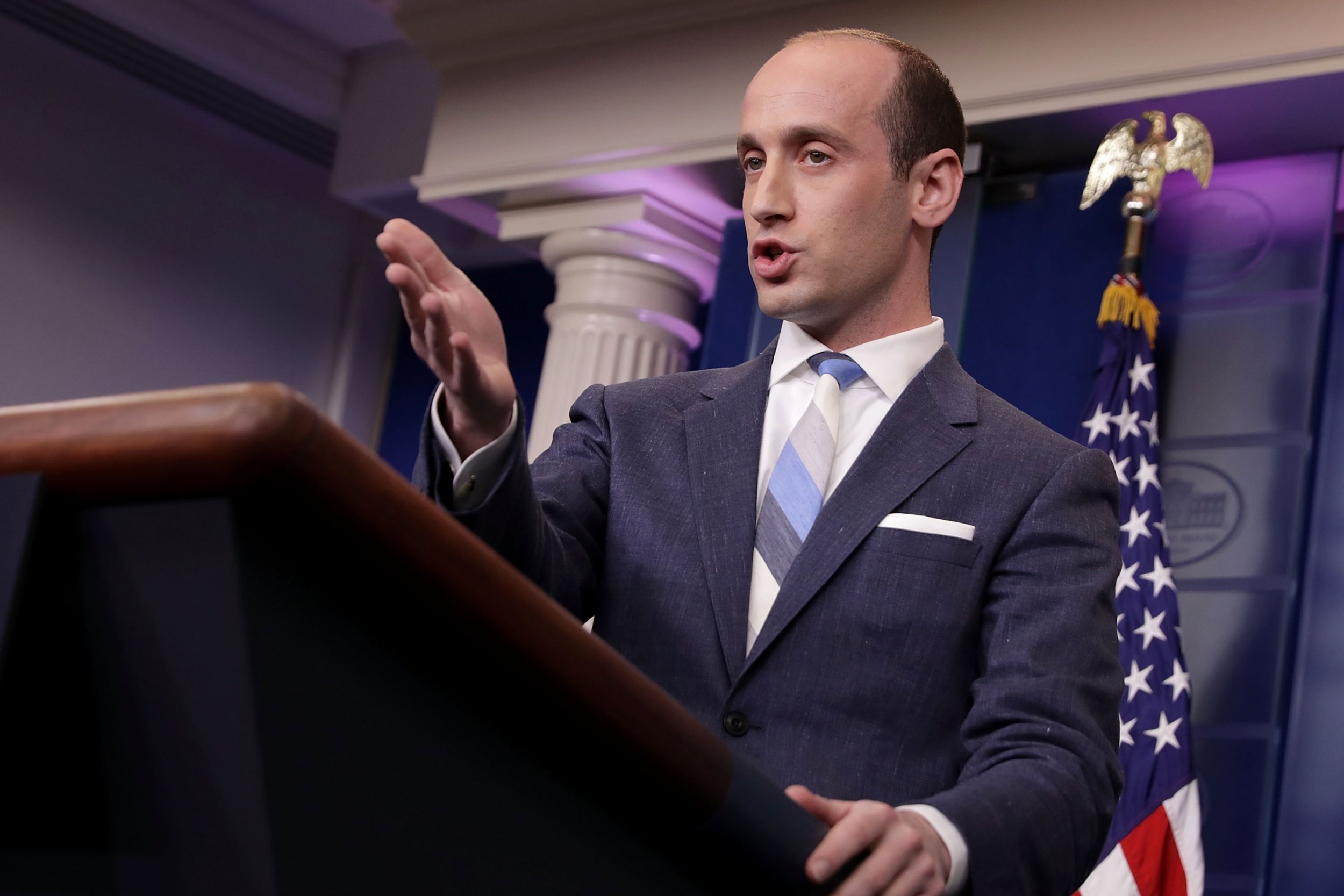 Stephen Miller, a senior adviser to President Donald Trump, has defended his boss' claim to be a "genius" in a bruising interview with CNN's Jake Tapper.
In a series of tweets Saturday, the president lashed out at claims in a new book by author Michael Wolff that aides were questioning his mental stability, calling himself a "very stable genius."
Criticizing the book, Miller describes witnessing Trump on the campaign trail.
"I saw a man who is a political genius," said Miller.
He continued: "The reality is the president is a political genius who won against a field of 17 incredibly talented people," describing how he defeated the "Bush dynasty," the "Clinton dynasty" and a hostile media to become president.
Trump's boast follows claims by top White House staffers in Wolff's book, Fire and Fury, that the president is childish, erratic, and prone to repeat himself.
Miller went on to attack former White House chief strategist Steve Bannon, who is quoted in Wolff's book, Fire and Fury, describing Trump eldest daughter, Ivanka, as "dumb as a brick," and Donald Trump Jr.'s 2016 Trump Tower meeting with a Russian lawyer as "treasonous," as well as questioning whether the president's conduct could see him removed under the 25th Amendment, under which Cabinet members can compel presidents "unable to discharge the powers & duties of his office" to step aside.
Miller described the book as a "grotesque work of fiction" that is a "pile of trash."
"It's tragic and unfortunate that Steve would make these grotesque comments so out of touch with reality and obviously so vindictive and the whole White House staff is deeply disappointed in his comments, which were grotesque," Miller told CNN's State of the Union.
Tapper cut off Miller prematurely at the end of the interview, accusing Miller of "[wasting] enough of our viewers' time" by slamming CNN's coverage of the Trump White House instead of answering questions directly.
In a tweet shortly after the interview aired, Trump criticized CNN.
Miller was formerly one of Bannon's closest closest political allies in the White House, sharing the Breitbart chief's nationalist vision and reportedly helping to draft the president's inaugural speech alongside him.
In Fire and Fury, Wolff quotes Bannon disparagingly describing Miller as "my typist."
The book goes on to paint a picture of Miller as out of his depth in the West Wing.
"Except, other than being a far-right conservative, it was unclear what particular abilities accompanied Miller's views," writes Wolff. "He was supposed to be a speechwriter, but if so, he seemed restricted to bullet points and unable to construct sentences. He was supposed to be a policy adviser but knew little about policy. He was supposed to be the house intellectual but was militantly unread. He was supposed to be a communications specialist but he antagonized almost everyone."