Trump Aide Steve Bannon Faces House Vote on Contempt Charges
Former White House Chief Strategist Steve Bannon will face a House vote on criminal contempt charges for refusing to comply with a subpoena in the investigation of the deadly Capitol Riot.
The select committee, made of seven Democrats and two Republicans, investigating the January 6 insurrection of the U.S. Capitol met on Tuesday evening to vote on adopting a contempt report led by Chairman Bennie Thompson, a Mississippi Democrat. The vote was unanimous.
By adopting the 26-page report, which detailed the committee's efforts to work with Bannon and his unwillingness to comply with a subpoena to appear before the panel, the House committee will move forward in holding the Trump ally in contempt.
Trump's legal counsel Justin Clark instructed Bannon not to provide the documents or testimony "concerning privileged material" as the former president has attempted to withhold some documents from the committee citing executive privilege.
"Mr. Bannon's and Mr. Trump's privilege arguments do, however, appear to reveal one thing: They suggest that President Trump was personally involved in the planning and execution of January 6th, and this committee will get to the bottom of that," said Liz Cheney, a Wyoming Republican.
The full House is expected to vote on the report Thursday, according to CNN. If that vote moves forward, it's referred to the Justice Department.
If indicted, Bannon can face up to 12 months in jail and a fine for contempt of Congress.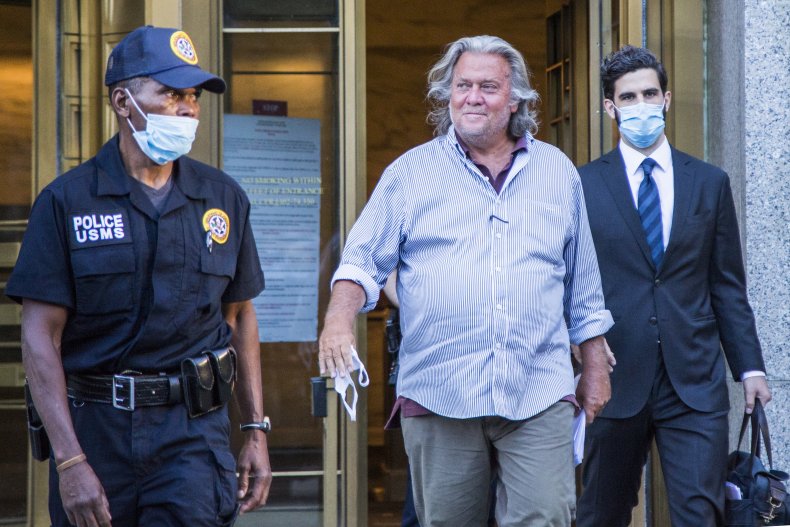 Committee members are hopeful more allies of the former president will cooperate with the probe following the vote.
The contempt report was released Monday and detailed the committee's efforts to get Bannon to comply with the subpoena. Bannon was ordered to produce a series of documents to investigators by October 7 but failed to supply the materials, according to Thompson.
Two other Trump employees who were subpoenaed, Former White House chief of staff Mark Meadows and former Defense Department official Kashyap Patel, have complied with the investigation, the committee said.
"You know that there is no evidence of widespread election fraud sufficient to overturn the election; you know that the Dominion voting machines were not corrupted by a foreign power. You know those claims are false," Cheney said on Tuesday directed toward Republican lawmakers.
Despite leaving the White House years before the Capitol Riot, Bannon remained a Trump ally and advocated for the former president. Thompson said that Bannon is "hiding behind the former President's insufficient, blanket, and vague statements regarding privileges he has purported to invoke."
"We reject his position entirely," Thompson said prior to the vote. "The Select Committee will not tolerate defiance of our subpoenas, so we must move forward with proceedings to refer Mr. Bannon for criminal contempt."