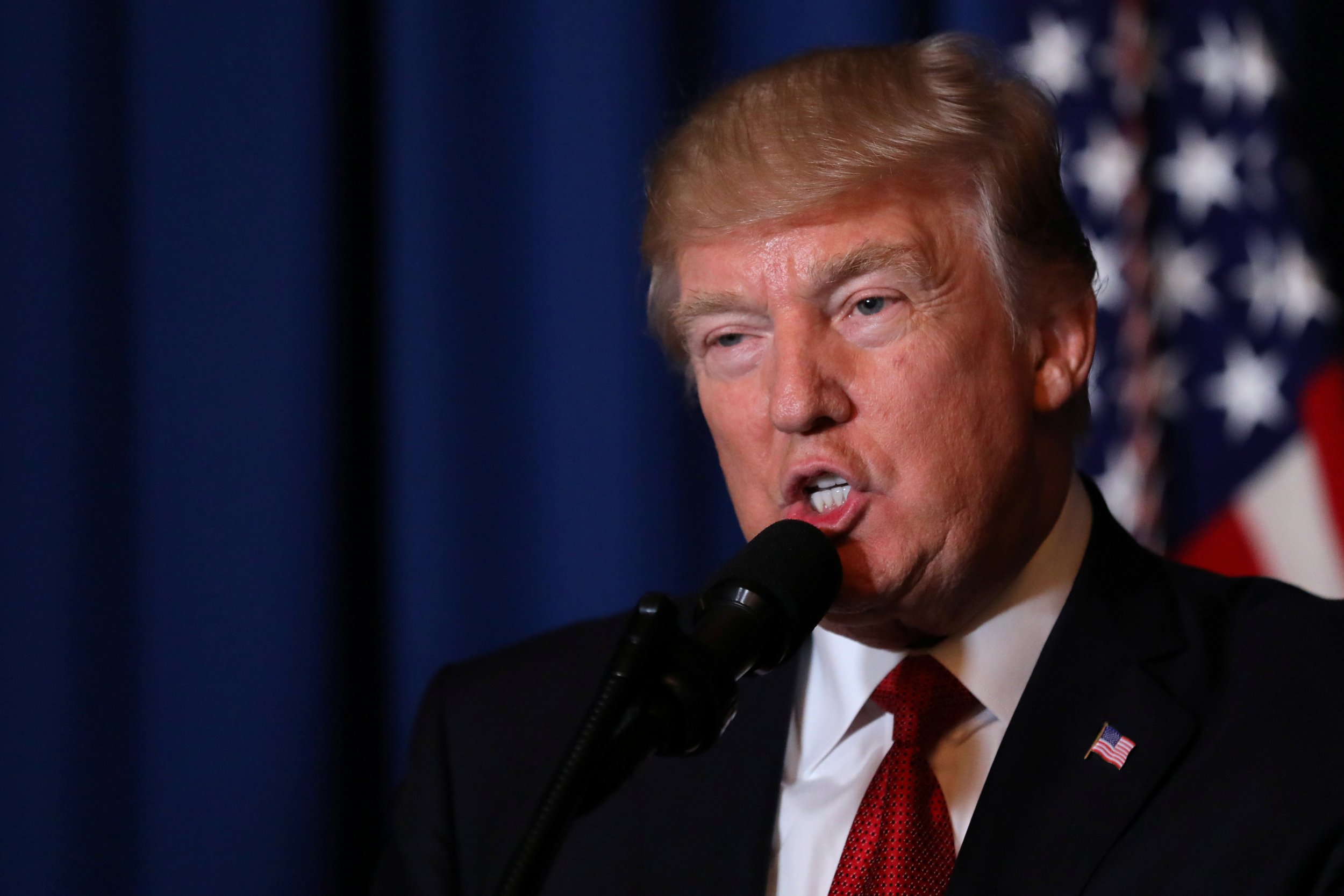 U.S. President Donald Trump has finally done what his predecessor decided not to do. Late on Thursday, he authorized the U.S.' first direct military action against the Syrian President Bashar al-Assad. At his command, troops sent 59 missiles scudding into one of Assad's key airfields, near the central town of Homs. According to the regime, six Syrians died in the assault, which reportedly obliterated the compound.
It was a surprise move, but the Trump administration said the strike was justified. On Tuesday, Assad's troops carried out a suspected chemical weapons attack over the northwestern town of Khan Sheikhoun in Idlib province. The brutal assault killed at least 86 people, among them 20 children. (Turkey's health ministry has confirmed that they died from exposure to the banned nerve agent, Sarin.)
Both Russia and Syria claim the attack was a mistake. A Syrian warplane, they said, hit a rebel-owned chemical weapons storage facility, releasing the toxins. Western countries dispute this, with defense experts saying that a strike would obliterate, not disperse, chemical weapons.
Following the strike, questions remain. Syria is a member of the international Chemical Weapons Convention—which requires signatories to report and destroy all their chemical weapons. How much of his arsenal did Assad hide, and will he deploy it again?
Read more: Here are the risks of Trump's strike against Assad in Syria
It was Russia and the U.S. who forced Assad to sign the convention back in 2013. That year, his fighters allegedly carried out a chemical weapons attack on two suburbs of the capital Damascus that left more than 1,400 people dead.
For many in Washington, the deal wasn't cause to celebrate. The year before, then President Barack Obama had said: "We have been very clear to the Assad regime, but also to other players on the ground, that a red line for us is we start seeing a whole bunch of chemical weapons moving around or being utilized." Yet when chemical weapons hit the residents of Ghouta, Obama did not respond with military action.
Seventy-seven days into his presidency, Donald Trump has done just that. What's less clear is what the impact will be.
"In terms of tactical aspects no, it's not a huge deal," says Jacob Parakilas, assistant head of the U.S. and the Americas Programme at London think-tank Chatham House. "He blew up some Syrian warplanes, he killed, apparently, a few Syrian personnel. Those are real losses obviously but it doesn't manifestly change the picture on the ground. What Trump has done is signaled that the U.S. is going to enforce international law against chemical weapons use in some way."
Symbolically then, the destruction of the Al Shayrat air base was significant and sent a clear message: Trump was not going to sit on his hands like Obama—and Assad could forget about using chemical weapons in the future.
In Moscow, the message was loudly received. The Kremlin, which backs the Assad regime, announced that it was pulling out of an air safety deal it had signed with the U.S. over Syria. It also called for an emergency meeting of the U.N.'s Security Council and sent a ship stocked with cruise missiles to the Syrian port of Tartus.
"Russia's goals in the Middle East are to challenge the U.S. as a leader in that region," says Heather Williams, a lecturer in defense studies at King's College London. "To some extent Trump is really forcing Putin's hand. The thing is, a war in Syria over Assad is not in Russia's best interests."
Perhaps the main reason for this is that Russia—against the might of the U.S. and NATO—simply wouldn't win. It might also explain why Russia, which has a missile defense system in Syria, didn't move to prevent the U.S.' strike, despite Washington notifying the Kremlin in advance.
Russia, however, is unpredictable. It might allow the U.S. to get away with this one attack, but it is unlikely to tolerate a sustained assault against Assad. Already, says Parakilas, the Kremlin will be re-evaluating its relationship with the Trump administration, likely realizing that Moscow-Washington relations aren't going to improve, despite the new sheriff in town.
"The real question is: Are we going to see more strikes?" says Williams. "Trump's response seems very emotional. I think he likes to juxtapose himself against Obama and show that he is stronger, that the U.S. will act unilaterally and strongly. I wish that Trump had organized this as a NATO operation."
But, second-guessing Trump has long proved difficult. Just last week, his press secretary Sean Spicer told reporters that the White House was no longer focused on Assad's removal but would instead focus on routing ISIS from its diminished caliphate in Syria.
After the attack on Khan Sheikhoun, Trump told reporters his views towards Assad had changed but didn't elaborate much further. He also refused to say whether he would consider military action against the Syrian leader, prompting a spokeswoman from Russia's foreign ministry to ask: "What is the U.S. approach [to Assad]?
That question still stands. To Assad and his allies, Trump has only shown that he won't tolerate the use of chemical weapons. But these only constitute a small part of Assad's arsenal and one he rarely deploys, according to international observers.
If Trump is planning more strikes against the Syrian leader, he'll have to grapple with the Kremlin's fury and the question of who will replace Assad, should a power vacuum follow. Trump has defended Obama's red line—but he's yet to mark out his own.