Alexandria Ocasio-Cortez Wants to 'Take Away Your Hamburgers,' Ex-Trump Aide Gorka Claims in Bizarre Attack
Former White House aide Sebastian Gorka provided a novel rebuke Wednesday of Democratic Congresswoman Alexandria Ocasio-Cortez's Green New Deal, claiming, "They want to take away your hamburgers."
The Green New Deal, an ambitious plan to tackle climate change introduced earlier this month by Ocasio-Cortez and Democratic Senate counterpart Ed Markey, has faced a fierce backlash from conservatives and even more moderate Democrats. Gorka, who worked as a deputy assistant to President Donald Trump before being ousted in August 2017, launched his own attack on the proposal during an appearance at the Conservative Political Action Conference (CPAC).
"You know what the biggest threat to America is? Not socialism in Moscow, socialism here in America," Gorka began. "According to the amazing Victims of Communism Memorial Foundation, they did a poll last year in which they found that 52 percent of American millennials would like to live in a socialist or communist America.
"That is why 40, four-zero Democrat candidates in the last midterm election called themselves socialists," he continued. "That is why Alexandria Ocasio-Cortez has introduced the Green New Deal, which is, which is—remember this one, use it—it's a watermelon. Green on the outside, deep, deep red communist on the inside. They want to take your pickup truck, they want to rebuild your home, they want to take away your hamburgers. This is what Stalin dreamt about but never achieved."
There is much to pack and fact check in Gorka's comments. The hamburger remarks would appear to be referring to comments from Ocasio-Cortez in which she talked about the need to reduce, but by no means eradicate, meat consumption.
"In the deal, what we talk about, and it's true, is that we need to take a look at factory farming, you know? Period. It's wild," Ocasio-Cortez, a democratic socialist, told Showtime's Desus & Mero. "And so it's not to say you get rid of agriculture, it's not to say we're gonna force everybody to go vegan or anything crazy like that. But it's to say, 'Listen, we gotta address factory farming. Maybe we shouldn't be eating a hamburger for breakfast, lunch, and dinner. Like, let's keep it real."
The poll Gorka cited, from the nonprofit organization Victims of Communism, is also a significant outlier in terms of Americans' views on socialism. Another poll around the same time last year, from Buzzed News/Maru/Blue, found that 31 percent of millennials identified as socialist or democratic socialist.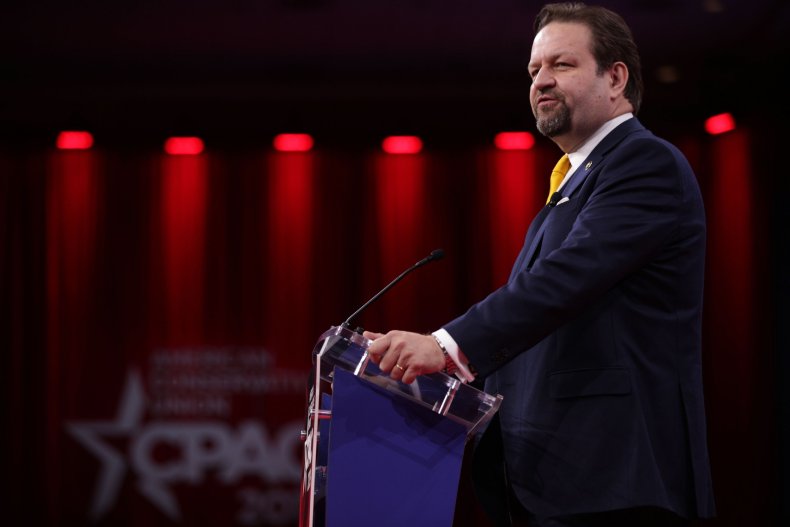 Still, Gorka had more to say at CPAC.
"You are on the front lines of the war against communism coming back to America under the guise of 'democratic socialism,' which is just a PC term for communism," he falsely claimed. "I want everyone to take to heart Donald J. Trump is never going to let it happen. And as he said to Congress, America will never be a socialist country."
Communism and democratic socialism are not the same. While communism involves a single, authoritarian government, democratic socialists, as the label suggests, have a strong commitment to democratic principles.