Trump and Allies Inciting Base Against FBI, Kinzinger Warns
U.S. Representative Adam Kinzinger has blamed Donald Trump supporters for a sharp rise in violent threats against the FBI since its agents' search of the former president's Mar-a-Lago residence last week.
"This is ridiculous," the Illinois Republican said on CNN, talking about the threats against FBI agents and law enforcement personnel posted on social media by Trump supporters.
"It's ridiculous obviously for what the former president has done, in terms of saying 'This is an attack on my home, I did nothing wrong,' and of course, from the little bit we know, it seems like there's certainly good reasons for the FBI to have done what they did," the U.S. representative said.
Asked by host Wolf Blitzer if he held Trump responsible for inciting his supporters, Kinzinger said: "Yes, absolutely, 100 percent."
He added: "Members of Congress, Senators, any Republican elected official out there that rushes to be the first on television or the first to Twitter to basically condemn the FBI—I'll tell you as a guy who grew up in the right, and grew up as a Republican, there's always been this strain of people who believe that the government is out there to get them, that the FBI represents that part of the government that's out there to get people: This stokes that, it's really dangerous, and I fear it could get worse unless people are way more responsible."
Kinzinger added that Trump and his supporters have become "quite creepy" in the things they say and the threats they make. "It does strike me as something like what you hear from the mafia," the U.S. representative said, commenting on Trump's reportedly asking Attorney General Merrick Garland what he could do to put out the fire burning across the country.
Kinzinger, a member of the House select committee investigating the Jan. 6 Capitol riot, called on anyone in a position of authority to "take some time, figure out what this [the FBI raid] is before you just jump on the Donald Trump bandwagon on this."
Newsweek has asked Trump for comment.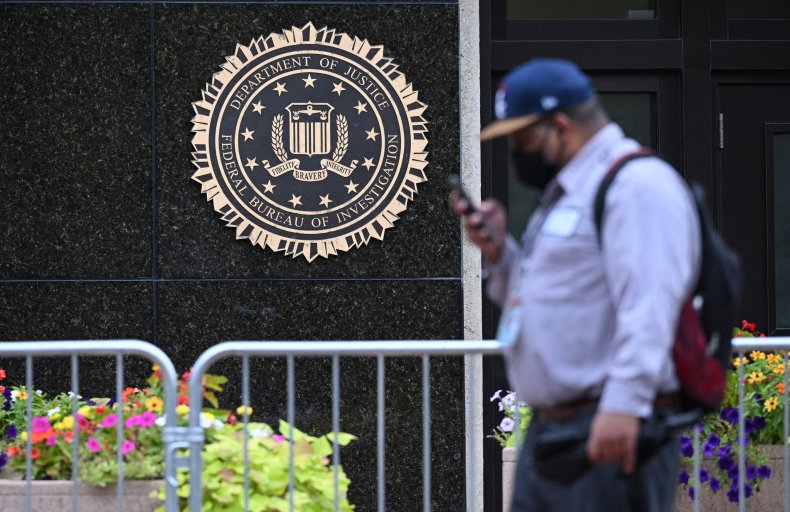 In a warning issued on Friday by the FBI and the Department of Homeland Security, the two agencies raised alarm over a surge in threats against law enforcement personnel.
These threats "should be deeply concerning to all Americans," FBI Director Christopher Wray said.
On the same day last week, a 46-year-old Pennsylvania man was arrested and charged with making multiple violent threats against FBI personnel on the right-wing social media network Gab in the days following the agency's raid of Trump's Mar-a-Lago residence in Florida.
Adam Bies, of Mercer, was charged with influencing, impeding or retaliating against federal law enforcement officers after the FBI National Threat Operations Section Social Media Exploitation team was tipped about a Gab user named "BlankFocus" posting about FBI agents deserving to die.
According to the FBI affidavit, Bies —under the pseudonym of Adam Kenneth Campbell— posted on August 10: "Every single piece of [expletive] who works for the FBI in any capacity, from the director down to the janitor who cleans their [expletive] toilets deserves to die. You've declared war on us and now it's open season on YOU."
On the same day, the Pennsylvania man also wrote: "HEY FEDS. We the people cannot WAIT to water the trees of liberty with your blood. I'll be waiting for you to kick down my door."
A day later, he posted: "My only goal is to kill more of them before I drop" and "If You Work For The FBI Then You Deserve To Die" and "I'll shoot an SS officer in the head just as quick as I'd shoot a KGB officer in the head. Keep that in mind. There are plenty of other letters in the alphabet. Police state scum are police state scum. Period".
In another post from the same day, Bies wrote about being "ready for the inevitable," adding: "I already know I'm going to die at the hands of these piece of shit child molesting law enforcement scumbags. My only goal is to kill more of them before I drop. I will not spend one second of my life in their custody."
The special agent signing off the FBI affidavit writes that, based on his training
and experience, "an individual that makes statements accepting the end of life is a danger to himself and society. Based on the post described herein, I believe BIES is making his intentions known that he is willing to commit violence towards law enforcement in support of his beliefs, even if that costs him his own life."
In a following post, Bies complained of being warned by Gab for his violent posts.
According to a chat log provided by Gab to federal investigators, Bies signed up to the app with the email adam@adamkennethcampbell.com "so that corporate Murica' can't google me out of a job." But federal investigators were able to identify his IP address.
Bies was arrested on Friday in Mercer and made an initial appearance in federal court in Pittsburgh on Monday. He remains in custody pending a detention hearing, according to the Department of Justice.
If Bies is found guilty, he could face a maximum penalty of 10 years in prison.