Trump Told Allies He 'Wanted to Sue' Leakers Instead of Discussing National Security, Former Defense Dept. Official Says
Guy Snodgrass, a retired Navy officer who served as the chief speechwriter for Donald Trump's former defense secretary, retired General Jim Mattis, said that Trump spent a significant amount of time speaking with allies about leakers in his administration, telling them that he "wanted to go after" and "sue" these individuals.
"It was surprising to me that, again when you're thinking about the type of information we're talking about, of the disposition of forces around the globe," Snodgrass told CNN in an interview on Wednesday, "the way that we interact with our allies and partners, and to spend 10 minutes talking about a leak that had been reported on in The Washington Post, and how the president wanted to go after that individual, and wanted to sue them and started…darting from topic to topic, that had nothing to do with national security, that was the part that I found to be very alarming," the former Defense Department official said.
Snodgrass made the comments in reference to his new book, Holding the Line: Inside Trump's Pentagon With Secretary Mattis, which was published on Tuesday. The official also warned that Trump's foreign policy could disrupt international alliances and partnerships.
"National security is important to everyone," the author said. "It's something that has long-lasting ramifications," he pointed out. "These are relationships that we've developed over the course of seven decades, since the conclusion of World War II and suddenly, over a very short amount of time, we've put those at risk."
"Once they've been lost, they're very hard to get back," Snodgrass warned.
As he noted, relations between the U.S. and historically close allies have been strained under Trump's administration. Trump has been at odds with allies such as Canada and the European Union over trade issues. Although the president's trade war with China has received the most attention, the president has also targeted multiple U.S. allies with tariffs, while the impact of tensions with China have had a global impact.
Trump has been criticized by numerous allies over his decision to withdraw the U.S. from the Paris climate accord, which every other nation in the world has signed. The president has publicly mocked the scientifically established reality of man-made climate change, even referring to it bizarrely as a "Chinese hoax." His administration has also worked to remove an array of environmental regulations.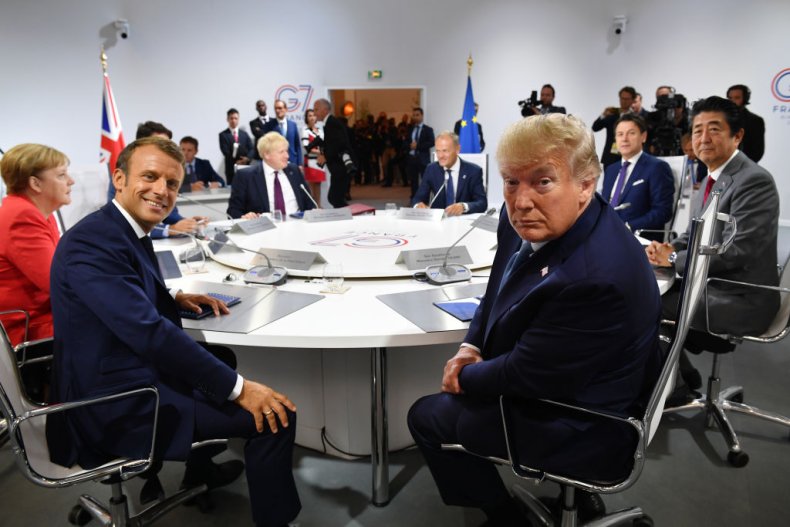 European allies have additionally been frustrated by Trump's decision to withdraw from the Iran nuclear deal, which was signed under President Obama with the leaders of France, the United Kingdom, Germany, the European Union, Russia and China. That agreement aimed to provide Iran with sanctions relief and investment in exchange for curbing its nuclear program. Trump withdrew from the international treaty last year, despite consistent reports from the United Nations' nuclear watchdog showing that Iran had remained in full compliance. European leaders condemned Trump's decision and have worked to salvage the deal.