Trump Ally and Kansas Gubernatorial Candidate Kris Kobach Claims Tougher Immigration Laws Would've Stopped 9/11
Trump ally and Kansas gubernatorial candidate Kris Kobach told a crowd at the president's rally in Topeka Saturday night that tougher immigration laws could have prevented 9/11.
Kobach told the crowd that his hardline anti-immigrant views had their roots in the 9/11 attacks
"Let me tell you something that you might not know: All 19 hijackers came into this country legally on temporary visas," Kobach said.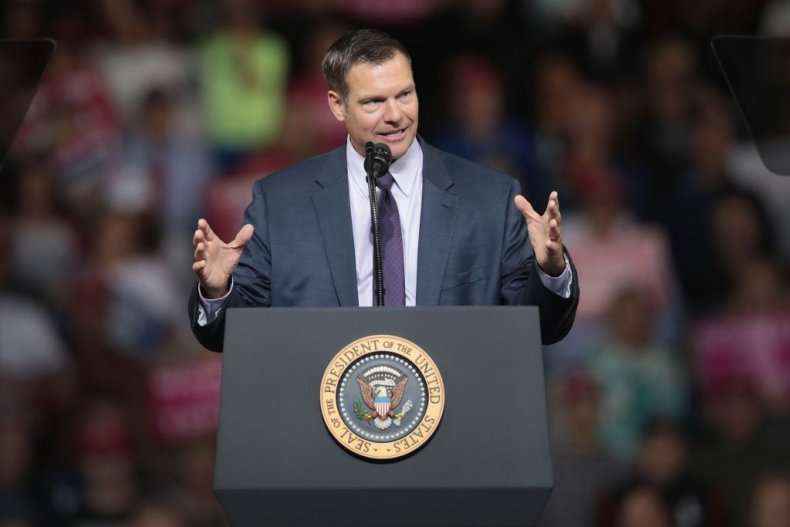 "Five of them became illegal mostly by overstaying their visas. Four of those five were stopped by state and local law enforcement for speeding violations. They were illegally in the country at the time, but the cops didn't know it, so they didn't make an arrest even though they could have if they had that information at their fingertips," he said.
"Now get this. Three of those four illegal aliens that they could have arrested were pilots. So if they had made those arrests, they could have stopped 9/11 from happening. Those numbers have shaped my career. The gravity of that has never left me. I will not, and I know President Trump will not allow our immigration system to be used again as a weapon to harm the American people. Stopping illegal aliens is not just about jobs, it's not just about crime, it's about our nation's security and that comes first," Kobach added.
According to information in the 9/11 Commission Report, two of the 9/11 attackers were in the U.S. on expired visas on September 11, 2001.
Saudi national Satam al Suqami, who was one of the hijackers of a passenger plane flown into the North Tower of the World Trade Center, entered the U.S. on a business visa that expired in May 2001. Fellow Saudi Nawaf al-Hazmi, who was one of the hijackers of the plane that crashed into the Pentagon, was on a tourist visa that expired in January 2001.
Hijack pilots Mohamed Atta and Marwan al Shehhi had overstayed their visas during their time in the U.S., — Atta in December 2000 and Shehi in November 2000 —but had approved visas on September 11.
The report alleges that the attackers exploited flaws in the U.S. visa system to enter the U.S. and remain in the country to plot and commit the attacks, and that immigration authorities bungled visa applications.
Three of the attack pilots were stopped for traffic violations in the weeks and months leading up to the attacks.
Attacker Hani Hanjour was stopped in Virginia in August 2001 for speeding, and Ziad S. Jarrah in Maryland two days before the attacks. Police said that both men had shown valid driving licenses when requested by officers, and Hanjour paid an on-the-spot fine.
Atta was stopped in Florida in July 2001 and ticketed for driving without a valid license. A warrant was issued for his arrest, but when stopped again for speeding a few weeks later an officer let him go as he was not aware of the previous offence.
Trump and his allies have often sought to link immigration and crime. Both Trump and Kobach have in the past falsely claimed that immigrants commit a disproportionate number of crimes. Both have also sought to limit voting among minorities particularly, using the disproved argument that voter fraud is rife.
Kobach faces Democratic state senator Laura Kelly in November's election.