Trump Ally Franklin Graham Condemns British Venues For Barring Talks Over Anti-LGBT Views, Says He's Being 'Discriminated Against'
Christian evangelist preacher Franklin Graham has accused British venues of discrimination after a number of venues refused to host him on his upcoming UK tour amid opposition from the public over his anti-LGBT views.
Earlier this week, management at a conference venue in Liverpool said they would no longer be hosting a planned speaking event of Graham's, originally scheduled for June 12. It explained the venue has been "made aware of a number of statements" the preacher had made which were "incompatible" with the ACC Liverpool's values.
On Tuesday morning, a spokesperson for The O2, a popular venue in London, told Newsweek that while Graham had expressed an interest in holding a speaking event there, the event would not be happening.
The development came following an All Out petition calling on The O2 to refuse to host Graham, with the petition gaining more than 8,500 signatures by early Tuesday morning.
While the petition suggested that Graham, who has been a strong supporter of President Donald Trump's, had already been booked to appear at the O2 arena, Moses made clear that no such plans had ever been solidified.
"For some time I have been planning to come and preach the Gospel in eight cities across the UK in 2020," Graham said. "Hundreds of churches are working with the Graham Tour UK and praying for these events."
"Some people have said I am going to bring hateful speech to the UK, but this couldn't be further from the truth," he claimed. "I'm coming to the UK to speak about God's love through His Son Jesus Christ."
"Jesus didn't come to condemn the world—He came to save it," the preacher continued. "The Gospel is timeless, and Bible-believing Christians in the UK have proclaimed it for centuries."
"We feel that we are being discriminated against because of our religious beliefs. Cancelling venue contracts based on the demands of one very vocal group, without consideration for the views and rights of the Christians who contracted for the venue, including the views of thousands of other Christians who support it and who would be negatively impacted, does far more to harm and divide society than simply letting the events go on as planned," Graham asserted.
"It is wrong for venue managers and local officials to make a decision that disadvantages Christians," he said.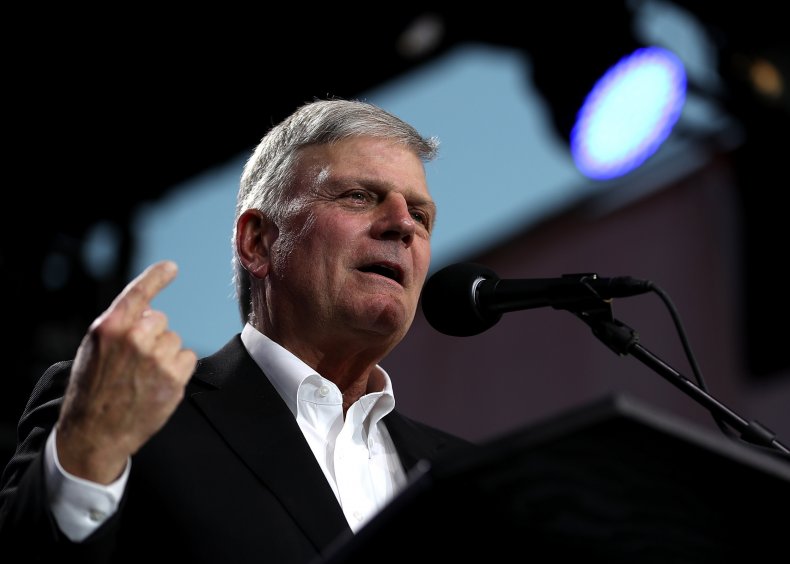 The preacher then also went on to accuse "some LGBTQ activists" of having a "pattern of harassment and bullying of evangelicals in general," with Graham appearing to refer to widespread opposition to anti-LGBT views espoused by himself and other evangelists.
"It should be noted that Christians are protected under the Equality Act of 2010 and the Human Rights Act 1998 against unlawful discrimination and have the right to freely exercise and manifest our religious beliefs," he said, adding: "It is our hope that venues will allow contracts to remain unchanged."
"I invite everyone to come and hear for themselves the Gospel message that I will share from God's Word," Graham closed. "All are absolutely welcome, regardless of their beliefs or background."
In recent years, Graham's support for Trump has come under the spotlight, with the president recently thanking the preacher for defending him after Christianity Today, the magazine founded by his father, the late Reverend Billy Graham, pushed for Trump's removal from office over the Ukraine scandal and the president's following impeachment.
"I appreciate everything that Franklin has done over the last two weeks," Trump said, thanking Graham for rising to his defense. "He fought very hard for us," he said.
Newsweek has contacted the All Out organizers of petitions demanding that UK venues bar Graham from speaking at their locations.
Updated: This article has been updated to remove the name and title of The O2 spokesperson, at their request.