Senator Lindsey Graham, one of President Donald Trump's Republican confidantes, has spoken out about Trump's proposition to delay the presidential election, saying it is "not the right answer."
The South Carolina senator's comments follow Trump's tweet Thursday morning, which called for delaying the Nov. 3 general election, claiming that mail-in-voting would lead to voter fraud. Many Americans are opting to cast their ballots from home via mail because of the coronavirus pandemic.
"With Universal Mail-In Voting (not Absentee Voting, which is good), 2020 will be the most INACCURATE & FRAUDULENT Election in history. It will be a great embarrassment to the USA. Delay the Election until people can properly, securely and safely vote???" the president tweeted.
Graham told Newsweek he believes Trump's concerns about mail-in voting are valid, but that delaying the election is "not the right answer." Graham referenced his state's June 9 primary elections, which opened physical polling locations despite the pandemic.
"I think we can be able to safely vote in-person in November," Graham said.
CNN correspondent Manu Raju tweeted Thursday morning that Graham had told him "I don't think that's a particularly good idea," in reference to Trump's tweet.
In an email to Newsweek, Kevin Bishop, a spokesman for Graham, declined to comment further.
"I think his statement said it all," Bishop wrote, "'not a particularly good idea.'"
Hogan Gidley, press secretary for Trump's reelection campaign, told Newsweek in a statement that mail-in-voting invites "chaos" and causes "severe delays in results."
"The President is just raising a question about the chaos Democrats have created with their insistence on all mail-in voting," Gidley wrote in an emailed statement.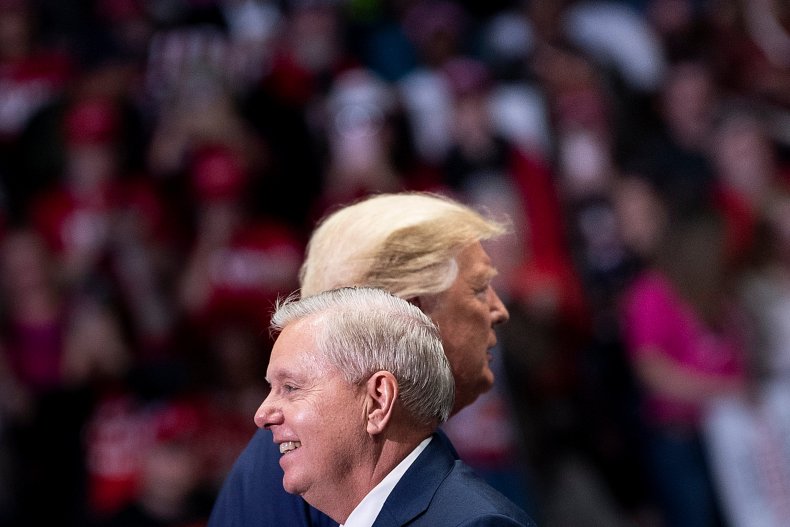 Graham has proven himself a staunch supporter of Trump throughout his presidency, being one of the most vocal Republican lawmakers during Trump's impeachment trial earlier this year.
Graham called the impeachment inquiry a "lynching," saying: "This is a lynching in every sense. This is un-American."
But the senator has broken from Trump on several occasions throughout the coronavirus pandemic, disagreeing with the president and his administration on everything from coronavirus relief legislation to Dr. Anthony Fauci, the nation's top infectious disease expert.
Trump's tweet comes amid mounting concern that the president might refuse to leave office in January 2021, should he lose the November election. During a July 19 Fox News Sunday interview, Trump declined to commit to accepting the election's outcome.
"No, I'm not going to just say yes. I'm not going to say no, and I didn't last time either," Trump replied when asked by host Chris Wallace whether he'd accept an election loss.
Several Democratic lawmakers are using the looming Nov. 3 election date and Trump's poor polling numbers to take aim at the president.
"Trump's new ploy: if you can't win the election, delay it. This would be nothing less than a coup against the people of the United States and the constitution," Rep. Jackie Speier, a Democrat from California, tweeted.
Sen. Kamala Harris, a Democrat from California, tweeted that Trump is "terrified" and that "he knows he's going to lose to @JoeBiden."
Ramsey Touchberry contributed to reporting.