Trump Ally Hosting Maskless Meeting to Nix Election Certification Gets COVID
A Republican state senator in Pennsylvania reportedly tested positive for COVID-19 last week just after he helped host a largely maskless public hearing promoting baseless claims that President-elect Joe Biden won the election through widespread fraud.
The Associated Press reported on Sunday that Senator Doug Mastriano tested positive for the novel coronavirus after he arrived at the White House for a meeting last Wednesday with President Donald Trump. According to the source cited by the AP, Mastriano quickly left the meeting but Trump and other attendees continued.
"The president instantly called the White House doctor in and he took them back to, I guess, the medical place," the unidentified person told the news agency.
Newsweek reached out to a press representative for Mastriano for comment but did not immediately receive a response.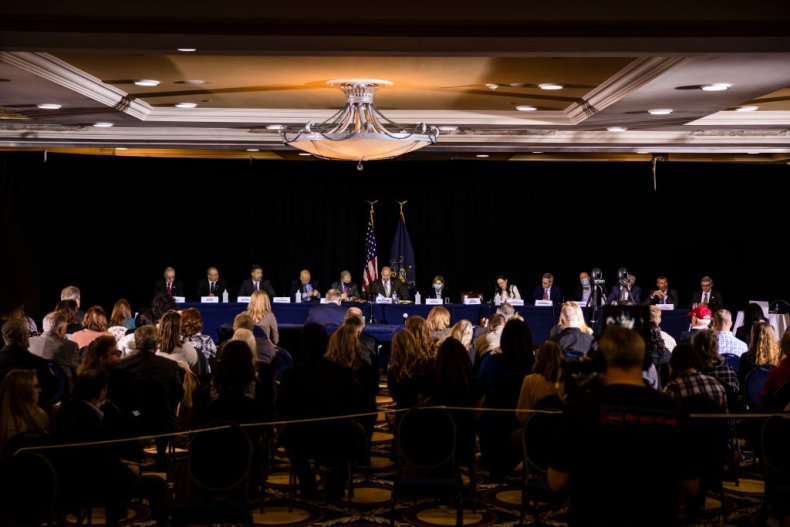 Mastriano's reported positive test came after an event in Gettysburg, Pennsylvania, earlier in the day attended by state Republicans and members of the president's legal team—including former New York City Mayor Rudy Giuliani.
The meeting came a day after Pennsylvania certified its election results. Republican allies of the president have since called for withdrawing the certification and having the GOP-controlled state legislature appoint Electoral College delegates.
Mastriano tweeted Saturday, "There is mounting evidence that the PA presidential election was compromised. If this is the case, under Article II, Section 1.2 of the US Constitution, the state legislature has the sole authority to direct the manner of selecting delegates to the Electoral College."
Most of the participants were not wearing masks during the Wednesday gathering, and at least one other Republican, who was sitting next to Mastriano, has reportedly now tested positive. Pennsylvania news site Times New Online reported on Sunday that state Senator David Argall tested positive for COVID-19. Although Argall was wearing a mask during part of the Gettysburg meeting, he removed it to speak.
Mastriano has disparaged people wearing masks via his social media and has strongly opposed Democratic Pennsylvania Governor Tom Wolf's pandemic restrictions. The state senator and other Republicans have faced significant criticism from their Democratic counterparts for refusing to wear masks, and that escalated following the news of Mastriano's positive test.
"So Senator Doug Mastriano held a super spreader event in #Gettysburg with a lot of Republican lawmakers (incl Scott Perry) and now he has #COVID... How hard is it to wear a mask?" Shavonnia Corbin-Johnson, the political director for Pennsylvania's Democratic Party, tweeted Sunday evening.
"The PA House and Senate GOP have consistently put their Democratic colleagues and Capitol staff at risk with their reckless behavior. GOP members have tested positive, and they only tell Republicans. They refuse to wear masks, even in small committee rooms. They've held COVID and conspiracy super-spreader events that threaten the health of Pennsylvanians and our Democracy," Representative Malcolm Kenyatta said in a statement, according to local NBC News affiliate WGAL Monday.
"Even if you don't care about yourself. If you're not afraid of the virus you probably have someone in your life that would not do well, your neighbor or your friends," Pennsylvania's Lieutenant Governor John Fetterman, a Democrat, said about the issues with Republicans. "Everyone has someone that they love who can't afford to get this virus."
The president's legal challenges to the election results have nearly all failed in court. The Pennsylvania Supreme Court ruled against throwing out the election results on Saturday, and an appeals court in Philadelphia dismissed another lawsuit on Friday.