Trump Ally Lindsey Graham in Deadlock Senate Race With Dem Challenger Jaime Harrison in South Carolina
Pollsters said Republican Senator Lindsey Graham of South Carolina is "facing the fight of his political life" as he remained deadlocked with his Democratic challenger in a new Quinnipiac University poll published on Wednesday.
Graham has been tied with Jaime Harrison, who chaired the South Carolina Democratic Party from 2013 to 2017, in each of the three Quinnipiac polls conducted among South Carolina voters since late July. In the latest poll conducted between September 23 and 27 among 1,123 likely voters with a 2.9 percent margin of error, 48 percent told pollsters that they supported Graham and 48 percent said they supported Harrison.
Though 95 percent of the poll respondents said they did not anticipate their support shifting before Election Day, 4 percent said it was still possible that they would change their minds, pollsters said. While the candidates have been tied throughout Quinnipiac's recent polls, the percentage of voters who told pollsters their decisions were final has increased from 85 percent in early August.
"There hasn't been a Democrat elected to the Senate from South Carolina since 1998," Quinnipiac polling analyst Tim Malloy said in a news release announcing the poll's results. "Outspent and labeled by critics as an apologist for President Trump, Lindsey Graham is facing the fight of his political life."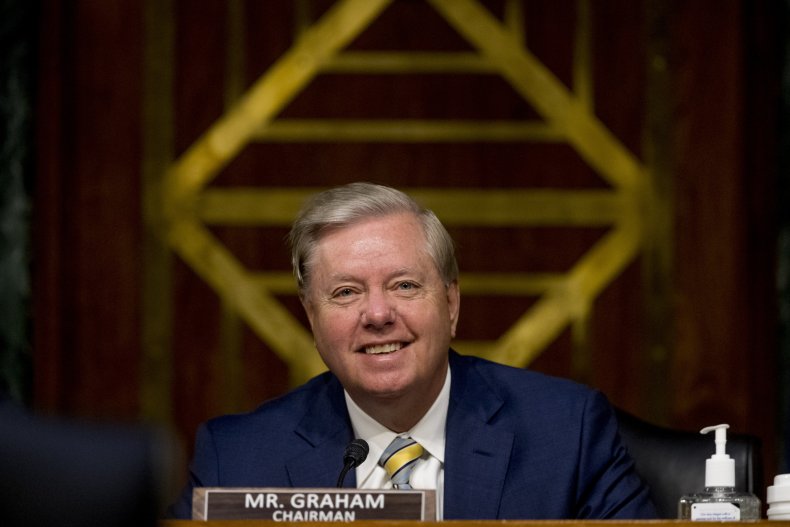 Graham and Harrison each had 48 percent of likely voter support in a Quinnipiac poll conducted in mid-September, and the candidates were also tied in a Quinnipiac poll conducted among self-identified registered voters between July 30 and August 3, though that poll found Graham and Harrison each polling at 44 percent.
Quinnipiac pollsters asked South Carolina voters about Graham's support for President Donald Trump during their first statewide poll in late July, and the results indicated that 40 percent believed the incumbent senator was too supportive of the president. Though the latest poll did not question voters about the dynamic between Graham and Trump, it did ask about their opinion of Trump's decision to move forward with filling Associate Justice Ruth Bader Ginsburg's seat on the Supreme Court in the wake of her death. According to the poll, voters were divided on the issue of whether Trump should be the one to fill Ginsburg's seat, with 47 percent of likely voters saying the decision was his to make and 49 percent saying the winner of the presidential election should be the one to nominate Ginsburg's replacement.
"POTUS picked the SCOTUS nominee, but almost half of likely voters say before the election it's not Trump's call on who to install," Malloy said.
Trump nominated Amy Coney Barrett to fill the seat last week, and Senate Majority Leader Mitch McConnell has said that he intends to move forward quickly with her confirmation. The debate over filling Ginsburg's seat could have an impact on Graham's reelection bid due to his role as the chairman of the Senate Committee on the Judiciary, which is scheduled to begin Barrett's confirmation hearing on October 12.
In 2016, Graham invited his fellow lawmakers to "use my words against me" as he argued against former President Barack Obama nominating a replacement for former Associate Justice Antonin Scalia following Scalia's death in February 2016.
"If there is a Republican president in 2016 and a vacancy occurs in the last year of the first term, you can say, 'Lindsey Graham said that let's let the next president, whoever it might be, make that nomination.' And you could use my words against me, and you'd be absolutely right," Graham said at the time. Despite his comments four years ago, Graham announced the committee's hearing schedule for Barrett's confirmation shortly after Trump made her nomination official.
Even amid the debates about when and how to fill the empty Supreme Court seat, Graham held his position in a YouGov poll conducted among likely voters in South Carolina between September 22 and 26, which said he had a 1-point lead over Harrison despite 46 percent of likely voters saying they thought the senator agreed with Trump "too much."
For that poll, 54 percent of respondents told YouGov they believed Trump should be the one to fill Ginsburg's seat and the Senate should move forward with the confirmation process. When asked if a vote by Graham to confirm Barrett's nomination would sway their vote, 45 percent said it would not and 27 percent said it would make them less likely to vote for him.