Trump Ally to Lobby for Guatemala With Funds From Taiwan, Earning $75,000 a Month
Ballard Partners, a Florida-based lobbying and public relations firm, recently registered as a foreign agent with the U.S. Justice Department for a contract with Guatemala, records show. Taiwan will be footing the bill of roughly $75,000 a month, the Associated Press reported.
Years before former President Donald Trump ran for the White House, company founder Brian Ballard worked for him as a lobbyist in Florida.
It's not clear the reason why Guatemalan President Alejandro Giammattei hired Ballard. In the registration papers, Ballard said the goal was to give Guatemala "strategic consulting and advocacy services" for its interactions with the U.S. government and its officials.
The one-year contract with Ballard will cost Taiwan a total of $900,000. In a statement, Guatemala thanked Taiwan for its support, which allows the Central American nation to "strengthen our positioning in the U.S." The statement said Ballard will promote tourism and focus on strategic communication and investor outreach, AP said.
Attorney Robert Kelner, who specializes in compliance with foreign lobbying laws, told AP that it's abnormal for a government to be paying the lobbying fees for another government.
"It's not illegal. But it does raise a question of whether the government that pays also needs to be listed by the lobbying firm as a foreign principal," he said.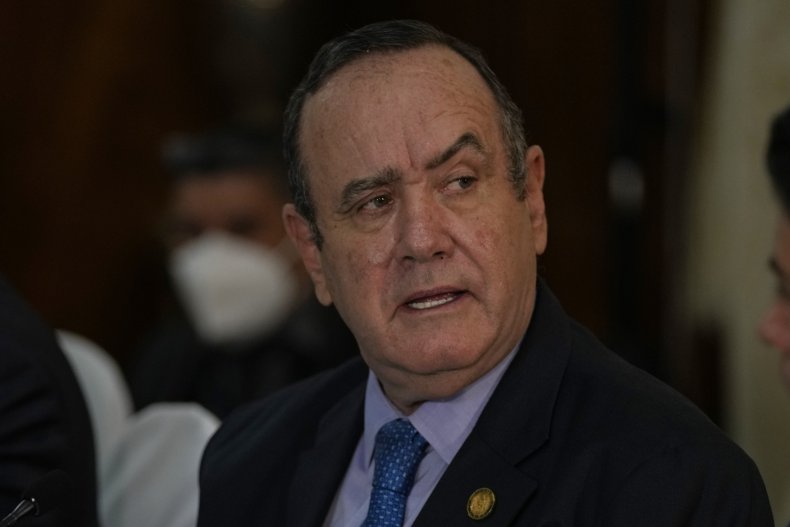 Taiwan Foreign Minister spokesperson Joanne Ou told AP that they agreed to the arrangement with Guatemala because of the "mutual assistance and mutual benefit to promote pragmatic diplomacy."
Ballard will manage the Guatemalan account with help from three associates. The first associate is Republican Jose Diaz, a former Florida state representative and the managing partner for Ballard's Miami office. The second associated is Republican Justin Sayfie, a partner in the Washington office and previous adviser for former Florida governor Jeb Bush. The final associate is Democrat John O'Hanlon, according to AP.
Ballard has quickly become one of the largest lobbying firms in Washington after expanding its business when Trump was elected, according to Florida Politics.
Politico described the firm as "The Most Powerful Lobbyist in Trump's Washington" after it signed dozens of domestic and foreign lobbying clients, including governments like Zimbabwe and the Dominican Republic, during Trump's presidency, Florida Politics said.
According to Open Secrets, a website that tracks political money, data showed Ballard Partners signed on 135 clients in 2021, earning $13,730,000 from January 1 to September 30.
The firm had 17 lobbyists last year mainly focusing on health and government issues. The firm lobbied the Department of Commerce, Department of State and the White House most often.