Steve Bannon, a top Trump ally, pleaded not guilty to two counts of contempt of Congress on Wednesday, charges that each carries a maximum sentence of one year in prison and a $100,000 fine.
Bannon was charged with two counts of contempt of Congress after he failed to appear for a deposition and produce documents related to the Capitol riot. Bannon, who worked as a chief strategist and counselor to the president while Trump was in office, was targeted by the House Select Committee for allegedly trying to persuade members of Congress to not certify President Joe Biden's win and saying "all hell is going to break loose" on January 5.
Bannon's not guilty plea wasn't entirely surprising and marks the start of a new legal battle between Trump's allies and the Select Committee. Congress has floated the possibility of pursuing charges against others who have defied their subpoenas, including former chief of staff Mark Meadows.
If Bannon is found guilty and receives a harsh sentence, it could motivate others in Trump's orbit to comply with the subpoenas or plead guilty if they are charged with contempt of Congress.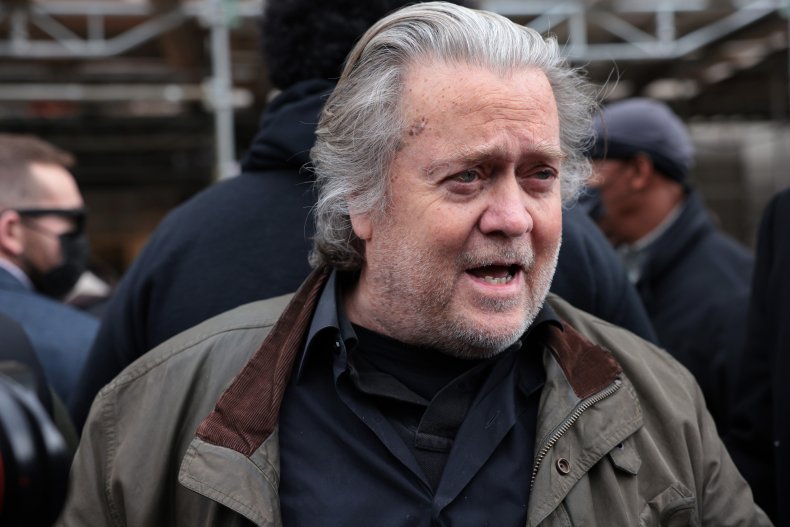 President Donald Trump has pushed back on the Select Committee for being engaged in a "witch hunt" against him in an attempt to hurt his ability to potentially run for office again. The former president was impeached for a historic second time in the wake of the Capitol riot but has denied he bore any responsibility for the violence that erupted on January 6.
In September, Bannon confirmed on his War Room podcast that he met up with Trump to discuss how to "kill the Biden presidency." His admission came after Washington Post journalists Robert Costa and Bob Woodward's book Peril was released, which claimed Bannon was part of a "war-room-type meeting" at the Willard Hotel in Washington, D.C.
"And Bannon had actually been in close touch with President Trump for days before January 6," Costa said during a September MSNBC interview. "Based on our reporting, he privately told President Trump to have a reckoning on January 6. And he said to the president, it's time to kill the Biden presidency in the crib."
On October 7, the day Bannon was set to produce documents to the Select Committee, his attorney said he would not comply because Trump said the subpoena sought records and testimony that could be protected by executive privilege. Trump told Bannon to not produce documents or testimony "to the fullest extent permitted by law" and Bannon informed the committee he would not comply until courts ruled on Trump's executive privilege assertion.
Trump sued the committee in an attempt to block the release of his own documents. A judge initially ruled against him, saying Biden could make the decision to release the documents, but Trump appealed the decision and a court ruled he did not have to produce the documents until his appeal could be heard in full. The earliest a ruling could come is at the end of November.
Bannon surrendered to the FBI on Monday, but was released later that day under the condition that he agree to weekly check-ins, surrender his passport and provide notice of travel outside of the district.
"We're taking down the Biden regime," Bannon said outside the FBI field office in Washington, D.C.
Along with pleading not guilty, Bannon waived his right to an arraignment, which was scheduled for Thursday.