Trump Amasses $88 Million War Chest Ahead of 2020 Presidential Campaign
President Donald Trump has already amassed an $88 million war chest for his 2020 re-election campaign, according to finance reports.
Trump's campaign committee and two joint committees formed with the Republican Party at the end of June had funds of $53.6 million stashed in banks, according to finance reports filed Sunday evening with the Federal Election Commission.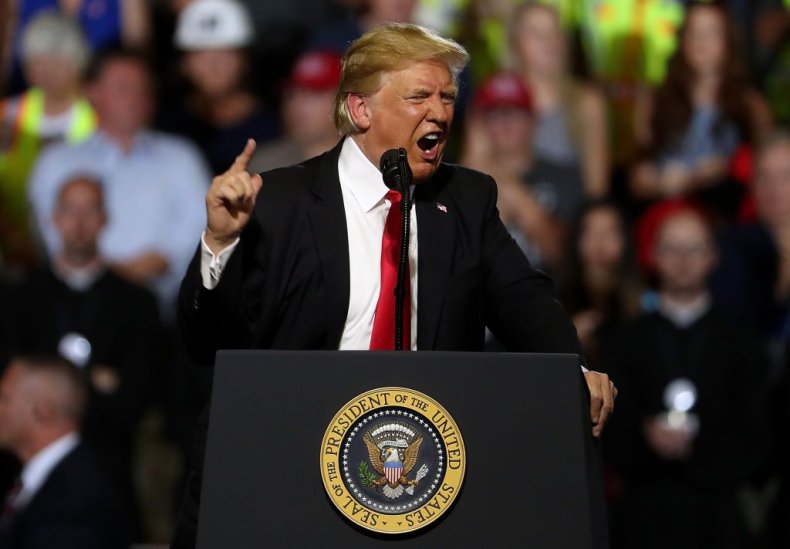 According to the documents, the committees raised $17.7 million from April through the end of June. The sum is a slight dip on the $20.2 million collected by the organizations in the first quarter of the year.
In total the president has funds of $88 million to draw on, gathered since launching his re-election campaign in 2017, according to The New York Times.
The top donor is Andrew Beal, a Texas banker who once challenged Trump in a bankruptcy case. According to the records, he donated $339,000 to the Trump Victory election committee.
Real-estate developer Stanley Chera donated $169,500 to the committee. Chera partnered with the company owned by Jared Kushner, the president's son-in-law, on a $1 billion deal to sell retail space at 666 Fifth Avenue in Manhattan.
The three committees spent $1.2 million on legal fees during the second quarter, bringing their spending total to $8.6 million since the beginning of 2017.
In an interview with British newspaper the Mail on Sunday, Trump said that he intends to run again in 2020 and expressed confidence in his ability to defeat prospective Democrat challengers.
Trump began fundraising for re-election immediately after his inauguration, in contrast with previous presidents, most of whom have waited until halfway through their term to begin their re-election bids.
The Trump campaign noted that most of its contributions came from small donors donating $200 or less.
"We are thrilled with the continued support of so many Americans who resoundingly approve of Donald Trump's performance as president," Lara Trump, the president's daughter-in-law and senior adviser to his re-election campaign, said in a statement. "The American people clearly see how hard President Trump is working to reclaim their jobs lost to bad trade deals, increase their take-home pay through historic tax cuts and make their communities safer through his immigration enforcement and initial work to build the wall."