Trump Ambassador Pick Called Refugees 'Unwanted Invaders,' Advocated 'Shooting People' at Mexico Border
President Donald Trump's new nominee to be ambassador to Germany has previously called refugees to Europe "unwanted invaders" while criticizing Chancellor Angela Merkel's willingness to accept millions of refugees from the Middle East.
In a 2018 interview on the radio show Conservative Commandos, Trump's nominee, retired Army Colonel Douglas Macgregor, referred to Germany's government as "extremely bizarre," saying that it "seems more concerned about providing free services to millions of unwanted Muslim invaders, to be blunt, than it does about its own armed forces in the defense of its country."
By the end of 2018, Germany had accepted more than 1 million refugees under Merkel's leadership. McGregor's prior remarks were first reported by CNN on Tuesday.
Trump's decision to nominate McGregor comes as the president has announced plans to withdraw some 12,000 troops from Germany. Republicans, Democrats and some former military leaders have criticized the move, saying it would benefit Russia.
As for the U.S. response to asylum seekers and immigrants at the southern border, McGregor suggested that the government should deploy troops and "shoot people."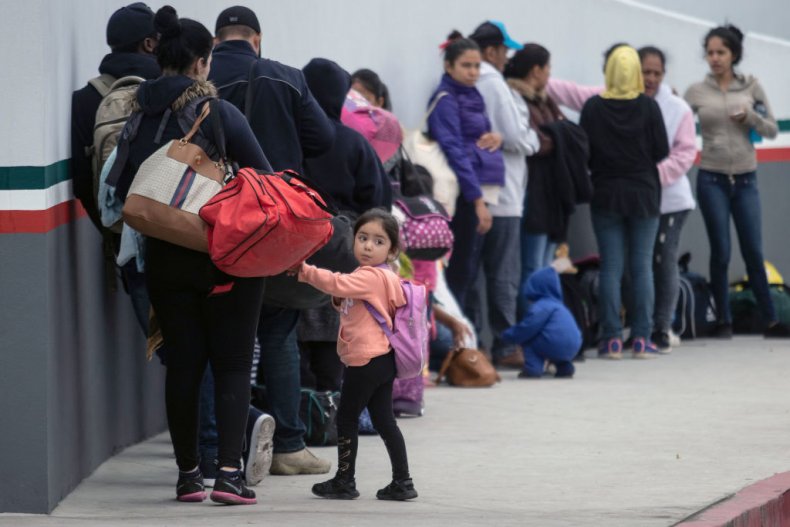 "Well, the only solution is martial law on the border, putting the United States Army in charge of it, and closing it off would take about 30-40,000 troops. We're talking about the regular army. You need robust rules of engagement," he said in 2019 on radio's The Joe Piscopo Show. "That means that you can shoot people as required if your life is in danger."
McGregor declined to comment on his past remarks. Germany's Federal Foreign Office told Newsweek, "We have no comment at this time" when asked about the retired colonel's past remarks.
Those remarks align with comments Trump has made in White House meetings, according to The New York Times. The president reportedly has asked aides about the possibility of shooting migrants at the border and even suggested that a proposed border wall should be electrified with spikes to pierce human flesh.
In June 2018, Trump criticized Germany for allowing so many immigrants into the country, falsely claiming that it had led to a rise in crime. "Crime in Germany is way up. Big mistake made all over Europe in allowing millions of people in who have so strongly and violently changed their culture!" he tweeted.
Judd Deere, a deputy White House press secretary, told CNN that "while the Swamp may feel threatened by President Trump's nominee, who believes strongly in putting America first, the White House wants to see this critical diplomatic post filled without delay." Deere said McGregor was "enormously qualified" to fill the ambassador post.
The U.S. and Germany have been close allies for decades, as the Western European nation has taken a leading role in the European Union. But the relationship has been strained during Trump's administration. German Foreign Minister Heiko Maas said "it's complicated" in a June interview with the magazine Bild am Sonntag, in which he described his nation's current ties to the U.S.