Trump Will Make 'America First' by Challenging Russia and China, Taking on North Korea and Iran, Defeating ISIS
President Donald Trump has laid out plans for the U.S. to challenge Russia and China's growing influence on the world stage; rein in North Korea and Iran's defiance of the West; and destroy what's left of the Islamic State militant group (ISIS).
Trump announced Monday his new national security strategy, a document produced by every U.S. leader since former President Ronald Reagan as mandated by Congress in 1986. Trump's highly anticipated report, which was shared by the White House, promised an "America First" strategy that identified other leading world powers, authoritarian states opposed to the West and the global threat of jihadi organizations as the foremost threats to the U.S.
Related: U.S. War With Russia and China More Likely as World Power Shifts From West to East, NATO Says
"China and Russia challenge American power, influence and interests, attempting to erode American security and prosperity. They are determined to make economies less free and less fair, to grow their militaries, and to control information and data to repress their societies and expand their influence," Trump wrote in his first such report as president.
"At the same time, the dictatorships of the Democratic People's Republic of Korea and the Islamic Republic of Iran are determined to destabilize regions, threaten Americans and our allies, and brutalize their own people. Transnational threat groups, from jihadist terrorists to transnational criminal organizations, are actively trying to harm Americans," he wrote.
In the 55-page document, Trump did not specifically reference U.S. allegations that Russia attempted to influence the 2016 presidential election in his favor, but did charge Moscow with "using information tools in an attempt to undermine the legitimacy of democracies." When Trump entered office in January, he was widely considered to be a political ally of Russian President Vladimir Putin, but their relationship has been strained as their nations diverged on major issues such as the ongoing conflicts in Syria and Ukraine.
Recent reports that the CIA provided the Kremlin with crucial intelligence to stop a jihadi attack in St. Petersburg, and cautious cooperation between the U.S. and Russia in battling ISIS in Syria have produced prospects for an improved relationship, but the Trump administration has remained deeply suspicious of Russia's growing military power and diplomatic influence that challenges Western dominance in crucial areas such as Europe and the Middle East.
Trump criticized Russian and Chinese initiatives to develop "advanced weapons and capabilities that could threaten our critical infrastructure and our command and control architecture" and "to reassert their influence regionally and globally." In addition to targeting China's own growing military and political power, Trump censured Beijing for stealing "U.S. intellectual property valued at hundreds of billions of dollars," while noting its advances in sophisticated artificial intelligence programs and investment in infrastructure across the globe.
The report singled out the "rogue regime" of North Korea and "evil dictatorship" of Iran, both of which occupied the State Department's list of State Sponsors of Terrorism as of November. Trump escalated the U.S.-led campaign to disarm North Korea's nuclear and ballistic weapons arsenal, which has grown substantially in power under young supreme leader Kim Jong Un, and threatened to do so by force. Trump also decertified a 2015 historic nuclear deal with Iran and has led efforts to isolate Tehran diplomatically over accusations it sponsored militant groups across the Middle East.
Trump pledged to deploy "a layered missile defense system focused on North Korea and Iran to defend our homeland against missile attacks." Both countries have denied wanting to target the U.S. and have compared Trump's stance toward their respective nations to that of former President George W. Bush in the days leading up to the Iraq War.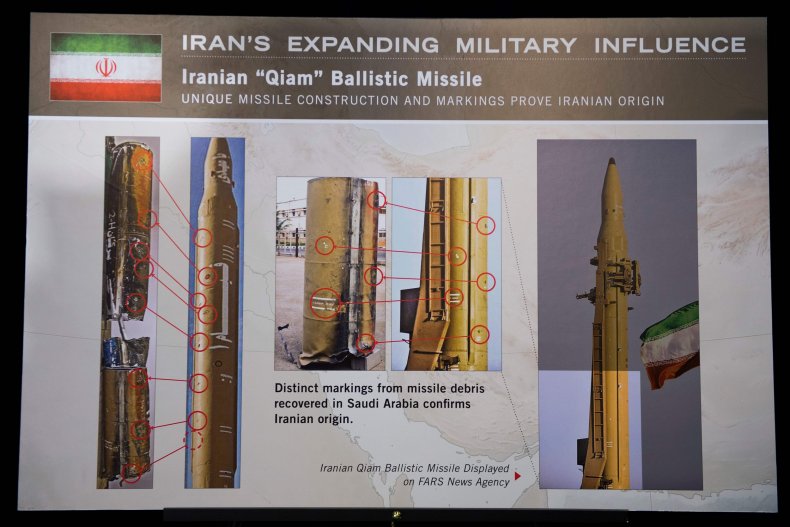 Trump's charges against Russia and Iran came in spite of the fact that all three were involved in the fight against ISIS, which saw significant losses in the past year. In separate offensives, a Russia and Iran-backed campaign and a U.S.-led campaign largely defeated the militants in Syria, while forces supported by both the U.S. and Iran ousted the jihadis from the vast majority of Iraq. Russia, Iran, Iraq and Syria have all declared victory over the group in past weeks, but their forces, as well as the U.S., continue bombing the group in shrinking pockets of territory.
Despite ISIS's massive territorial defeats, attacks conducted in the name of the group have continued worldwide. New York City experienced its first ISIS-inspired attack in October, the deadliest to hit the city since 9/11, and a second earlier this month, which injured several people, including the perpetrator. Authorities said the suspect in the pipe-bomb blast, which only seriously hurt the attacker himself, may have gotten instructions to build the device online, highlighting the continued threat of ISIS's virtual caliphate, which has provided instructions to would-be jihadis to strike targets around the world.