In the spring of 2016, as Donald Trump cruised to the Republican presidential nomination, he convened an elite crowd in a Washington, D.C., ballroom to announce a new proposal that would, as he put it, "shake the rust off America's foreign policy."
Backed by American flags, he eviscerated decades of GOP orthodoxy—specifically the nation building of George W. Bush in Iraq—and pledged to enact a "coherent foreign policy" that would shun distant conflicts and put "America first." Trump pledged to find "talented experts with approaches and practical ideas, rather than surrounding myself with those who have perfect résumés but very little to brag about except responsibility for a long history of failed policies and continued losses at war. We have to look to new people."
But now, as President Trump faces a series of conflicts with Syria, Iran and North Korea, he's surrounding himself with some of the "old people" whose ideas he so fervently dismissed as a candidate. In recent weeks, he has tapped as national security adviser John Bolton, a Bush-era diplomat who has advocated bombing Iran and North Korea; as secretary of state Mike Pompeo, a former Tea Party congressman who had backed the Iraq War; and as CIA director Gina Haspel, a veteran clandestine officer who ran a secret prison where waterboarding occurred after the September 11 attacks. (Haspel was awaiting congressional confirmation as of publication.)
The personnel overhaul represents a dramatic second act for these conservative hawks. And lawmakers in both parties—mostly Democrats—worry the revival could lead to the kinds of costly mistakes that Trump pledged to avoid when he repudiated the Bush era. "I think they're getting the old band back together," Senator Brian Schatz, a Hawaii Democrat, tells Newsweek. "They're the regime change team, and it's worrisome."
The shake-up comes at a crucial time for American foreign policy. Soon, Trump plans to meet with Kim Jong Un over North Korea's nuclear arsenal—but not before rendering a judgment on a previous weapons deal the U.S. and its European allies made with Iran to curb that country's nuclear ambitions. The president has threatened to tear up the Iran agreement over what he considers weaknesses in the deal, putting him at odds with Britain, France and Germany.
Some lawmakers say Trump's new advisers could wield outsize influence with a chief executive who, according to The Washington Post, declines to read daily intelligence briefings. The president instead relies on oral briefings from aides on select issues. "My fears about the future of our foreign and military policy are grounded in his apparently delegating many of the key decisions to a small number of people who have a very warped and distorted view of the correct balance between military and foreign policy," says Senator Richard Blumenthal, a Connecticut Democrat who sits on the Armed Services Committee.
Of greatest concern to Democrats—and some Republicans—is Bolton, arguably the most hawkish member of the new guard. He won Trump over as an outspoken commentator on Fox News, and in February, before accepting his new job as national security adviser, argued for a pre-emptive strike against North Korea. More recently, he proposed a different approach, similar to the one he and the Bush administration used in Libya, where the U.S. eased sanctions in return for the country dismantling its nuclear program.
But some analysts say the comparison to Libya could undermine the upcoming talks. Eight years after Muammar el-Qaddafi ended Libya's nuclear program, the U.S. launched military attacks there to prevent the despot from massacring civilians who were part of a popular uprising. Qaddafi not only lost power; he was killed by rebels—something North Korean officials have called a "grave lesson" for other nations trying to go nuclear.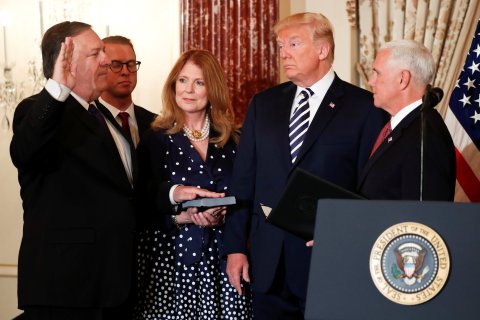 On Iran, critics see Pompeo, a conservative stalwart, as fueling Trump's desires to shred the nuclear deal. The new secretary of state recently embraced Israel's argument, built on a cache of stolen Iranian files, that Tehran hid its nuclear weapons program while it negotiated the agreement. Iran, Pompeo said, was "not telling the truth," even as many former and current intelligence officials say the documents don't show the country has violated the deal.
Meanwhile, Haspel has sought to distance herself from Bush-era torture controversies in the run-up to her confirmation hearings, assuring some lawmakers she doesn't want the CIA "back into the interrogation business," according to BuzzFeed News. Critics, however, say she'll be answering to a president who has endorsed waterboarding suspected terrorists.
Democrats fear that this new team, taken together, will mean a more aggressive foreign policy. "The most recent nominees reinforce Donald Trump's worst instincts about the use of military force as a first option, not a last resort," Blumenthal tells Newsweek. "It is a dangerous trend in foreign policy."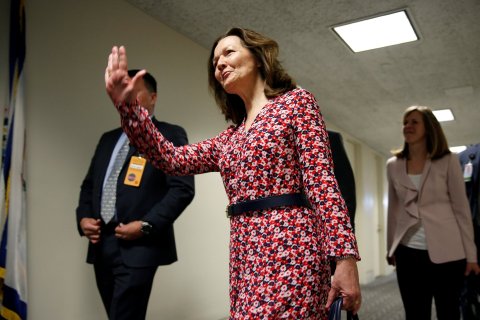 Citing similar concerns, Senator Rand Paul, a Kentucky Republican, briefly threatened to block Pompeo's nomination. "I don't think you really want people who are eager for war to be running the State Department," he told CNN. (Paul ultimately supported Pompeo's bid, saying he had received private assurances from Trump and Pompeo that Pompeo now considers the Iraq War a mistake.)
The White House denies the new appointments signal a change in policy. But either way, Trump's "America First" policy has not been consistent with what he promised voters two years ago. He has swung back and forth between isolationism and interventionism. In April, in announcing the second bombing of Syria during his administration, he said the U.S. was "prepared to sustain this response until the Syrian regime stops its use of prohibited chemical agents." But minutes later, he cautioned that intervention in the Middle East would be limited: "The United States will be a partner and a friend, but the fate of the region lies in the hands of its own people."
That tension could fuel battles between the hawks and more moderate figures, such as Secretary of Defense James Mattis and Joint Chiefs of Staff Chairman Joe Dunford. (Some Dems, like Senator Claire McCaskill of Missouri, see Mattis in particular as a bulwark against these new hawks.)
Many Republicans say it's too early to tell how much clout the hawks will have. "I think the president would be more in the realist mode, but even potentially a little softer than that," Senator Bob Corker, the Tennessee Republican who chairs the Foreign Relations Committee, tells Newsweek. "Maybe it's diverse opinions, though, that will erect good policy. We'll see."
Other lawmakers, like Schatz, take a dimmer view. As the Democrat puts it, "I think we ought to be very watchful."