Trump's America First Policy Is Still 'Absolutely' Committed to Free Trade, Treasury Secretary Says
President Donald Trump will take an overnight flight to snowy Davos, Switzerland, on Wednesday to meet with global and business leaders at the World Economic Forum, but members of his Cabinet are already at the conference and promoting the president's America First policy.
As Trump heads to the conference, global leaders have expressed concern over the protectionist nature of the policy. U.S. Treasury Secretary Steven Mnuchin defended the policy Wednesday in Davos, claiming "America First does mean working with the rest of the world" and the president "absolutely" supports free and fair trade, USA Today reported.
U.S. Commerce Secretary Wilbur Ross, who was also in attendance at Davos, came to the defense of the policy. "We don't think that adhering to the rules is protectionist," Ross said. "We think, in fact, it is essential to having markets operate properly, to have people play by the rules."
Mnuchin praised the recently signed Tax Cuts and Jobs Act of 2017, saying that corporate tax cuts will allow large American companies to compete fairly, and said the weakening of the U.S. dollar will be good for global trade. "Obviously a weaker dollar is good for us as it relates to trade and opportunities," Mnuchin said, according to Bloomberg.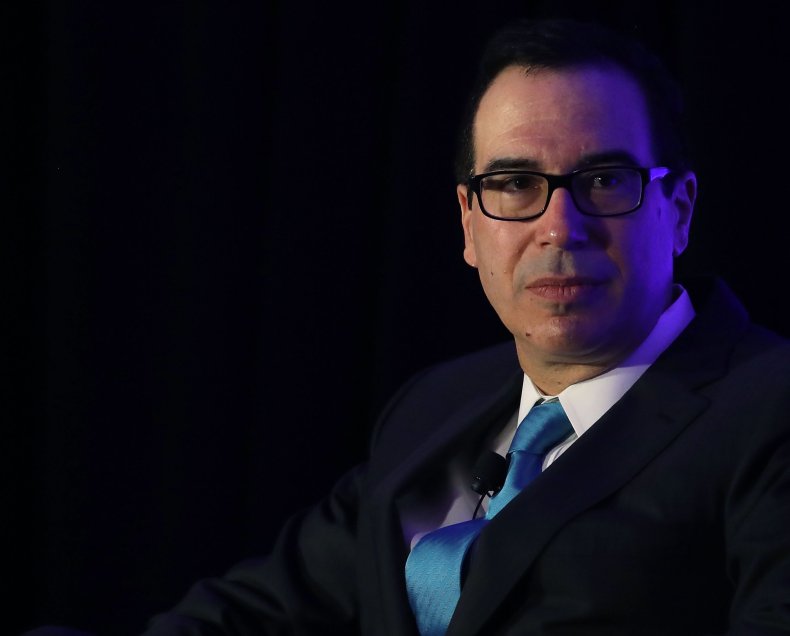 Trump is set to give a "special" closing speech to global elites at the World Economic Forum on Friday. White House Press Secretary Sarah Huckabee Sanders said earlier this month that Trump would use the forum to promote the America First worldview.
In Davos, world leaders including Italian Prime Minister Paolo Gentiloni, Indian Prime Minister Narendra Modi and Canadian Prime Minister Justin Trudeau voiced opposition to protectionist policies on Wednesday. Thousands of anti-capitalist protesters marched in cities across Switzerland on Tuesday to protest Trump's WEF attendance.
Trump promoted America First at an economic conference in Vietnam last year.
"We are not going to let the United States be taken advantage of anymore," Trump said in a speech at the Asia-Pacific Economic Cooperation (APEC) summit in November 2017. "I am always going to put America first, the same way I expect all of you in this room to put your countries first."