DeSantis Responds to Trump Spreading Rumor He Drank With High School Girls
Florida Governor Ron DeSantis dismissed former President Trump's spreading of a rumor that the governor allegedly partied with underaged girls while he was a high school teacher in Georgia.
On Tuesday, Trump responded to two photos posted to Truth Social of a man posing with three women, with a caption claiming that it was of DeSantis "grooming high school girls with alcohol as a teacher."
"That's not Ron, is it? He would never do such a thing!" Trump responded. "No way?" he wrote under another post.
Asked about Trump's attacks, the governor told reporters on Wednesday, "I spend my time delivering results for the people of Florida and fighting against Joe Biden...I don't spend my time trying to smear other Republicans."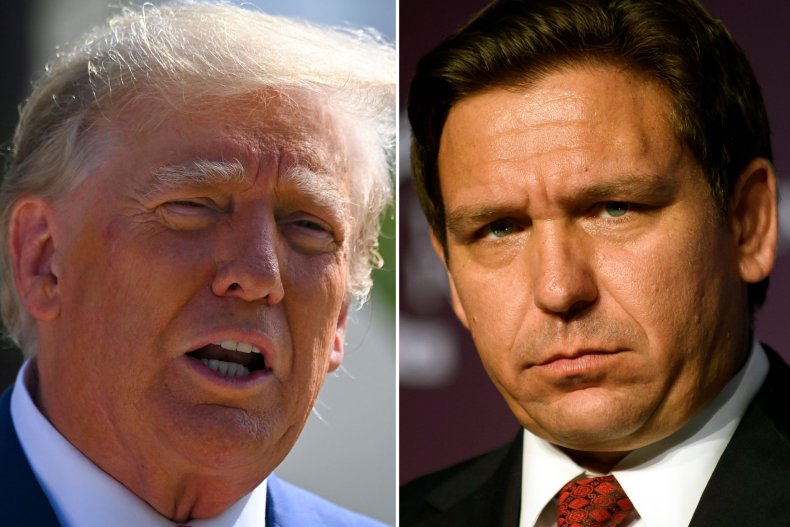 The suspicions the former president raised about his arguably greatest GOP rival is the latest attack on the governor, who Trump has repeatedly warned about running against him for president in 2024. In recent weeks, Trump has labeled DeSantis a "RINO globalist," has claimed the governor "loved the [COVID] vaccines" and has taken credit for DeSantis' political success, citing his 2018 endorsement.
"Trump is posting pictures of Ron DeSantis and young girls on Truth Social," social media personality Brian Krassenstein tweeted on Tuesday. "The 2024 battle has begun and it's a GOP civil war."
"Donald Trump accused Ron DeSantis of being a pedophile," Republicans against Trumpism also wrote on Twitter. "This is just the beginning. It will get much uglier in the next few months."
The photo Trump responded to traces back to an October 2021 report from HillReporter.com, a blog founded by a Democratic super PAC, that accused DeSantis of partying with students when he was a history teacher at Darlington School, a boarding and day school for grades pre-K through 12 in Georgia.
The report noted that the photo, provided by an anonymous source, was taken before graduation, "meaning the young girls would still have been DeSantis' responsibility at the time."
DeSantis' time at Darlington has been reported on before. During the 2001-2002 school year, when DeSantis was 23 years old, he taught at Darlington between his graduation from Yale University and his enrollment at Harvard Law School.
According to a New York Times report, "Several students recalled that Mr. DeSantis was a frequent presence at parties with the seniors who lived in town."
Newsweek reached out to DeSantis for comment.
Trump's posts on Truth Social caught the attention of social media users.
"Trump going heavy on the 'DeSantis is a pedophile' stuff today," the Daily Beast's Will Sommer tweeted.
"Trump not-so-subtly accuses DeSantis of being a child predator. Absolutely beyond the pale," one twitter user wrote. "This is gutter trash behavior—Republican voters need to send Donald Trump to the ash heap of history once and for all."
Last week, DeSantis responded to Trump's other attacks by pointing to his decisive midterm re-election.
"The good thing is that the people are able to render a judgment on that, whether they reelect you or not," he said at a press conference. "And I'm happy to say, you know, in my case, not only did we win reelection, we won with the highest percentage of the vote that any Republican governor candidate has in the history of the state of Florida."
Update 02/08/23 2:22 p.m. ET: This story was updated with comments from DeSantis.