Trump and Cohen Wanted to Buy Decades of National Enquirer Dirt Ahead of Election: Report
President Donald Trump and then-personal lawyer Michael Cohen reportedly hatched a plan to buy decades' worth of damaging information the National Enquirer and its parent company American Media, Inc. had on the then-presidential candidate in the lead-up to the 2016 election.
The New York Times has reported that Trump and Cohen wanted to purchase all the dirt the publication had collected on him dating as far back as the 1980s, according to several Trump associates.
The newspaper said that while the plan was never finalized, it suggests a high level of concern on Trump's part over what information American Media and its chairman, David Pecker, a longtime Trump ally, had collected over the years.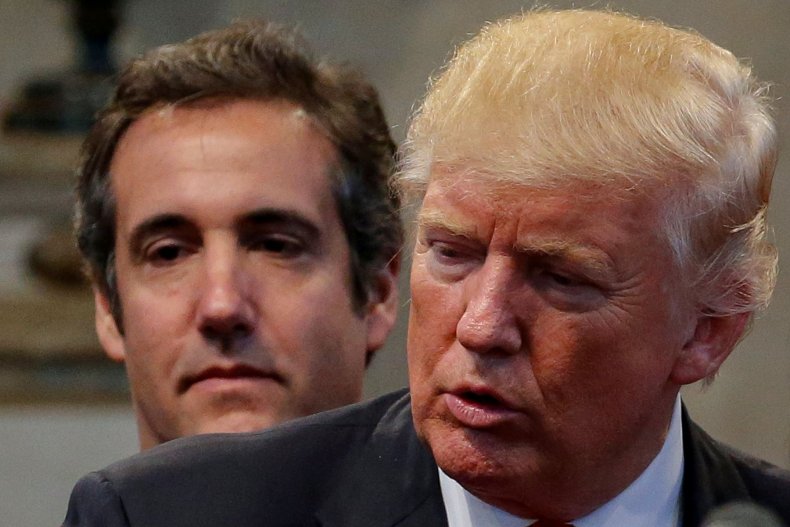 The revelation comes after Cohen pleaded guilty to charges connected to a $130,000 payment he made to adult film star Stormy Daniels, whose real name is Stephanie Clifford, which the adult film star alleges were made in order to buy her silence over a 2006 affair with Trump.
While making his guilty plea, Cohen also implicated Pecker in the case surrounding the payments, which he has alleged that he made on the president's behalf and under his direction.
The former Trump attorney said that he and the "CEO of a media company at the request of the candidate" had "worked together to keep an individual with information that would be harmful to the candidate, to prevent the individual from disclosing that information."
While Cohen did not name Pecker, American Media or Trump, many were quick to connect the dots of how the allegations matched previous reports about the media company.
American Media reportedly paid $150,000 to former Playboy model Karen McDougal, who also claims to have had an affair with Trump, to sign a non-disclosure agreement for the story of the alleged tryst and then opted not to publish the story–a practice commonly referred to as a "catch and kill."
In addition, Pecker and National Enquirer Editor-in-Chief Dylan Howard were alleged to have put Cohen in touch with Clifford's former lawyer Keith Davidson, leading to the eventual $130,000 payment to buy her silence.
Read more: Who Is David Pecker? Michael Cohen Explains National Enquirer Publisher's Role in Trump Aid
In addition to his alleged role in the deals, Pecker, who has shared a friendship with Trump for decades, has been reported to have discouraged negative coverage about Trump, killing stories that would cast the now-U.S. leader in a bad light.
Prosecutors have provided partial immunity to Pecker, who has been a key witness in the investigation into the payments.
A recording of a conversation about payoffs between Cohen and Trump that was released by the former's lawyer last month may have alluded to the plan to buy the National Enquirer's intelligence. "It's all the stuff," Cohen said on the recording. "All the stuff, because you never know," he added.
American Media has not immediately responded to a request for comment from Newsweek.