Trump and Macron in Pictures: U.S. Visit Suggests Pair Are Closer Than Ever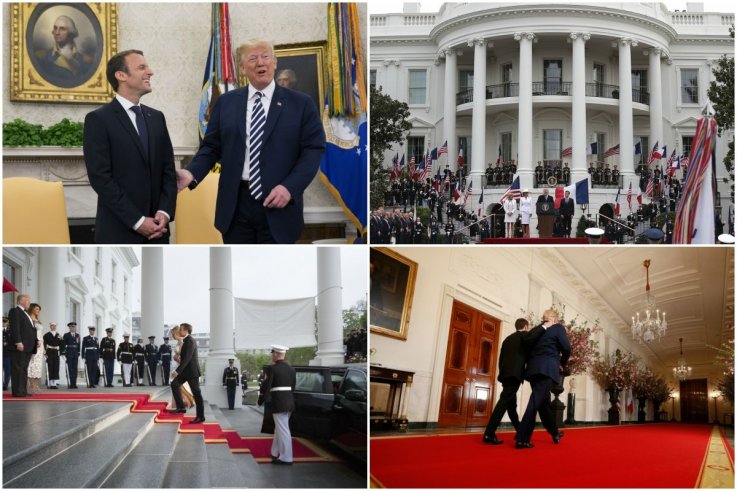 Global politics' biggest bromance is back in full force: U.S. President Donald Trump and French President Emmanuel Macron.
Currently enjoying a visit to the United States and Washington D.C., Macron has enjoyed a strong relationship with Trump since his election. Last July, Trump was invited to Paris to celebrate France's national holiday, Bastille Day (July 14). The pair were all smiles and handshakes as they toured the Parisian streets and enjoyed the fireworks over the Eiffel Tower.
Now it's Trump's chance to return the favor. Macron arrived in the United States on Monday (April 23) and will stay until Wednesday (April 25).
The red carpet has been rolled out and Trump has been showing off the White House, along with a helicopter ride to Mount Vernon, Virginia.
High on the list of talking points has been Trump's decision to back out of the Iran nuclear deal, formerly entered into by Barack Obama. The deal would lift heavy economic sanctions placed on Iran in exchange for limitations placed on Iran's nuclear energy programme.
Trump believed the deal was too lenient on Iran and has so far refused to recertify Obama's agreement. The U.K., Russia, China, Germany and France are all on board with the deal.
Macron has attempted to persuade Trump to sign, but the U.S. President believes a bigger deal could be put in place.
"I think we will have a great shot at doing a much bigger, maybe, deal," Trump said, according to the BBC. "They should have made a deal that covered Yemen, that covered Syria, that covered other parts of the Middle East."
Serious talk, but that hasn't stopped Macron and Trump from enjoying some handshakes, hugs and a few laughs. In fact, Trump even brushed some dandruff off Macron's suit for him, like all good friends do.
Here, Newsweek presents the French president's trip in pictures.